Houston, We Have a Pancakes Emoji
And a giant squid and a glass of milk. Also, an egg.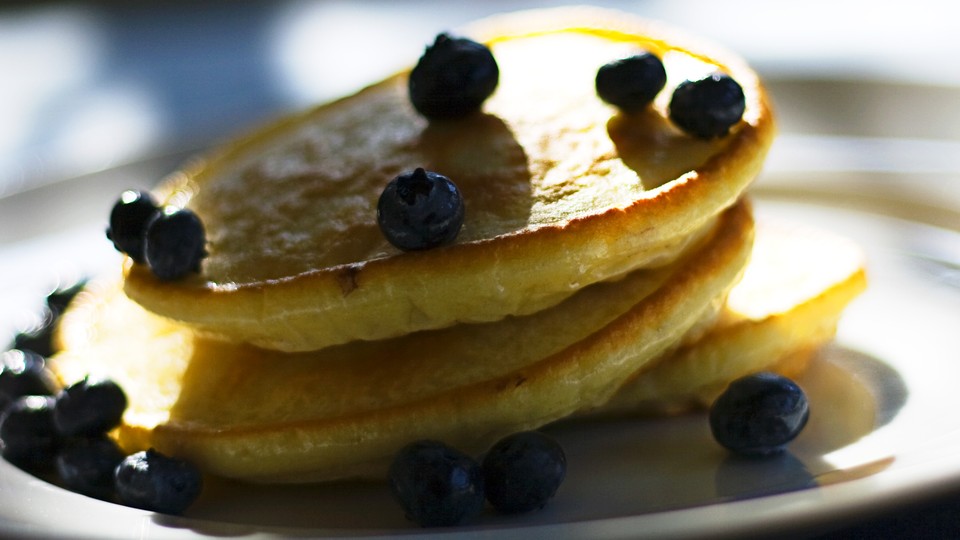 For the world's fastest growing language, emoji's vocabulary is awfully constrained. Although creative combinations are always possible, it's possible to send a high-five through emoji—but not a face palm. It's possible to type an iconographic queen—but no king. And there's a snail—but no squid.
That is about to change. On Thursday, the Unicode Consortium announced an additional set of emoji being considered for 2016. Next year, you might be able to send your friends a typographical rendering of:

a shrimp

a squid

an egg
a glass of milk
a peanut
a kiwi fruit
pancakes
These join the more than 60 emoji candidates announced in early October, whose rank include an avocado, a shruggie, and a doner kebab sandwich.
"At this point, the characters for Unicode 9.0 are candidates—not yet finalized—so some may be removed from the candidate list, and others may be added," cautions an authorless post on the Unicode Blog. These seven new characters were added because they satisfy the "emoji inclusion factors," a list of criteria that demand new emoji be visually distinctive, not too specific, and have a "high expected frequency of use."  
But what does it mean for something to be a candidate emoji? A superior name for this status may be "emoji-elect." Emoji candidacy means that an icon is very, very close to hitting the big leagues—in other words, to being included on the iOS and Android mobile keyboards.
As I never tire of noting, the Unicode Consortium is a very strange organization. A non-profit that oversees the Unicode standard—which, as the world's computer-text standard, makes almost all digital words readable and savable—its board includes nearly every Silicon Valley software giant. Apple and Google specifically coordinate emoji leadership. They run an annual process that brings, for instance, emoji skin tones from proposal to production.
That authority (and also the slow lurch from first news story to keyboard button) is what makes these emoji different from, say, the Finnish emoji or Dove-sponsored "emoji" recently announced. You'll never be able to type those emoji on your phone's built-in software keyboard—they're efauxji. The sentence "help, a squid is eating my kiwi-flavored pancakes," on the other hand? You'll be able to send that in real emoji next fall.