Do We Need Uber for Anything Else?
Health care? Babysitting? Mariachi bands?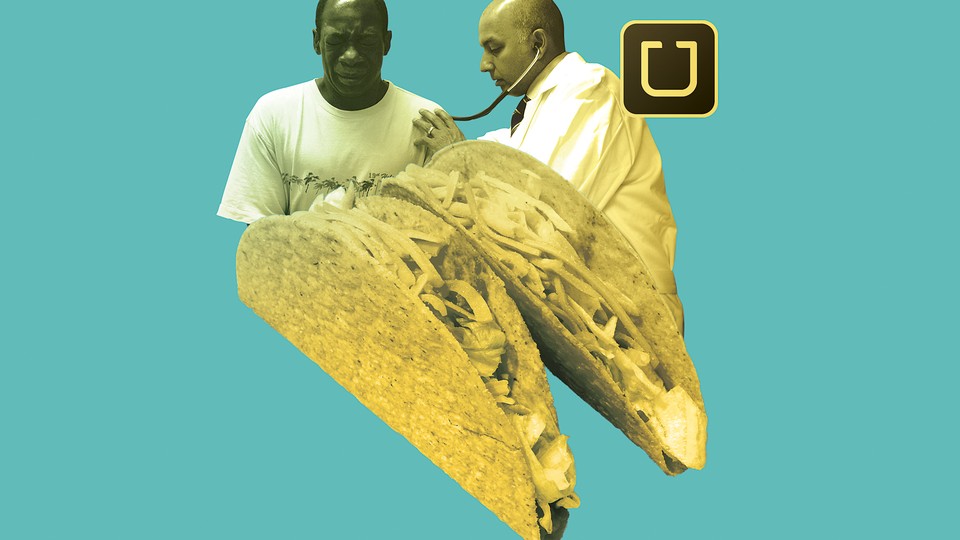 Hearing from the leaders of the tech world is always revealing, and very often surprising. In our second annual Silicon Valley Insiders Poll, a panel of 101 executives, innovators, and thinkers weigh in on some of the biggest technological, political, and cultural questions of the moment.
---
Uber for locksmiths and Uber for jets. Uber for escorts and Uber for pets. Uber for beauty and Uber for trucks. Uber for painting and renting a tux.
There are, in fact, many Ubers—so many that I'm not the first to try and make a poem out of them. But do we need more? In our unscientific survey of 101 Silicon Valley leaders and thinkers, we asked: What do you still wish there was Uber for?
The leading answers: Babysitting, elder care, and health care. Of that group, medicine led the way, with 10 percent of respondents saying that certain services would be better handled by app.
Other offered rarer ideas: Uber for compost pickup, air travel, or Chipotle. (Which makes a certain amount of sense, as "Chipotle for" is the dining industry's version of "Uber for.")
"Playdates! Uber for playdates. I'm out with my kid at the park and I'm looking for other moms and kids who want to hang out, right now," said Kieran Snyder, CEO of Textio.
Some disagreed with the idea in the first place, saying we were "Ubered out" or implying that needed social change could not be appified.
"Governing. It's not the 'sharing economy' that made Uber take off but the delight and ease of use of their service," said Gavin Hall, the chief technology officer at TED. Kevin Kelly, a long-time member of Wired, suggested "taxation."
Yet maybe the next round of entrepreneurs should think smaller. Eric Migicovsky, founder and CEO of Pebble, suggested that the next Uber should specialize on burritos delivered by quadcopter. And Dan Yates, the founder of Opower, proposed a real killer app: Uber for mariachi bands.