Breaking Up Isn't as Hard as It Used to Be (on Facebook)
The service rolls out a new customization process for users who've just ended a relationship.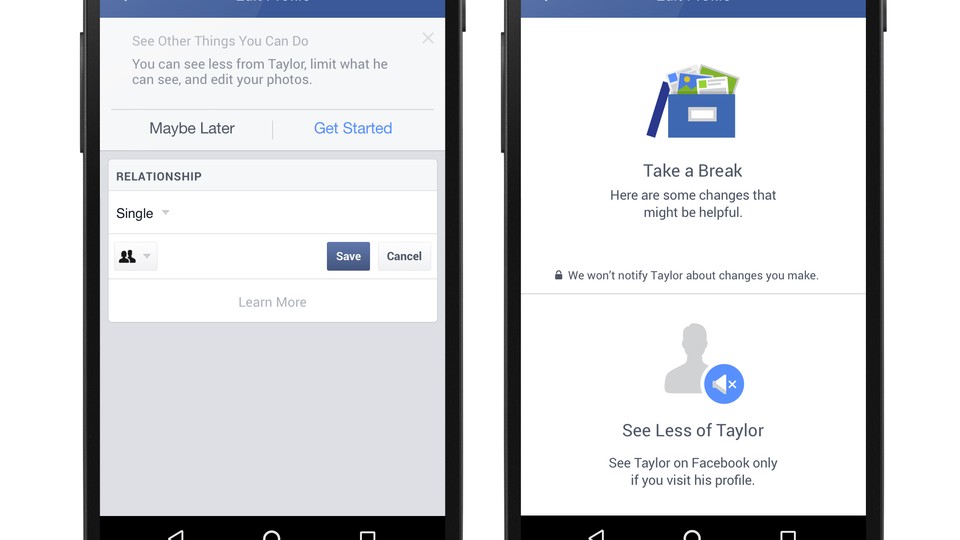 Sometimes I wonder how Facebook's algorithm sees the world.
Every day, it watches hundreds of thousands of people fall in love, their mutual timeline posts increasing up to that fateful moment when they make their love Facebook Official.
But every day, too, it watches hundreds of thousands fall out of love and break off relationships, their newfound free time filled instead with idle Facebook browsing.
Does the algorithm know that we're thinking beings, people who hurt, suffer, envy, and adore? Or does it see us as one more type of node, blinking in and out in dispassionate transmission with other nodes?
Who knows. Thankfully there are still some humans at Facebook. And this week, they announced new ways to tailor the algorithm—and your own profile—to make it more attuned to our messy human needs.
Facebook is thinking about how to make breaking up a little easier to do. On Thursday, the company said it would start testing new features on mobile users that give people more control after they end a Facebook-official relationship with a former romantic partner or spouse.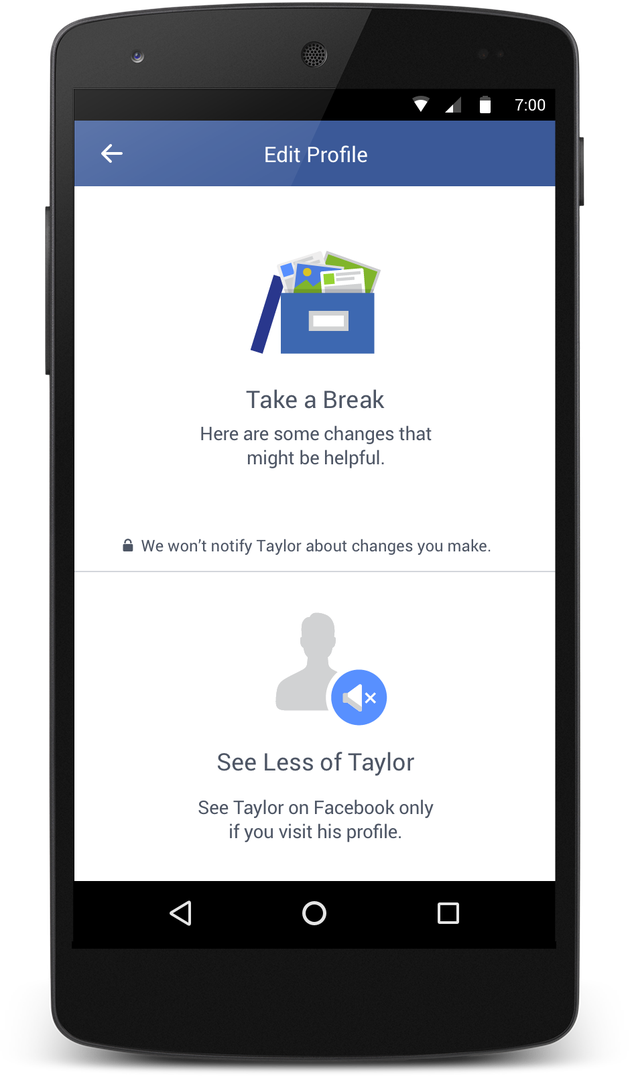 After ending a relationship, the social network now sends you through a "breakup flow," where it asks you a number of questions about how you would like your Facebook experience to change. Would you like to untag all photos of you and your ex? Would you like to receive fewer prompts about tagging them in a photo or a post? And, finally, would you like to never see your former partner—both their name and photos of them—in your News Feed?
"This work is part of our ongoing effort to develop resources for people who may be going through difficult moments in their lives," writes Kelly Winters, a product manager at the company. "We hope these tools will help people end relationships on Facebook with greater ease, comfort and sense of control."
This effort also fits in with a longer-term challenge to Facebook: how to keep the social-network vital and useful to people as they age within it. Though it's long since outgrown these roots, Facebook was designed for college students, who—I think it's fair to say—don't always view entering and exiting a relationship as seriously as some of their older peers. Now, Facebook has a very large middle-aged user base, for whom "ending a relationship" means getting a divorce. So this isn't just a feature for jilted high schoolers—its main beneficiaries, I think, will be adults going through one of the most traumatic experiences of their lives.