A Eulogy for Rdio
Spotify's long-time competitor—which was a better streaming service in most every way—will imminently file for bankruptcy.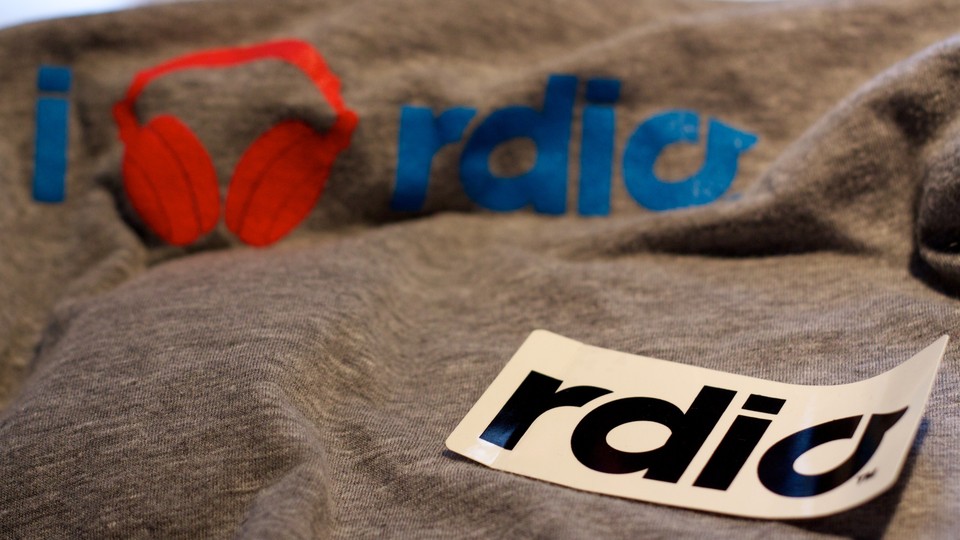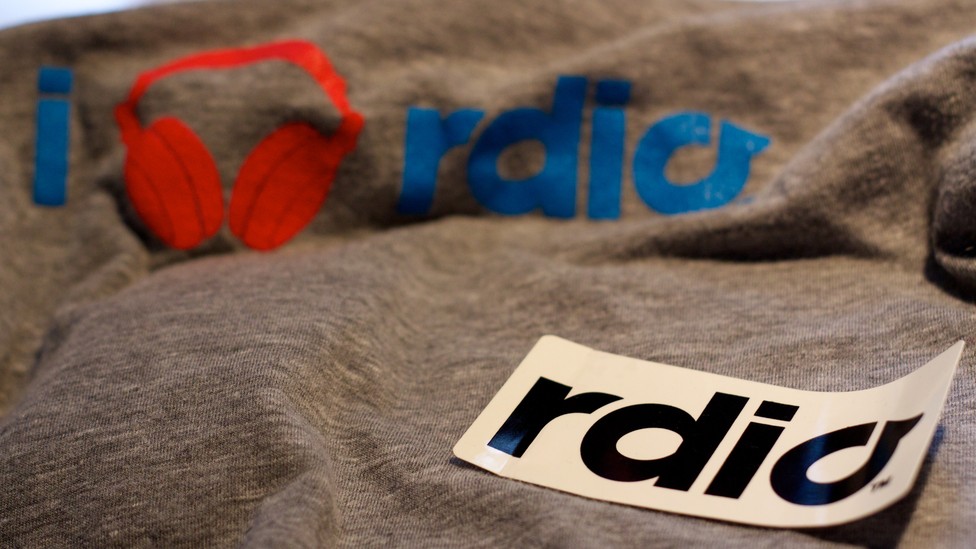 The Internet—it's branded as the electronic equivalent of the marketplace of ideas, but the best homes online, the places you wind up spending your time, they never feel like a bazaar. They're not even a café—that's too public. Coffee shops get noisy, your favorite barista moves away, and sometimes you step in from snow flurries and discover all the seats are taken.
No, when a particular online home succeeds, it's your best friend's living room. You step in to pick up a Tupperware full of leftovers and fall into a conversation. There's too many jackets on the couch to sit down, so you sit down on the rug with a beer. You count the authors on the bookshelf, even though you've seen all the books before. And you know the bathroom door has to be unhitched in that jiggle-jiggle-push way.
At times over the years, Rdio achieved this state of grace. It became a hearth. I've spent half a decade there, sometimes using it for hours at a time.
Now it's no more: The streaming music service, which held runner-up status to Spotify until Apple Music came along, announced on Monday that it will file for bankruptcy and terminate its branded service. Key parts of its software will be sold to Pandora, and some of its employees may join that company as well.
Rdio was a Spotify competitor, but unlike that service, it felt like it was built for people who liked digital music as digital music. Its metadata was often high quality. Like iTunes of yore, it organized its songs as much by album as by artist or genre. You could even sort and search songs by record label, something no other streaming service has implemented well. (Maybe that's why record labels seemed to enjoy it: For years, some unknown toiler at Smithsonian Folkways put out short, seasonal playlists that sampled from that company's encyclopedic collection.)
Though it endured sometimes faddish redesigns, Rdio almost always made a straightforward kind of sense. It gleamed with a well-considered uncomplicated
ness that I've come to recognize as the residue of good design. Despite one of the most formidable app-design challenges I can think of
—how do you make manageable a library
that includes a huge portion of humanity's recorded music?—its iOS app never veered into the ridiculous, as Spotify's still does, even now.
*
At its best, Rdio had perhaps the kindest community in online music. People left comments on albums, and, lo and behold, the writing was good and interesting. Strangers constructed playlists that pulled from artists and albums you'd never heard of, but without the performative high/low-ness that afflicts so much online music talk. Through Rdio, I learned of Patrick Ewing's "Warm Focus" playlists, which blend music from artists like Four Tet, J Dilla, Ulrich Schnauss, and others in a comfortably intuitive background soundtrack. (You can now listen to Ewing's mix on his weekly online radio show, also called "Warm Focus.")
For a time, Rdio even had Taylor Swift's full back catalog.
So of course it could not last. Two weeks ago, I transitioned to Spotify by myself—Rdio was getting increasingly buggy and I'd heard too many amazed gasps coming from Discover Weekly's direction. Spotify is a revelation: It feels like you're discovering the radio station that all your friends have been listening to this whole time. It feels, actually, like the Top 40 radio people went and made a music app: It's hyper-condensed and just a little too overproduced and always mid-commercial (even if you pay for premium) and yet—dammit—like a college acquaintance who got rich right after school, it's somehow stayed hip.
Rdio, on the other hand, was cool. It went with sky-blue over neon green. It felt like Internet people made it. (Partly because they actually did: I used to read the blog of one of its designers when, early in his career, he worked for a small newspaper in Kansas.) I wonder how we'll remember it.
Audiophiles in both my and my parent's generation cherish records. Unlike any of the set-it-and-forget-it streaming services, they demand attention and adoration—for someone to kneel down, change the disc, and otherwise hearken to this Ring Cycle of musical media formats. Streaming, meanwhile, happens in the background, at work, in the library, even (with some precarious laptop-balancing) in the shower.
I started using Rdio in 2011, when I was in college. I hope that I can reclaim the four years I put into it. Rdio says their service will continue unchanged at least for the coming weeks. In that time, the company must offer an easy way for users to export their playlists and collection data into some platform-agnostic format like CSV: As of right now, I can't find an online tool to do it that actually works.
But before Rdio disappears from the data centers on which it's installed—and the communities that formed there disband or relocate to too-shiny Spotify—I wonder how I'll cherish this place which served me sound for half a decade. I scroll through my playlists there and see a lot of half-finished plans—playlists I never completed, items in my listen-to-this inbox that I never listened to. Rdio is where I found music while I was in school, and where I found it again when I moved to a new city. That means it served me, day after day, the sympathy, the succor, the support of strangers.
What was Rdio? Some interface choices and a lot of code and what I'm sure were a dyspeptic pile of licensing agreements; an organization with internal politics and designers who fiddled in Photoshop for hours and reports with charts that maybe had all their lines pointing in the wrong direction. But to me, it's a snowy day in a café north of Chicago, mid-afternoon, coffee at my side, as I sit feeling anxious and gallant and languid, and I hunt for something to listen to.
---
* Why, if you pull up an album on Spotify's iOS app, does it give you a big green button in the center of the screen asking if you want to shuffle the songs? Artists are meant to be shuffled, as are genres and playlists—but never albums. I'm a vintage 90s millennial and even I know that.