Why Towns Are Falling In Love With Golf Carts
For one thing, parking's a lot easier.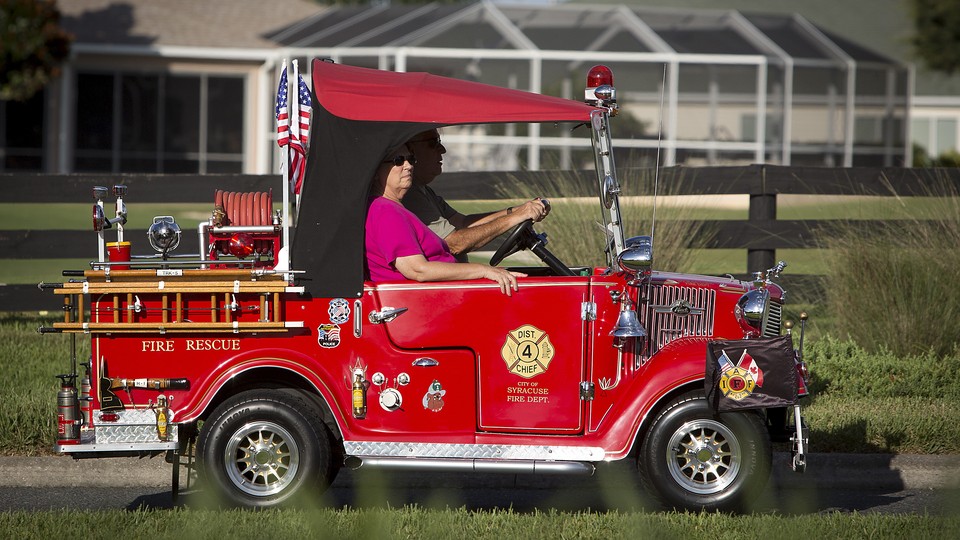 One of the promotional videos for The Villages, Central Florida's city of the old, is all about golf carts. Picture a Boomer's take on Pimp My Ride: Some carts are souped up to look like Model Ts, fire trucks, or Thunderbirds, or colored to rep a hometown sports team. In a city with no native sons, the carts are expressions of identity.
They're also a central mode of transportation. In The Villages, according to the book Young-Old: Urban Utopias of an Aging Society by architect Deane Simpson, there are 50,000 golf carts and 90 miles of dedicated golf-cart infrastructure. Autocentric facilities like drive-ins and car washes have been adapted. Golf-cart bridges and paths lead to golf-cart parking. One-third of trips, in this city of 110,000, are taken by cart.
In the video, one man boasts of selling his car. Another: "It is our main transportation." A third Villager: "I could not live without my golf cart."
Decades after they rolled off the links and into airport terminals, theme parks, and university campuses, golf carts and their heftier cousins, known as low-speed electric vehicles, are gaining currency as a mobility option in pockets of the United States. Unusually, for a transportation trend, it's older Americans who are on the cutting edge.
Dozens of communities have outlined schemes to integrate carts and similarly sized vehicles (also called Neighborhood Electric Vehicles, or NEVs) into their transportation networks. In the Coachella Valley east of Los Angeles, NEVs are a regular sight on the streets of Palm Springs or Rancho Mirage, and even at the McDonald's drive-through. In Greenville, South Carolina, residents use NEVs to visit neighbors, go to the farmer's market, or catch the Greenville Drive, the local minor-league team.
Why drive a cart? Certainly, disposable income, warm weather, and relatively dense settlements are prerequisites. But drivers also say that NEVs allow for old-fashioned urban social interaction.
"It's impossible to deny what fun these little vehicles seem to be," the editorial board of the Greenville News wrote last year, "and how they have served to better connect neighbors in a busy world."
Exurban, postwar Sun Belt communities were a natural site for this transportation experiment, thanks to master planning and, of course, the centrality of golf courses. Big developers like Gary Morse, the billionaire who built The Villages, could draw golf cart paths into urban design from the start, linking homes, services, shops, and recreation.
"Why would you bother to haul a huge car around everyday, especially if you don't feel comfortable operating it anymore, when you have this other option?" asks Hannah Twaddell, a planner at the Virginia consultancy ICF International, who has studied the trend.
The vehicles' appeal is evident beyond retirement communities. In beach towns and other compact tourist enclaves, already accustomed to a mix of transportation modes, NEVs can do a car's job with ease. "They're kind of like the iPad, between the iPhone and the laptop," Twaddell says. "It's this medium-sized tool that's incredibly flexible."
South of Atlanta, suburban Peachtree City now has 11,000 golf carts for 13,000 households. "It's almost our alternate transportation system here," says Betsy Tyler, the city clerk. Between 1995 and 2010, dozens of surrounding subdivisions authorized golf-cart use on city streets.
Kids accompanied by a parent can drive a golf cart at 12, and by freshman year, they can drive to school alone—avoiding state roads with high speed limits on an intricate network of bridges and tunnels. (That small electric vehicles don't necessarily require a license represents a kind of freedom for both the old and the young.)
Much of Peachtree City was designed for low-speed electric vehicles. But increasingly, warm-weather towns with aging populations may look to retrofit their street grids much the same way that big cities are reworking the grid for bicycles.
East of Los Angeles, the Coachella Valley Association of Governments is drafting plans for a 45-mile, $100-million path for bikes, pedestrians, and low-speed electric vehicles along the banks of the region's stormwater culvert, linking eight towns and hundreds of thousands of people.
"What's different here is that we are building that kind of system into an existing urban setting," says Tom Kirk, head of the Coachella Valley Association of Governments. "Nothing like it, to my knowledge, has ever been done before."
The Coachella Valley parkway is a transportation project, but planners also see it as an air quality and public-health initiative. The path is anticipated to carry over a million NEV trips per year when construction is completed, reducing regional car traffic by millions of miles.
Environmentalists have reason to smile on the rise of these pint-sized vehicles. Golf carts and NEVs don't have gas engines. They generally don't go over 25 miles per hour. The infrastructure they require can be used by cyclists, skaters, and joggers. And their parking spaces are one-third the size of those of cars, vastly reducing the need for huge parking lots.
John Stockman, the director of Global Electric Motorcars, which announced 50 percent retail growth in 2013, sees small electric vehicles as both a last-mile solution and a cure for congestion. He imagines a world where busy city centers—not just retirement communities—are the domain of nimble, shared electric vehicles. "The big advantage is a parking advantage," he notes.
On a spectrum ranging from pedestrians to 18-wheelers, who ought to be sharing routes?
For real-world planners, however, the surge poses an immediate problem. On a spectrum ranging from pedestrians to 18-wheelers, who ought to be sharing routes?
In areas without dedicated infrastructure, drivers take their golf carts or NEVs onto local roads, which the Insurance Institute for Highway Safety has called "a safety nightmare waiting to happen." On the other hand, those vehicles would make unpleasant companions on a typical multi-use path. Most urban greenbelts, like Scottsdale's Indian Bend Wash, Atlanta's Beltline, or New York's Hudson River Greenway, do not allow recreational electric vehicles on paths.
"That's where there's a real difference of opinion about whether it's safe to drive [an NEV] on a public street," Twaddel says. "Golf carts are basically the same as bicycles in terms of safety standards and licensing requirements. But they go a whole lot faster and they're mixed with traffic."
---
This article appears courtesy of CityLab.