How Race Influences Social-Media Sharing
Just about everyone is participating in online discussions. But a new poll shows that what people talk about can vary greatly.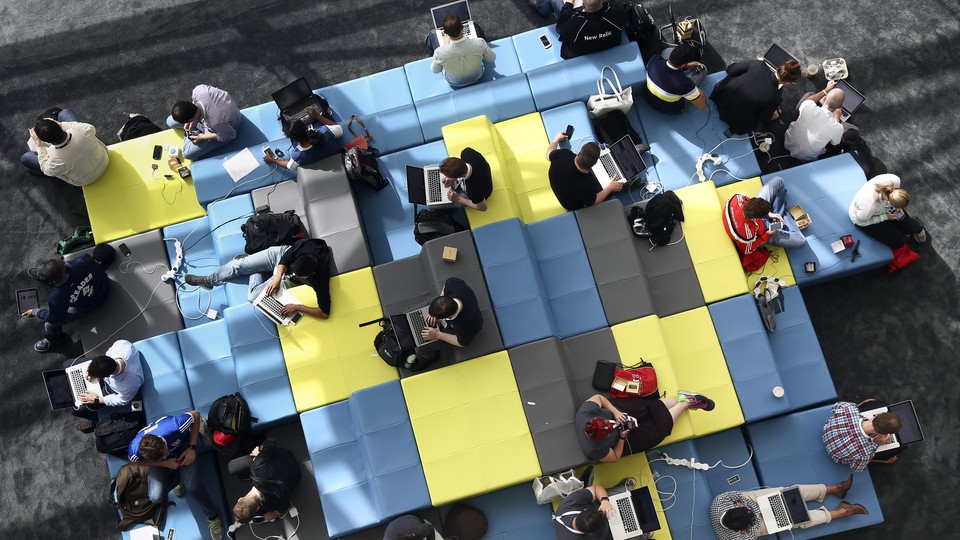 When Stephanie Williams saw that Western High School in her town of Shively, Kentucky, was on lockdown after reports of an active shooter, she quickly shared the news on Facebook. Williams—a 42-year-old registered nurse—has several friends with children at the school and wanted to make sure they knew about the situation. Outside of emergencies, she posts weekly, typically about topics related to her community, or medical articles connected to her work. "If it's useful to me, it's definitely useful to someone else," she says.
Many social-media platforms have evolved to become far-reaching forums, places to share updates with everyone from friends to grandparents to erstwhile acquaintances. They've also emerged as go-to outlets for news stories about both national issues and regional ones. According to the latest Allstate/National Journal Heartland Monitor poll, 60 percent of people on these platforms have used them to share information about a local issue or event. This makes sense given one of the poll's other findings: People actually spend more time engaging on social media with those live near them (64 percent) than with those who live farther away.
The frequency of sharing is pretty consistent across individuals of different racial backgrounds. However, the topics people discuss differs greatly when the data is broken down by race.
White respondents were most likely to have posted about events or entertainment, with 60 percent having done so. Black respondents, on the other hand, were most likely to have shared information about education or schools, at 67 percent. Hispanic respondents were most likely to have shared a post on crime or public safety, with 62 percent posting on this topic. On both the subjects of education or schools and crime or public safety, white respondents were significantly less likely than their non-white counterparts to have shared any information related to the topic.
---
People on Social Media Who Have Shared a Post About Their Local Community, by Topic
---
On average, 62 percent of non-white respondents who had shared a post on social media about local issues posted about education or schools compared to 46 percent of white respondents.* That same pattern holds on the issues of crime or public safety, with 56 percent of non-white respondents addressing it versus 42 percent of white respondents.
---
People on Social Media Who Have Shared a Post About Their Local Community, White versus Non-White Respondents
---
White respondents were slightly more likely to share information about events and entertainment (60 percent vs. 56 percent) and charities or fundraisers (56 percent vs. 48 percent), than non-white respondents.
Franklin Delacruz, a 34-year-old IT professional in Florida, says he shares mostly about political candidates, like Bernie Sanders, who he's supporting in the upcoming election. Tyisha Griffiths, an 18-year-old student at Princeton University, will often comment on and post items around news that she'd like to discuss further, such as the kidnapping of girls in Nigeria by Boko Haram.
Such timely posts are common. Since the poll was conducted in September, it's possible that many of these findings reflect conversations that were contentious at the time—such as statements around immigration and crime made by Donald Trump and other Republican candidates that specifically called out Hispanic Americans.
Data has consistently shown persistent racial inequities in both education and the criminal justice system, which may help explain why such topics are discussed more heavily by these groups on social media.
"I like to get a sense of diverse viewpoints on things that are currently happening, like the Black Lives Matter movement," says Griffiths, about her use of social media.
Discussing these views could be a huge part of the power behind such platforms: Allowing Americans near and far to have a voice and hear each other.
---
* This article originally stated that 42 percent of white respondents had shared a post about education or schools. We regret the error.