12 Historic Gems From One of the Best Time Capsules Online
The Library of Congress's sprawling newspaper-digitization project just published its 10 millionth page.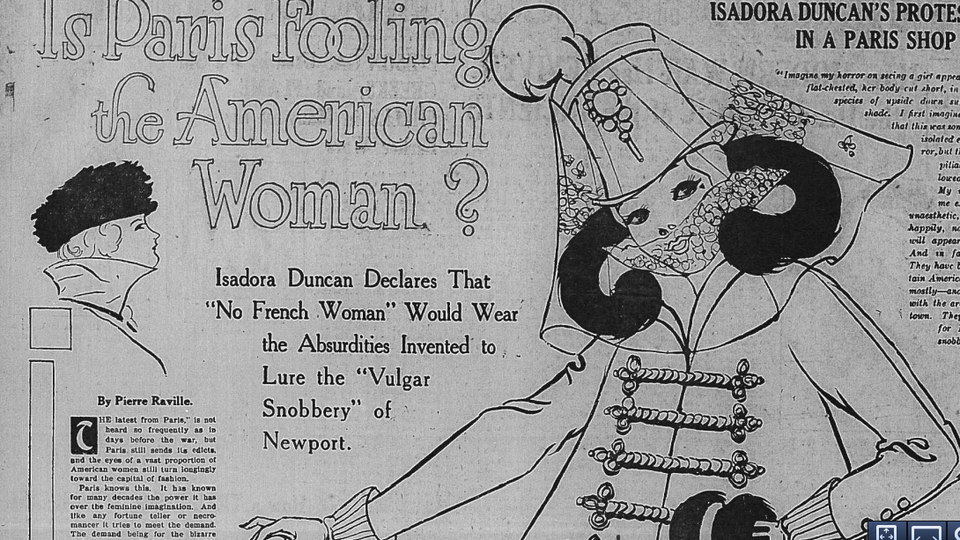 There are now 10 million pages in the Library of Congress's massive digitized database of historic American newspapers. The Chronicling America collection amounts to some 74 terabytes of data, and it includes news accounts from more than 1,900 newspapers in dozens of states and territories between 1836 and 1922.
The database is a rich resource, but it's also the best kind of Internet rabbit hole: You go in looking for one thing, and encounter a dozen fascinating oddities along the way. I tend to gravitate to the here-and-there coverage, daily snippets and stories that offer glimpses of what life was like a century or more ago. (The pages that detail bigger news events, like the sinking of the Titanic, are fascinating, too.)
In honor of the library's 10-million-page milestone, I've put together a sampling of treasures I've encountered on the site over the years.
* * *
"Answers to Queries"
February 9, 1901 / San Francisco Call
Back before Google, if you wanted to know the answer to a question, you might ask your local librarian. Or you'd write to the newspaper. (Or you'd just keep wondering and wondering and wondering, which seems in retrospect a little romantic but mostly maddening to me.) For readers of the San Francisco Call in the early 20th century, there was a feature called "Answers to Queries," which featured a mix of random and newsy questions and answers. In other words, just the sort of thing you'd google today.
Among them are factoids like: "The seating capacity of the Metropolitan Opera-house in New York City is given as 1,999. That of the Grand Opera-house of San Francisco as 2,500." And: "Tahoe, the name of the lake in California, is pronounced Ta-ho, with the sound of 'a' as in 'far,' and that of 'o' as in 'note.'" And: "The fee for recording a copyright claim is 50 cents, and the fee for a copy of the record or duplicate certificate is 50 cents additional. Write to the Librarian of Congress at Washington D.C., and he will send you a blank form of application for copyright."
* * *
"Is Paris Fooling the American Woman?"
October 31, 1915 / The Daily Telegram
In an essay that manages to malign Chinese fashion, Japanese fashion, French design, and American sensibilities, The Daily Telegram asks whether French fashion is for real, or instead some kind of ruse aimed at gullible women. ("Mostly New Yorkers!") It's worth quoting this one at some length:
Don't be misled. SOME French women do wear these things. They are paid to do it, and they do it very well. They go to the races in toggery that makes Paris gasp and grin. And then they are photographed. These mannequins are wonderful...

And so it may quite reasonably be asked, DOES Paris fool the American woman? Do the freaks really invade the United States and Canada with anything like the success that is expected? Are not the 'extremes' accepted simply as extremes for what amusement there may be in them, for what joy they may give to a few scattered adventurers in novelty, while the great average well-dressed woman goes her way on the road of good taste.
* * *
"Patent Office in Possession of Model of First Typewriter"
December 14, 1901 / San Francisco Call
Just look at that clunker! Even in 1901, the person who captioned this image of an early typewriter called it, rather diplomatically, a "roughly made affair." The typewriter was reportedly on display at the U.S. Patent Office, along with early prototypes of the sewing machine and the telegraph.
"In one of the cabinets is to be seen Morse's original model of the telegraph instrument, fashioned by his own hands," the Call reported. "The model is very crudely made, but it inspires reverence in the visitor, and even a certain sort of awe, when he pauses to think of what the telegraph has done for the advancement of the world, and what a slow universe this would be if we did not have telegraphic communication with our fellow beings the world over."
* * *
Classified Advertisements
May 17, 1854 / New Orleans Daily Crescent
You can find the 19th-century version of emoji all over the classifieds page in early issues of the New Orleans Daily Crescent. There are little icons for horses, river steamers, billiard tables, watches, and pianos. Here's one particularly interesting listing: "DEAD CATTLE—One dollar will be paid for every fresh DEAD HORSE or COW delivered at the New Orleans Bone Black Works, on Washington Avenue, near the graveyard."
* * *
"Look Who's Here!"
January 1, 1914 / Omaha Bee
So many of the illustrations in these old newspapers are incredible. This one, of a baby representing the new year (1914!) accompanies a pretty overwrought note of cheer. "A little kid called 'Happy.' They Call him 'Happy,' for short! And the rest of his little name is 'Happy New Year.' ... And to every soul of us, little man and big one, woman beautiful and plain, his middle name is 'Opportunity.'"
* * *
"A Clock That Keeps Time for the World"
January 1, 1914 / Omaha Bee
The addition of a wireless clock to the Eiffel Tower in 1914 was mind blowing, as Garrett P. Serviss reported at the time. Serviss also has some prescient ideas about what wireless technology might portend. (Keep in mind: This was six years before Isaac Asimov was even born.)
The electric world-clock into which the Eiffel Tower in Paris has been transformed continues to excited the liveliest interest in Western Europe, where it is easy for anybody with the aid of a very simple wireless telegraph apparatus to receive the time signals radiated at fixed hours over sea and land... But at the very moment when this finger of steel jointing skyward out of the heart of Paris becomes, as it were, a clock-hand for the whole planet, the meridian of Paris is officially abandoned.

The order has just gone forth that henceforth the Connaissance des Temps, the famous French astronomical almanac, shall have its calculations based on the meridian of Greenwich—the prime meridian that all the civilized world now recognizes as the starting line for the reconing [sic] of time.

The invention of the so-called pocket receivers foretells a time when not only chronometric signals, but news of all kinds may be transmitted by electric waves. With such a system perfected a man at the South Pole might sit in his fur-lined windproof tent, while the Antarctic blizzard raged... and, pressing his wireless telephone to his ear, cheer his loneliness by listening to the voice of the faraway civilized world, gossiping to him of its latest amusements.
* * *
"Across the Continent"
May 30, 1897 / New York Sun
One of my all-time favorites from American newspaper archives is this totally bizarre look at women's legs, assessed by region, at the height of the bicycle craze of the 1890s. I wrote about this piece in some detail here, but it's worth pointing out the apparent fashion of Brooklyn, New York, in 1897.
I don't know how a bicyclist would get around in those puffy-legged monstrosities but the author of this piece seemed to have been keen on the look, writing, "How lovely is Brooklyn, and how refining and enobling are all her influences."
* * *
"In and Around the Telephone Booth"
Sunday, January 28, 1917 / New York Tribune
W.E. Hill provides an illustrated look at the sorts of people who use the telephone, including the woman "who has just spent 15 minutes looking up a number [only to discover] she has forgotten it" and the man who is "going to make the girl he calls up guess who it is." (You can see some close-ups of these characters here.)
* * *
"Dr. Pratt's Electric Belts" and other advertisements
January 31, 1894 / The (Topeka, Kansas) Advocate
If you want to know what life was like at a given moment in history, just look at what sorts of products were for sale. In 1894, there were electric belts ("Electricity is life's vital force; nature's telegraph wires," the ad says), $4.95 violins, pocket watches, and hair dye for gray whiskers.
* * *
"Ladies! Try to Look Like a Barrel!"
January 30, 1913 / The (Chicago) Day Book
"Here's a new idea. It's the 'barrel dress' and one of the most daring models yet put out."
I mean, okay. Sure.
The Day Book also had this matter-of-fact advice in an April 1915 issue: "If you are fat, don't wear a suit like this—but wear a suit like this."

* * *
"Woman's Smile Gets Her Votes"
December 31, 1915 / Seattle Star
"The day of the stern-faced and domineering type of suffraget has passed," said Doris Stevens, as quoted in the Seattle Star about a century ago. Women still didn't have the right to vote nationwide, and Stevens said path to equality would have to be through charm rather than sheer will. The connotations of suffrage in those days, apparently, had some of the etymological baggage that "feminism" carries today. "The suffragists of today are not men-haters," Stevens said.
* * *
"Is San Francisco in the Grip of Green Terror?"
January 20, 1901 / San Francisco Call
"Every effort has been made to hush the scandal," the newspaper reported, "but it has leaked out." The scandal in question was the curse of absinthe, an "insidious green terror" that was "demoralizing the young." The text of the piece is fascinating—it includes example after example of people destroyed by the green liqueur; nervous systems shattered, minds lost. But the illustrations may be the most remarkable thing about this story. Take a closer look:
One more zoom-in from the bottom right corner:
The piece includes this word of caution from a physician: "It may be truly said that if alcoholism is moral decay, absinthism is its triple distillate; for of all the essences or liqueurs, none are so pernicious, both in their moral and physical effects, upon the human economy as absinthe."