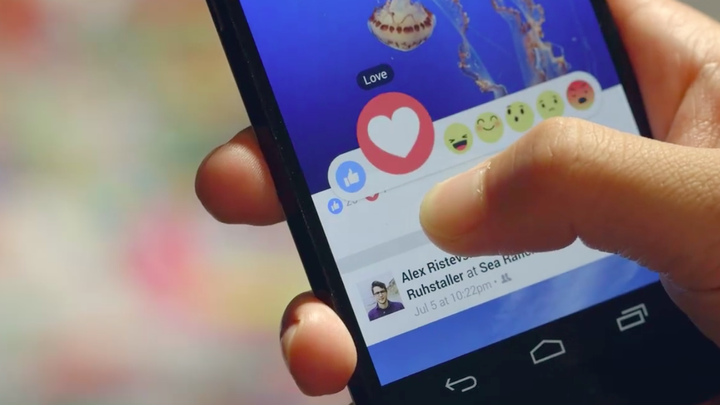 In September, Mark Zuckerberg announced at a corporate town hall that users' wishes would finally be granted: Facebook would get a dislike button.
"I think people have asked about the dislike button for many years," he said, according to press reports. "Today is a special day because today is the day I can say we're working on it and shipping it."
At the time of the announcement, though, there was still some mystery about how the dislike button would actually work. Zuckerberg promised only that it wouldn't work like a "downvote" button on Reddit, a "-1" to the "+1" signified by every like.
Now, Facebook's chief product officer, Chris Cox, has announced how the dislike button will work. Except it isn't only a dislike button: When users hold a click on the "like" button, they'll have the option to react to a post with a heart, a sad face, an angry face, or a stunned face meant to say "wow!" The feature will go live to Facebook users in Ireland and Spain on Thursday, and will be available in those countries on Facebook's iOS app, Android app, and website. There's no word yet on when the feature will debut in the U.S.
Facebook's new "reactions" feature mirrors Slack's emoji reactions, which the popular office instant-messaging service rolled out in July. In Slack, people can reply to any message with an added emoji—a thumbs-up, a pizza slice, even a taco—and other users can click to signal their agreement. Facebook's offering fewer options, but going the same pictorial-response route.
But the range of reactions offered solves a long-running and somewhat thorny issue for the social network. Since the like button debuted in 2009, Facebook has known that not every kind of post deserved a thumbs-up. People use Facebook to announce new children and new jobs, but they also use it to share news of a divorce or mourn a loved one.
"What [users] really want is the ability to express empathy. Not every moment is a good moment," Zuckerberg said last month.
Facebook had even explored taking this concept to its literal conclusion: At the end of 2013, employees at the company's "Compassion Research Day" explored implementing a "Sympathize" button.
The new reactions feature includes all the benefits of a "Sympathize" button, the company clearly hopes, without quite the same literalism. If a post is sad, you can click the frowny face. If something's amazing, you can click the stunned face.
As for me, I'm glad to see that the heart is one of the new options given—and not only because I predicted it would be a dislike-button option last month. (The real honors for prophecy, however, go to Slate's Will Oremus, who foresaw a "suite of alternatives to 'like.'") Now that it's there, I think the heart is going to get a lot of use. It's already one of the most versatile symbols in our shared pictographic language, and that was before digital communication made "less than three" (<3) a quick and easy commonplace. A heart can stand for love, yes, but also joy or pride or consolation. I can't say it will deepen our experience on the service, but, in times of anguish or grief, we'll be glad that heart button is there.
We want to hear what you think about this article. Submit a letter to the editor or write to letters@theatlantic.com.