Wrapping Cabins in Aluminum Foil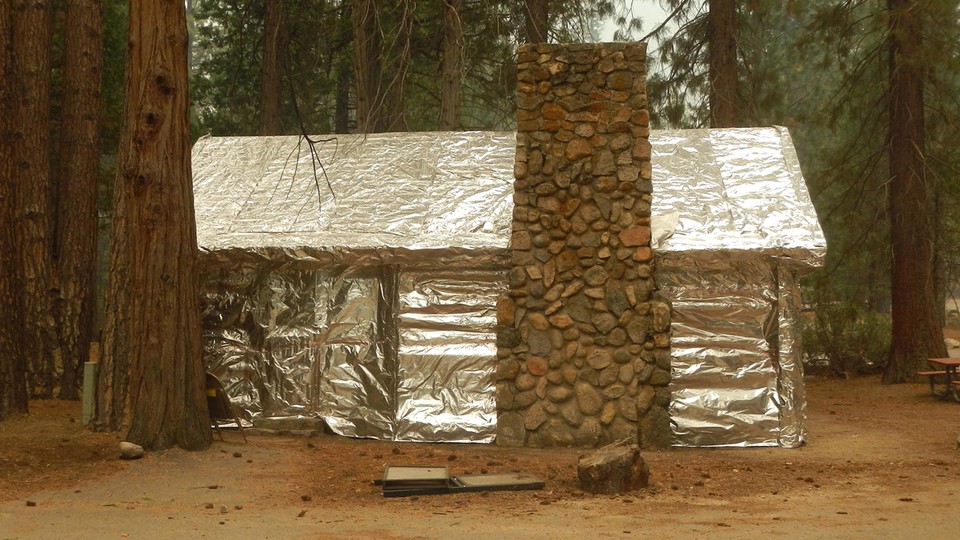 Editor's Note:
This article previously appeared in a different format as part of The Atlantic's Notes section, retired in 2021.
While putting together today's photo essay on the weekend wildfires in California, I came across this image of a cabin in Sentinel Campground near Cedar Grove, California, wrapped in aluminum foil by the U.S. Forest Service. I'd never seen such a thing before, and some cursory research led me to find that the technical name for the foil is "aluminized structure wrap," a fire shield made of aluminized laminate backed by glass fabric, similar to fire protection blankets carried by firefighters battling wildfires. The website of one manufacturer, Firezat, claims the material reflects up to 95% of radiant heat, keeps embers from sticking to exterior features.
The U.S. Forest Service has apparently been using the wrap for several years now, often to protect historic or significant structures that would be too dangerous for humans to stay and defend against oncoming fires.