The Most Interesting Part of Apple's Presentation Wasn't a Gadget
It was the company's new upgrade program, which signals that iPhones are becoming a utility.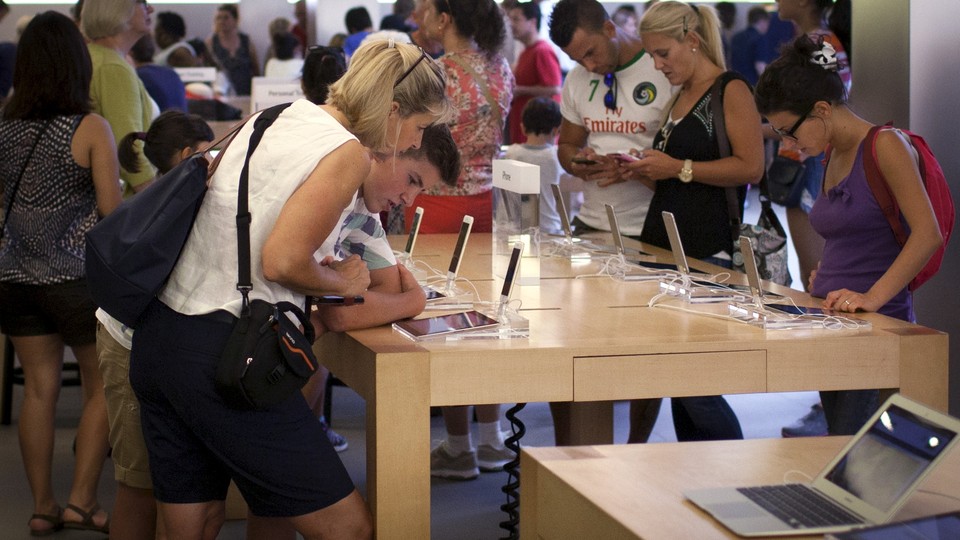 Apple's announcement on Wednesday was chock full of shiny new hardware: new phones, new tablets, a new TV-set-top box. But perhaps the most important announcement from the company—and definitely the most intriguing one—was nothing more than a new business arrangement.
I'm talking about the iPhone Upgrade Program, a new program that will let people pay a monthly fee and receive, in exchange, a new iPhone every year. They'll also gain access to AppleCare+, the company's extra-special extended warranty program. AppleCare+, unlike normal AppleCare, fixes "incidental" damage and, for a fee, will replace a cracked screen.
The new program mimics other subscription-style programs from cell carriers that let users "upgrade" to a new phone once (or more) per year. As with those programs, subscribers won't be able to back out of Apple's plan whenever: They'll be bound to their iPhone Upgrade Program contracts for 24 months. But they can receive a new phone—and lock back into another two-year contract—after 12 months of payments.
So just how large is one of those payments? For the least expensive iPhone, the 16-gigabyte iPhone 6S, the monthly fee is $32.61. Sixteen gigabytes of internal storage is not enough for most users—especially on a phone that shoots hi-def video—so let's look at the next step up, the 64-gigabyte model. Under Apple's program, a 64-gigabyte iPhone 6S will cost $36.58 per month, $438.96 per year, and $877.92 over the term of its contract. (An unlocked 64-gigabyte iPhone 6, by comparison, goes for around $782 on Amazon.)
But this is a subscription program, and the most telling statistic is the most granular one. The luxury of knowing you'll always have the newest iPhone now has a price, and it is: a little more than $1.20 per day. Assuming a user sleeps seven hours per night (and, thus, isn't using their iPhone at the time), that same privilege goes for about seven cents per hour.
For comparison, the most expensive iPhone available—the 128-gig iPhone 6S Plus—costs $44.91 per month. That comes to $1,077.84 over two years, or almost $1.50 per day.
The company's iPhone Upgrade Program appeals to people because iPhones, despite their ubiquity, remain status symbols and cultural signifiers. They're fashion, basically, and their value lies in part in their novelty. But in putting a precise monthly price on the annual upgrade, Apple has standardized the privilege of Always Having the Newest Thing. It's turned the phone into a utility, and like other utilities it's interested in just pulling money from your bank account every month.
The iPhone is at a funny point in its history. We almost but don't quite take ubiquitous smartphones for granted: Android, Google's mobile operating system, has been the most popular OS in the world for some time. But iPhones remain special, even as upgrade cycle after upgrade cycle reveals more iterative improvements than revolutionary changes. At some point, the iPhone will join the ranks of ignorable infrastructure. Apple is getting closer to that point by, paradoxically, playing on the appeal of novelty.