The Cultural Origins of the Apple Spectacle
Is the obsession with Apple events pack journalism, real news, or something else altogether?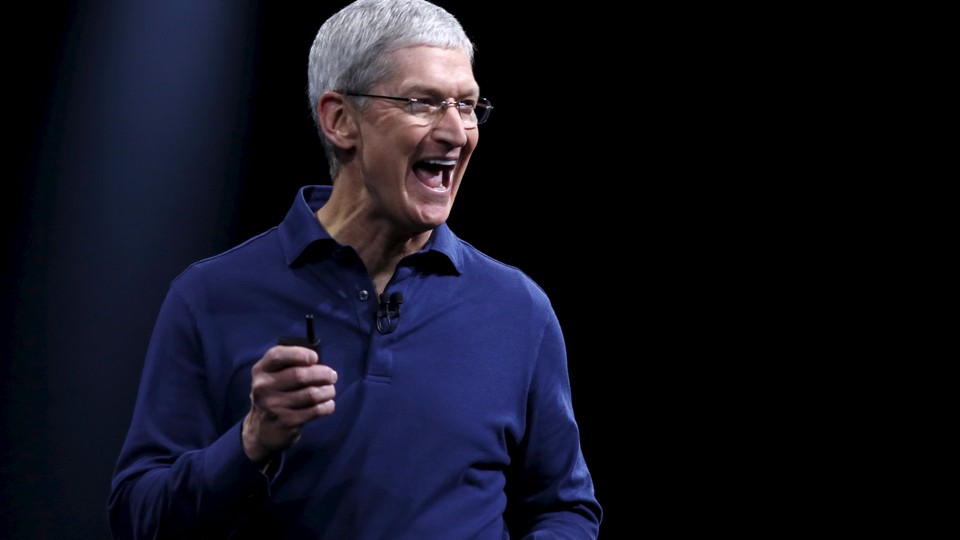 Apple's annual fall events have become the stuff of legend in tech circles. The company has a tradition of making big product announcements—new iPhones and processors, the Apple Watch—and has attracted a following of tech bloggers and reporters who appear, in bulk, more like groupies than journalists.
This is weird, right?
"I think reportorial pack mentality is always an odd phenomenon," said Ethan Zuckerman, the director of the Center for Civic Media at M.I.T. "For some set of events, the press seems to mutually agree that we need wall-to-wall coverage. How Apple took that spot is an interesting question, but so is the continuing phenomenon that in an age of hyperlinks everyone needs to provide their unique, click-gathering take."
So on the surface it looks like classic groupthink, the kind of outsized media frenzy that congeals at campaign events and murder trials. More plainly, the Apple circus could be considered the byproduct of brilliant public-relations efforts. The company, under the direction of its former leader, Steve Jobs, long ago established a carrot-and-stick relationship with the press. Apple has a reputation for being generous with access only when it is calling the shots.
The New York Times, a spokeswoman told me, is sending three reporters to Wednesday's event; including a general technology reporter, a consumer technology reporter, and a reporter who covers Apple. It is not unreasonable that the most influential newspaper in the country would send multiple reporters to cover what is arguably the premiere tech event in the world. Apple has the cash pile of a small country. And it is not hyperbole to say its products have radically changed the way humans live. Maybe that's what Apple is promising: this generation's foremost technological drama, and maybe even a revolution.
But there are deeper cultural roots here, and they go beyond any measure of actual newsworthiness. Apple special events are treated by observers with the breathlessness of a shuttle launch more than a product launch. That may help explain why the buzz around them reverberates so widely—beyond tech bloggers and even broader media organizations, the company and its announcements have become cultural touchstones all their own. But Apple events are designed in a grand tradition of product launches that date back to 19th-century Europe and the creation of the World's Fair.
The earliest such expos focused on invention and industrialization as a theme. It was at London's Great Exhibition in 1851 that a new standard for the telegraph was promoted. ("Sanguine as are the projectors, it is always safest to wait the progress of events," cautioned the Times reporter who, having attended the event, explored the "magnificent" notion of cross-country and even trans-Atlantic telegraph lines.)
It was at the 1876 World's Fair in Philadelphia that many people first got a glimpse of the telephone and the typewriter. (Also unveiled there: Heinz ketchup.) And it was at the Worlds Fair of 1964, a relative flop in New York City, that the biochemist and science fiction writer Isaac Asimov predicted a device that, in retrospect, sounds a lot like the iPhone: "Communications will become sight-sound and you will see as well as hear the person you telephone. The screen can be used not only to see the people you call but also for studying documents and photographs and reading passages from books. Synchronous satellites, hovering in space will make it possible for you to direct-dial any spot on earth, including the weather stations in Antarctica."
All of which is a reminder that these extravaganzas—World's Fairs and Apple events—might be considered spectacles in the Lukácsian sense, that they represent societies driven by commodities, not people. But also that people are drawn to conceptions of the future, blueprints for how our lives are about to change—which is ultimately the promise of any new invention. Apple, of course, has actually delivered on this promise in a way that few technology companies can claim. Apple, too, has a mythic reputation that fulfills many other American narratives. Which helps explain why people who go looking for narratives, like journalists, are so drawn to the company.
"Why Apple? It's hard to unpack legit reasons from history and showmanship," Zuckerman told me. "The legit reason might be that Apple does have a history of upending industries. If implicit in the announcements is the idea that another major sector is about to be disrupted, perhaps the level of attention is both excessive and perfectly rational."