The Private Islands Inside National Parks
Not all of the land inside America's most iconic public places is publicly owned.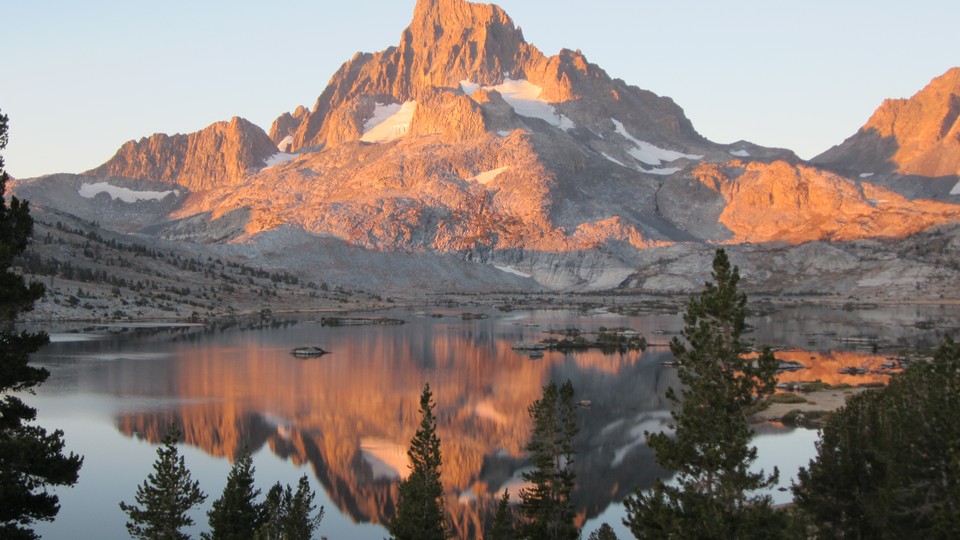 In the years after the financial crisis, someone built a luxury home inside a national park.
That someone was a luxury developer notorious for finding land of value to the federal government and buying it himself, and the national park was Black Canyon of the Gunnison, in western Colorado. It's called the Black Canyon because it's so deep, so narrow, and so sheer that the Gunnison River at its depths only receives 33 minutes of sunlight per day.
A luxury home inside a national park? If you're like me, you might have thought: How is that possible? Aren't national parks supposed to be national—and, therefore, public?
In fact, many national parks are dotted with "inholdings": private land contained within a larger public shell. That private land, though contained within the borders of the park, can still be developed. Inholdings happen because Congress can draw the borders of a national park without purchasing all of the land inside. In fact, this is a fairly regular occurrence.
The situation on the Gunnison River is a special case, and most inholdings don't wind up as luxury homes. (At last report, the developer was searching for a "benefactor" who would purchase the luxury home and donate it to the park service.) But many of the country's most famous national parks are swiss-cheesed with private holdings.
In Petrified Forest National Park, in Arizona, there are tens of thousands of acres within park boundaries that are slated to be used as a potash mine. (Potash, salts that contain potassium, are an important ingredient in fertilizer.) Gettysburg National Military Site includes the only nearby stop in the Underground Railroad: an 18-acre abandoned mill site. And Hawai'i Volcanoes National Park's inholdings encompass unprotected coastline and an eight-mile-long gorge called "the Great Crack."
The government has some ability to turn inholdings into national parkland. If a seller is willing, the National Park Service can use grants from the federal Land and Water Conservation Fund to purchase available land. This isn't eminent domain: The government just buys land at market rates. In 2014, the Wilderness Society reported that the fund had purchased millions of acres in the U.S., in all 50 states and "almost every U.S. county."
The Land and Water Conservation Fund isn't taxpayer-funded. Since 1964, the government has redirected money from offshore oil and gas drilling (plus a couple other sources of income) into the fund, directing it toward conservation projects at the local, state, and federal level. Now, unless Congress renews it, that fund is now set to expire at the end of this month. (The fund's continued existence isn't tied to the federal budget, which also runs out on September 30: Congress could pass a budget without renewing the fund, and vice versa.)
A new map from the Center for Western Priorities, below, reveals how much national parkland has been purchased with funds in the past half-century. It's striking to see how much land has been added by the program, at no cost to taxpayers. Congaree National Park in South Carolina—the last, largest old-growth hardwood forest in a floodplain in the U.S.—was purchased entirely with money from the fund. Big Cypress National Preserve in south Florida includes over 400,000 acres bought by the same method, and Everglades National Park and Hawai'i Volcanoes contains more than 100,000 acres.
Even if Congress re-approves the fund, it's possible for a slowdown to obstruct the land-purchasing process. In 2008, a rancher near the recently expanded Petrified Forest National Park wanted to sell his land to the National Park Service, but without Congressional authorization, the government could not move forward. This year, the National Park Service hopes to make more acquisitions near Hawai'i Volcanoes. It also plans to buy that tract of land near Gettysburg, reuniting an Underground Railroad site with larger Civil War history.