Mini Object Lesson: Makeover Your Keurig
Editor's Note:
This article previously appeared in a different format as part of The Atlantic's Notes section, retired in 2021.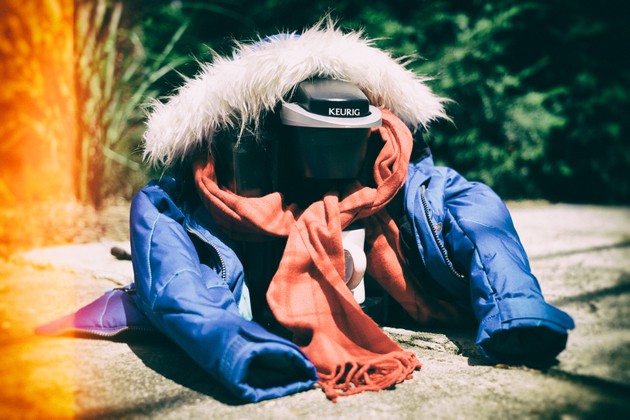 K-Cups—those self-contained coffee pods for Keurig Green Mountain instant brew machines—were once as hot as, well, coffee. But they have cooled off considerably. Green Mountain's stock has dropped 65 percent from its all-time high almost a year ago. K-Cups are convenient but expensive; they generate enormous, irresponsible quantities of plastic waste; in their latest implementation they apply the worst habits of DRM onto coffee breaks; and on top of it, they taste terrible anyway. Even the K-cup's creator says he regrets having invented it.
But still, we use them. Maybe your office bought a system and you have no choice—"I'm sorry, all we have are K-cups." Maybe you bought one for home long before realizing its expense and environmental impact. At its peak last year, Keurig had sold some 20 million K-cup brewers. Even assuming Green Mountain erodes and browns into oblivion, what are we supposed to do with all those brewers? Throwing them out with the trash seems irresponsible and, well, ironic.
Some Keurig users have bought cheap, reusable filter inserts that can be loaded with ground coffee of any sort. But honestly, this is just offensive for everyone. Not only do you have to use this deceptive machine in spite of itself, but you must also pick through old, spent grounds just to be reminded of how the machine had failed you. Insulting.
Here's an alternative.
The Keurig brewer does do one thing pretty well, K-Cup or no: it heats and dispenses water. It does this in a relatively small footprint, too. What can you do with hot water on demand? Lots of things. You could make instant oatmeal, for example. Or if you use instant coffee, you can just empty a spoon or a pouch into a mug and repurpose the Keurig as a coffee machine without the K-Cups.
There's another obvious use for heated water: it can be transformed into hot cocoa. Yes, yes, I know; it's better stove-heated with milk and real chocolate, okay. But think of the children! Why not use your old, shame-shrouded Keurig machine as an object lesson in openness, environmental responsibility, and the Situationist repurposing of directed, corporate interests into novel alternatives? K is for Kokoa! Fists up—with insulated, compostable Dixie cups bearing chocolate!
So, this fall and winter, load up the Keurig with water, get a can of cocoa, and set your offspring to the task of dismantling your guilt through the delight of responsible hot chocolatiership. If you've got an extension cord, you can even run a Kokoa Stand at the street, refilling the Keurig from the hose.
That is, until the police shut you down, but that's a lesson for another day.