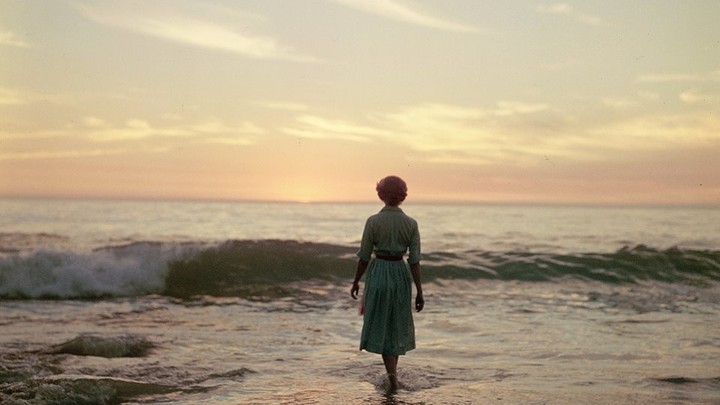 "Okay so here's the lowdown," the photographer Meagan Abell wrote in a Facebook post on July 29. "I found four sets of medium-format negatives while I was thrift shop hunting a few weeks ago. They were sitting in a box of old vintage photographs in these plastic sleeves... from what I could tell, they had been taken sometime in the '50s. So obviously I brought them home, and today finally had them scanned in, and holy wow they are beautiful!!"
The images feature two women, photographed separately, standing on a beach in dreamy pastel light. Their faces are turned away from the camera. In some frames, one of the women stands in the ocean, waist-deep and fully clothed.
The find sparked a crowdsourced mystery, with Abell asking strangers to share her story and help figure out the identity of the women and the person or people who photographed them. She asked people to use the hashtag #FindTheGirlOnTheNegatives on Twitter. "The only info I have is that the negatives were found in a thrift store on Hull [Street] in Richmond, [Virginia]," Abell wrote. "The owner of the thrift store had no idea where they came from."
Help #FindTheGirlsOnTheNegatives ID '50s Caly Photographer or Women? http://t.co/UKVrvhhV3m #FoundPhotos @alwaysabell pic.twitter.com/aXG7YCr030

— CARE for Sandy (@CAREforSandy) August 24, 2015
The Internet pretty quickly split into two camps on this one:
1. This is a viral marketing campaign and everything is terrible. (As Jia Tolentino put it for Jezebel: "Is this a mystery whose resolution will end in a marketing campaign for The Notebook 2: More Notebooks? Area Blogger Unable to Sustain Secondhand Awe Without Suspicion, next up on your shitty local news."
Or!
2. This a gorgeous mystery and the world is magical. (As one commenter on Abell's Facebook post put it: "This is literally the most beautiful thing I've ever seen.")
Abell has published some updates to her original Facebook post, saying that—with help from Internet sleuths—what she originally thought were negatives turned out to be slide-film transparencies. Also: She's now convinced that the photos were taken at Dockweiler Beach in Los Angeles.
In early August, Abell told her Facebook followers that she had "multiple leads    with names that look fairly promising." But she said she still wasn't sure when, within a couple of decades, the photos were taken. "There are disagreements about the time period... based on the type of film, style of dress and hair, as well as the purpose for why these images were taken," Abell wrote. "The timeline is anywhere between the late '40s to late '60s right now, with most people believing late 1950s is the most probable."
Since that update, Abell posted about hitting a couple of dead ends, then later teased a "big announcement" that she ended up postponing due to "unforeseen obstacles." She still hadn't confirmed the identities of the photographer or the subjects, she said. (I contacted Abell to ask for the latest updates, but haven't heard back yet.)
"I've been checking every single comment that I see, just in case," she told PBS. "Who knows what a lead will come from?"
Here's the original post:
So does anyone out there know these women and their story? I'll be keeping my eye on this one—and I'm always up for a good Internet mystery. Let us know if you see one: hello@theatlantic.com.
We want to hear what you think about this article. Submit a letter to the editor or write to letters@theatlantic.com.
Adrienne LaFrance is the executive editor of The Atlantic. She was previously a senior editor and staff writer at The Atlantic, and the editor of TheAtlantic.com.