Inside Tesla's Inside Jokes
Editor's Note:
This article previously appeared in a different format as part of The Atlantic's Notes section, retired in 2021.
Yesterday I wrote that Tesla represents the first step in the inevitable decline of the automobile as an object of desire. Taking its place: computing, of course, which lives inside cars now. And not just computers, but also the culture of computing. One of the benefits of buying your electric car from a quirky, tech billionaire whose other hobbies include private rocketry, subsonic pneumatic freight, and planetary exfiltration is that some of those quirks find their way into your vehicle as inside jokes and easter eggs.
For example, the newly released Tesla Model X apparently contains a Bioweapon Defense Mode button that configures the vehicle's air filtration system more aggressively. It should be useful "if there's ever an apocalyptic scenario of some kind," according to Tesla Motors founder, CEO, and quirky billionaire Elon Musk.
While not all of its quirks are quite so zomboid in nature, Bioweapon Defense Mode is hardly the first example in Tesla vehicles, such as the volume control seen above. Some others:
After entering Ludicrous Mode—the car's bonkers acceleration booster—you can hold down the button for a clip honoring Space Balls, whose Ludicrous speed was the inspiration for the feature:
You can change the car displayed on the Suspension settings menu from a Tesla Model S to the submersible Lotus Esprit from The Spy Who Loved Me:
(Apparently it's a favorite of Musk's. He even paid $1 million for the prop in the hopes of converting it into a working submarine.)
The earliest software easter eggs were inserted by programmers as rogue signatures, usually because corporations didn't want to acknowledge the work of individuals. The Model S tips its hat to this lineage, too. Press the Tesla logo on the display screen, then hold the lower right corner to display a photo of the development team: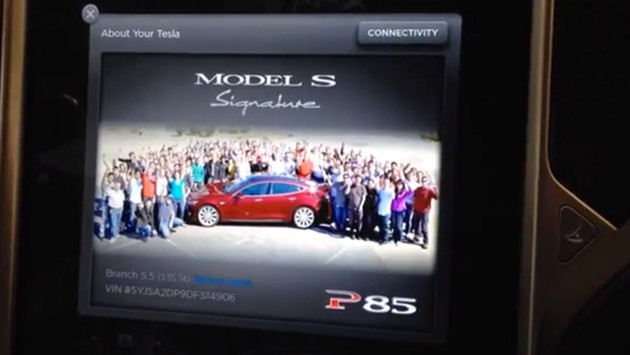 Given the gravity of automotive conveyance, I'm not sure I want a billionaire making jokes inside my vehicle. But that might be an old-fashioned worry. Cars have been run by computers for a long time, but now computation is becoming visible within them. Easter eggs are a customary and even expected feature of software. It's no surprise we'd find—and even want—them in automobiles.