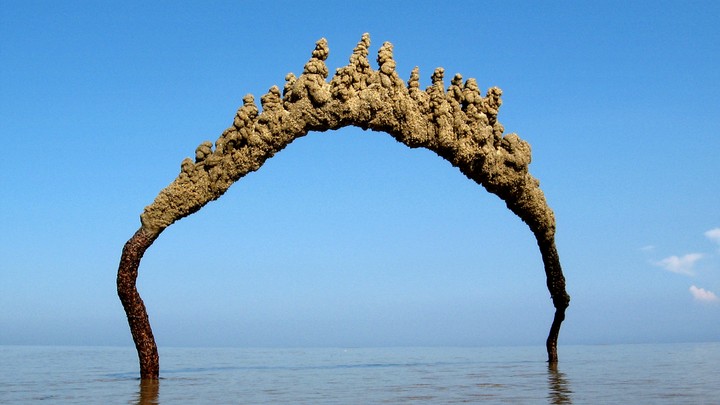 "Although I study the sociology of art, amongst other things, I have not worked up anything particularly deep about sandcastles," said Matt Kaliner, a sociology lecturer at Harvard University and the architect of some of the weirdest, most wonderful sandcastles I've ever seen. "I am motivated entirely by the sheer joy of playing on the beach, and making something out of what I can find that day."
To Kaliner, joy does not come from an overturned bucket of sand. His creations look nothing like classical interpretations. Instead of mounds and turrets and moats, Kaliner's structures are drippy archways that twist, jut, climb, and at times appear suspended in midair. They are otherwordly, like something you'd find on a beach in Neverland, or what it might look like if Antoni Gaudi had designed the fictional island of Laputa in a dream.
Here's a tour of some of Kaliner's marvelous creations—mostly built over the past decade or so along the beaches of South Boston—in his own words.
* * *
"Although I enjoy watching the castles get swept away, I aim to make make my castles more resilient to waves by using sticks ... anchored by elaborate braces I dig underground."
"Watching the castle rising above the waves is a real treat—and that's always when they look best."
"Often they simply get eaten up by the rising tides, not knocked down by waves. In any case, curious kids are the No. 1 killers of my sandcastles, which I certainly sympathize with—I would have done the same at that age!"
"I recently attended a talk by the incredible fabric-artist Janet Echolman, who relayed this great story about how cherry blossoms, like good ephemeral art, are so effective because they only last a week—they 'call you into the present.' I wish I had thought of that!"
"But, still, it's beside the point that making a sandcastle is terrific fun. I loved the architect Renzo Piano's recent article on this: he nailed it, perfectly."
"There is a spatial aspect to making castles that's always intrigued me. True to the sociology of culture, I have discovered that I get a very different reaction [depending on] where I make my castles."
"When I am on the fancy bathhouse- and mansion-lined beaches of Boston's North Shore, adults always ask me if I'm familiar with Goldsworthy, Christo, Gaudi; if I've been to Barcelona, or seen the movie Rivers and Tides? The answer to all these is yes, but that's not what making the castle is about. In fact, I've felt obligated to study up on all these things so that I won't disappoint all these people who always want to talk about them."  
"When I make a castle in working-class South Boston or Revere, people tend to avoid me, or look quizzically. When I was making this one [below] in Revere, an old man approached my group and asked 'What are you kids, on drugs or something?'"  
"There is a line of research in sociology that shows that we how interpret or engage with art—especially novel art—often splits on class lines, and for a while I cooked up an idea that I would make these weird sandcastles all over the country to see how this dynamic played out on different beaches."
"It never convinced me to be a good research project, though, and so I've just continued to make the castles whenever I can."
We want to hear what you think about this article. Submit a letter to the editor or write to letters@theatlantic.com.
Adrienne LaFrance is the executive editor of The Atlantic. She was previously a senior editor and staff writer at The Atlantic, and the editor of TheAtlantic.com.