Why Is It So Hard to Track Taser Use?
Sandra Bland was threatened with a Taser even though she posed no harm to officers. She's not the only one.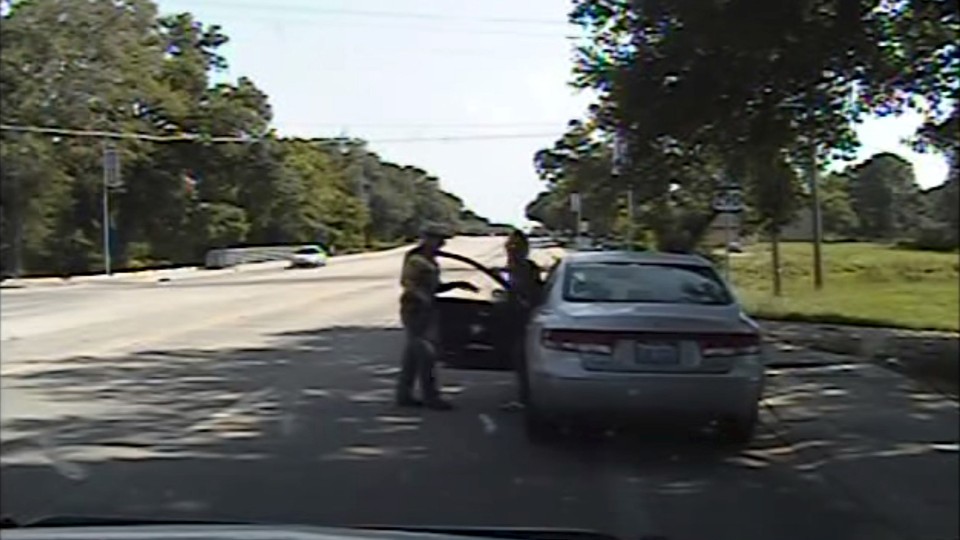 The new video of the arrest of Sandra Bland is brutal and hard to watch.
It also raises a question: Why did an officer threaten her with a stun gun?
In the video, Bland, the 28-year-old woman whose hanging death in a Texas jail cell is the subject of a federal investigation, is pulled over by an officer for failing to signal a turn. The officer, a Texas state trooper named Brian Encinia, exchanges words with Bland, then demands she step out of the car. It's unclear why he made this request—he first asked her to stop smoking a cigarette, which Texas state law permits her to refuse—but he continues to insist on it, saying the demand is a "lawful order."
And then: He appears to threaten her with his stun gun. Encinia tells Bland he will "light you up" if she doesn't get out of her car.
The footage is disturbing, but it also reflects a common problem: Tasers are not only used by law-enforcement agents as less lethal alternatives to guns, or even as weapons for self-defense—but often as tools to get people to do what they want. Bland does not appear to endanger Encinia, but she is not complying with his order, so he threatens to tase her.
Though experts believe the practice is common, there's little accounting for how Taser weapons are used nationwide. And though there's no evidence that Bland's death involved a Taser, there are few reliable databases tracking even more elementary questions: Just how many people die every year because of Tasers? How lethal are stun guns?
An ongoing reporting project from The Guardian has attempted to keep track of such deaths. That publication and The Washington Post are tracking every police-affiliated death this year, a difficult task that has not been successfully accomplished by a federal agency, but The Guardian's project specifically includes and separately categorizes those deaths that occurred after use of a stun gun.
The Guardian reports that 33 people in the United States have died because of a Taser weapon since January 1. Taser International, the company which manufactures and markets Taser weapons, told me that The Guardian is ascribing "cause" incorrectly.
"If someone dies following a TASER incident, The Guardian is automatically and erroneously assuming causality," said Steve Tuttle, the company's vice president of communications. He called the publication's assignment of cause "inflammatory, ridiculous, and wrong."
Tuttle told me the paper's reporting was "not consistent at all" with its own tally of Taser-affiliated deaths, but he did not describe the company's methods. He referenced a 2009 study from a Wake Forest professor that found that serious injuries occurred in fewer than 1 percent of Taser uses. "These weapons appear to be very safe, especially when compared to other options police have for subduing violent or combative suspects," said the lead researcher, William Bozeman, at the time. "That is not to say that injuries and deaths are impossible."
Indeed, a peer-reviewed study published in the journal of the American Heart Association three years later found that Taser weapons could cause heart attack and death.
And Bozeman's quote gets to the problem of Taser use. Tasers are undoubtedly safer than firearms: No one, not even the company's harshest critics, contend that. But they are often used not on violent or combative suspects, as Bozeman says, but on people simply failing to comply with officer orders. They are effectively "pain-compliance tools," not less lethal weapons. In practice, they join a host of other compliance tools, including rubber bullets and tear gas, that are billed as harmless but can cause great harm to their subjects.
Tabulating Taser injuries is also complicated by all the difficulty of tabulating any police-affiliated injuries. U.S. jurisdictions do not record deaths, whether from Taser or otherwise, in consistent ways, and coroners may be unsure as to whether the cardiac arrest or renal failure associated with the weapon may be caused by it.
And while every Taser weapon spits out an incident number after its use—a piece of physical evidence meant to shore up what the company calls its mission to "protecting truth"—those records are not transmitted from the scene of an incident or otherwise centrally documented. Local police departments may require officers to file incident or use-of-force reports after use of a Taser, but such reports are often brief, formulaic, and provide little additional information.
Therefore, nationwide data is  scant. The Centers for Disease Control, which keeps some of the most comprehensive mortality data in the United States, told me it does not keep records on Taser-related deaths. The best source may be Amnesty International, which counted 540 Taser deaths in the United States over a 12-year period.
An example of this paucity of information comes in the case of Sheldon Haleck, a 38-year-old Honolulu man who was tased on March 16, 2015, and died shortly afterward. He was also high on meth at the time. Tuttle said the death was one The Guardian got wrong: Haleck did not die "because" of a Taser, but because of a meth overdose.
Yet the case is a complicated one. The local medical examiner told Hawaii News Now that he believed Haleck's death was due to the methamphetamine, but his office has not released the complete autopsy report. Some of Haleck's causes of death were consistent both with a methamphetamine overdose and those found in previous Taser-caused deaths. I wasn't able to reach the Honolulu medical examiner for comment or clarification.
And the Haleck case drives back to the initial question of Taser misuse. Video secured by Honolulu Civil Beat appeared to show that Haleck did not fight with police officers, as was initially reported: He only ignored their requests. And after acting erratically while still failing to comply, he was tased.
In other words, even though Haleck might not have died because of a stun gun, his case shows exactly how Tasers are often used: aggressively and unnecessarily. So perhaps he does not belong in The Guardian's database—but he never should have been there in the first place.