Twitter Verification Is Meaningless
So why are people obsessed with it?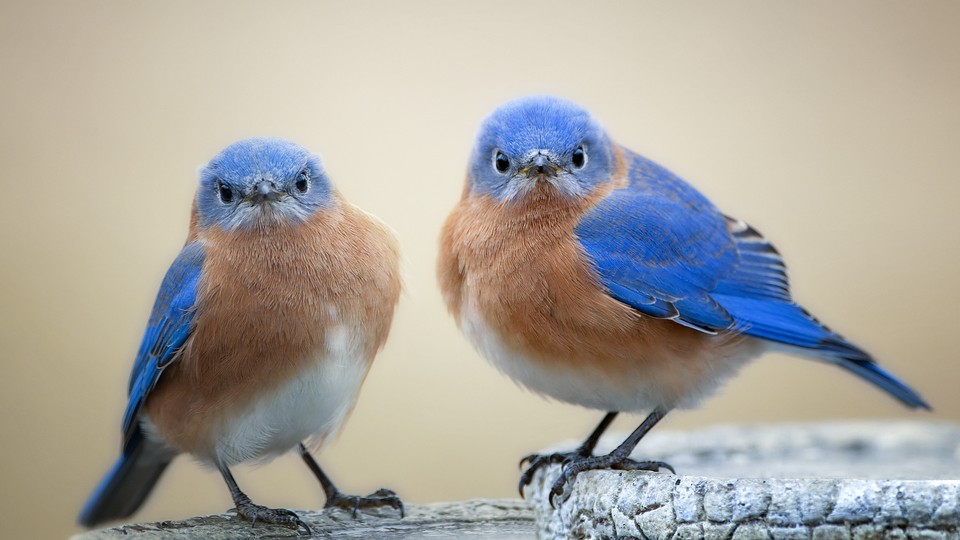 One of the best gifts someone could have given Ben O'Keefe for his 21st birthday was a blue checkmark next to his Twitter username. "I'm a public figure," he told me. O'Keefe, a vocal member of MoveOn.org, is one of the many Twitter users demanding to be "verified," meaning Twitter officially certifies that this person is who they say they are, and demonstrates as much with a small blue checkmark next to their username.
"Whether we want to call it 'silly' or not, it exists," he said. "And people buy into that."
Type "verify me" into Twitter's search bar and you will see a long stream of tweets from users across the globe begging Twitter for the blue checkmark. Social networks are built around incentives. Metrics such as likes or retweets add weight to someone's message—in the case of Twitter, not just by distributing what's been written in 140 characters more broadly across a network, but also by encouraging the creators to say more, harnessing competition and a natural desire for validation to bolster usage. Retweets may not always be an endorsement but they at least mean someone else believes more people should see what you've said. And higher usage means higher engagement with advertising.
The verification system does have a practical purpose. Twitter brims with bogus or parody accounts. So when users are sifting through a list of potential usernames, it helps to have signals to help find the actual person they want to follow. (Of course, that hasn't stopped the unverified from trying to PhotoShop blue checkmarks onto their profiles.) Since Twitter is the only one that can grant the official checkmark icon, it certifies that this person is who they say they are, and not someone posting a phony account. Yet without that blue checkmark, many still-valid accounts of high-profile and high-follower accounts are left looking like they might be fake.
Twitter hasn't yet verified Keith Walker, a Nashville country singer with over 48,000 followers. "The biggest question I get is, 'Is this really you?'" Walker said.
But it goes further. "Being verified doesn't just verify that you are who you say you are; it verifies that you are, by some slightly mysterious criteria, important," says Judith Donath, who studies social networks' effects on society at M.I.T. Media Lab. "[Twitter] keeps up interest by keeping verification relatively rare, by making the rules for being chosen opaque, and making it like an invitation-only club."
That creates a next level: users who want but don't have the blue checkmark had better keep working to build their Twitter brand to finally reach that In crowd. It's a continual carrot—or, as O'Keefe puts it, "It's like the Illuminati of social media." (As someone who's verified, I can vouch there are no secret meetings.)
Twitter has a vague set of guidelines on its website, outlining the verification process as applicable to users in "music, acting, fashion, government, politics, religion, journalism, media, sports, business and other key interest areas." The process apparently does not take follower-count into consideration and the company says they are constantly revising the guidelines. In other words, verification can apply to anyone.
O'Keefe has had numerous agents try to fast track his verification. But he believes there's a pretty easy way to get the blue checkmark: "Spend a lot of money on Twitter ads." He says a Twitter representative told him that a dedicated account manager could escalate his verification request—and to get a dedicated Twitter account manager, he needed to spend $5,000 per month on ads. "I felt almost extorted in a way." (A spokesman for Twitter said that while someone on the sales team can request "escalate[d]" verification, it's ultimately at the discretion of a person on Twitter's User Services team. That team's focus is verifying "highly sought users" in "key interest areas.")
* * *
Within various subcultures, status is built on an intricate matrix of ladders. Climb here, climb there. Whether you want to become chief or president, get into a country club, or get the job as starting quarterback, humans create social incentives to compete and congregate—to project success, whether or not they're actually experiencing it. When a father proudly notes, "My daughter's a surgeon," he's putting a checkmark, in some form, next to her name. And icons that denote hierarchies are everywhere: Girl scouts and generals get patches to show their rank, polo shirts are festooned with telltale alligators, people slap bumper stickers with the names of universities on their cars. These emblems are often a way of saying I'm important, but they're also a way to communicate something that's simultaneously simpler and more profound: This is who I am. Twitter verification, then, may be totally pointless to a lot of people, and meaningless in the grand scheme of things, but it is a form of context nonetheless.
Eric Anglero tweets in a community with a range of voices hoping to increase diversity in the workplace. Much of Twitter is divided into sub-communities where people with similar interests follow one another or the same bigger accounts—these range from "Tech Twitter" to "Black Twitter" to "Gamer Twitter," among others. In any of these communities, some voices carry more weight than others because of followers—and those leaders are often the people who have the blue checkmark. "People see the validation and give you more respect, innately," Anglero says. "It's funny to think what 'verification' does to the status quo." Anglero admits that when I reached out to him to chat about this story, after I saw him tweet a verify request to Twitter, he only responded because he saw that little blue checkmark next to my name.
Many verified users will tell you that verification really means nothing. "It's the most clear case of star-bellied sneetches I've yet been able to find in adulthood," the blogger and prolific tech tweeter Anil Dash noted. "But this fact does nothing to temper the deep conviction of some that getting a blue checkmark on their Twitter or Facebook account would change their lives. … People tend to wrongly see these as indicators of the quality a person's social media presence."
Though sometimes accounts are popular enough or active enough with such a consistent message that they don't really need a blue checkmark. DeRay McKesson, one of the loudest voices in the #BlackLivesMatter movement is more concerned with his tweets than a blue checkmark. "Aside from it being something I'm asked about often, I don't think about it all that much,"  he says. "The truth is still the truth with or without a blue checkmark." Now that he has over 173,000 followers, it'd be hard for anyone to confuse McKesson with a hoax account anymore—though many have tried.
I got the verification blessing because a former coworker at the San Francisco Chronicle knew the right person at Twitter. This is a fairly common story with people in Media Twitter—I don't know anyone that's gone through much of a formal process (or been hit for advertising dollars). I provided my email to my coworker and a few days later the little blue checkmark appeared. I've asked many journalists at a wide array of large and national media companies and this seems to be the only requirement for their verification.
I have a 5,400 followers, average-to-low for most people in media, and the sway of the little checkmark has reared its head once or twice. At a Silicon Valley networking event an investing big-wig blew me off when I tried to chat; he said he'd follow me on Twitter instead. Yet after he saw the little blue checkmark next to my username he was happy to gab. (He wasn't verified and has over 100,000 followers.)
O'Keefe points out that while it is silly that people care about a little blue checkmark, in an age where citizen journalists like McKesson are increasingly bypassing traditional media outlets and distributing news straight to the people, it's important that there is some system of checks and balances to be sure the source is credible—even if it's managed by a profit-driven company like Twitter.
"People want to feel validated in that you know what you're talking about and that you deserve to be talking about it," he said. "We exist in a space where social media is a really powerful tool. If you want to be a player in it, you need to show that you're a player."
"It's sad, but it's also kind of necessary."