The Ennui of the Fitbit
Some people wear their fitness trackers regularly, relying on them to get, and stay, in shape. Many others, however, abandon them, consigning them to junk drawers, obliging relatives, and the junk drawers of obliging relatives.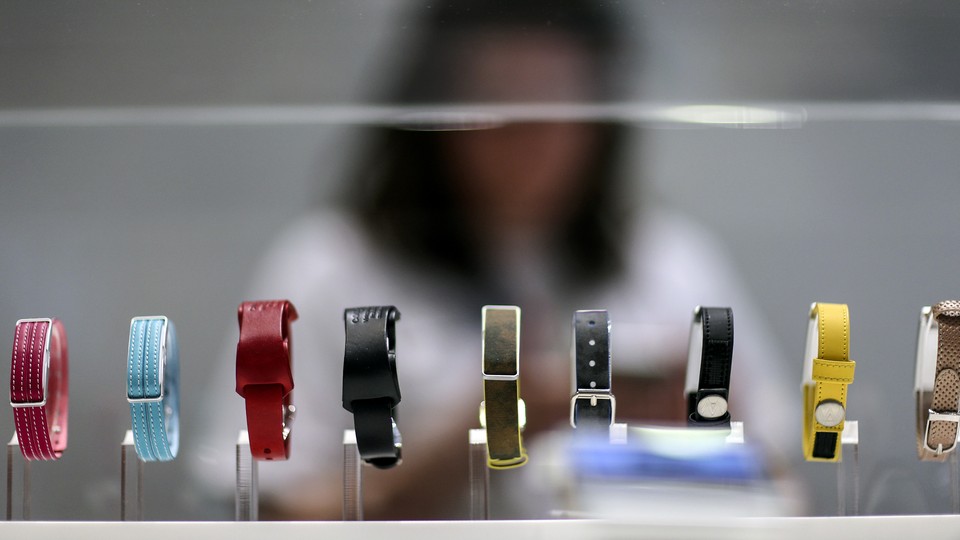 Fitbit now features a Tory Burch-branded line of fitness trackers. The devices themselves—the gizmos that actually turn your movements into data—feature the recognizably be-mazed Burchian logo, rendered in rich golds and silvers; they're displayed, in turn, on bands of metal and leather. In a few cases, they hang from chains like pendant necklaces. The partnership that gave rise to these jewelry-esque trackers, the Burch meets the
'
bit, brings the ideas they embody—fitness! fashion!—together, and suggests what anyone who has ever worn a Fitbit bracelet, or a Jawbone Up, or a Withings watch, knows to be true: That fitness tracking can double, in its way, as a fashion statement.
The problem with fashion trends, though, is that they tend to be true to their name: They're fickle, coming in and out of style with predictable volatility. (According to
the Klum Law of Fashion Thermodynamics
: "One day you're in, and the next day, you're out.") In that sense, it's unsurprising what the
Associated Press is now reporting: That many fitness tracker owners are abandoning their devices, consigning them to junk drawers/obliging relatives/the junk drawers of obliging relatives.
There's
Virginia Atkinson, a writer in Adrian, Michigan, who "was expecting a cheerleader but found monotony" with her device. There's Deepak Jayasimha, who regularly walks three to four miles a day, and who found that his Jawbone Up "stopped giving him information he didn't already know." (He gave the bracelet to his wife, who, having stopped using it after two weeks, sent it to her father in India. He has yet to use it.) There's Annabel Kelly, a researcher in New Canaan, Connecticut, who wore a Withings Activite Pop—one of two she won at a conference—for only a day before getting frustrated when it failed to credit her for cross-training she did at the gym. (She ended up giving the devices to her 5- and 7-year-old daughters to track their exercise habits.)
Their experiences, the AP notes, are common. One research firm, Endeavour Partners,
estimates
that roughly a third of trackers get abandoned after six months. A
recent editorial
in the
Journal of the American Medical Association
was even more dire in its assessment: More than half of the people who buy fitness trackers,
its authors claimed
, ultimately stop using them. And a third of them do their stopping within six months of the devices' purchase. Rock Health, an investment fund, bears that out: It
claims
that the regulatory filings for Fitbit, in particular—which boasts 76 percent of the U.S. market share by revenue, and
recently went public
—suggest that, as of the first quarter of 2015, only half of the tracker's nearly 20 million registered users remained active in their use of their devices.
The disillusionment may be due, on the one hand, to the fact that many of the devices currently on the market—particularly the ones priced around $100, which are often given as gifts—track steps at the exclusion of other fitness activities, making them incompatible with weight training and Crossfit and other trendy fitness activities. There's also the fact that all those data can take the fun out of fitness. As The Atlantic's Olga Khazan put it, reviewing a Fitbit-like device that claims to track users' posture, the experience
is basically "that of having a tiny, overbearing mother always on your person."
Earlier this year, the writer Doug Green wrote

an essay

explaining why he gave up on his Fitbit. "
I had substituted a system that worked for me (calorie counting and reasonable aerobic work with heart benefits) for some computerized gizmo around my ankle,"
he wrote
. Worse, he noted, the Fitbit took the serendipity out of that most basic of human activities. "My walks were no longer delightful excursions to marvel at nature or delight in old back alleys. They were forced marches to accumulate steps. The fun of it all took a dramatic, stage-left exit and I was left alone to take ever-more steps."
But the other explanation for all the Fitbitterness may come down to the original software bug: human nature. We bore and burn out easily—particularly, it seems, when it comes to fitness. Look at
Google's tracking o
f health-related searches, recent year to recent year
:
So many peaks in January, when our hopes for our Future Selves are high! So many valleys the rest of the year, when the realities of our Current Selves set in! Which is another way of saying what anyone who has ever given up carbs, or signed up for a marathon, or bought that Groupon for hot yoga-meets-kickboxing bootcamp, may know all too well: That intentions are very different from actions. A Fitbit tracks behavior; it doesn't, on its own, change it.
As Doug Green concluded of his own peak-and-valley treatment of the Fitbit: "
The challenge is knowing what works and what only pretends to work."