Yale's Rare-Books Library Is Saving Old Chipotle Cups
They join a collection of American poetry and fiction printed on pencils, postage stamps, paint chips, and other unusual materials.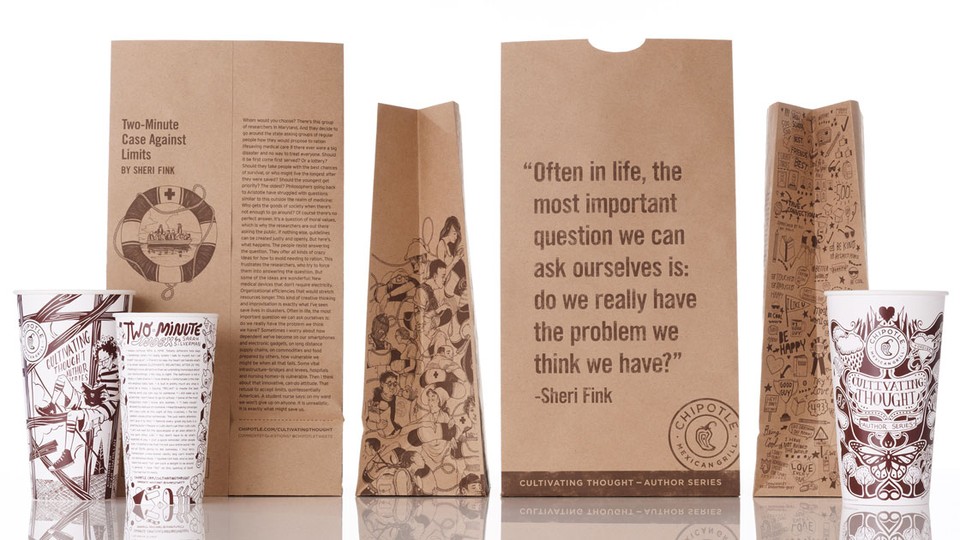 Remember those little stories on the side of the Chipotle cups? Do you happen to have one lying in the backseat of your car?
You, then, have at least one thing in common with Yale.
Yale's rare-book library has acquired a complete set of the Chipotle "Cultivating Thought" series—the series of short, "two-minute" essays and stories printed on the side of the company's disposable paper goods. George Saunders, Jeffrey Eugenides, Toni Morrison, and Amy Tan all contributed to the series; Jonathan Safran Foer came up with the idea in the first place.
Like the idea of the"Cultivating Thought" series itself, the acquisition sounds like a punch line. Don't throw out your trash—give it to Yale! But in fact it joins a large archive of poetry printed on material on which poetry is not often printed. The Beinecke Library's rare-book and manuscript library has collected poetry printed on the side of pencils, postage stamps, bumper stickers, and commercial paint chips. It includes poems on posters by Amiri Baraka and Gwendolyn Brooks.
"The Yale Collection of American Literature collects American Literature in all its formats and in all media, documenting the ways great American writers reach diverse and unusual audiences beyond standard book publishing," says a statement from the library.
So as much as it sounds like a joke, it fits into a tradition of American writers trying to reach unusual audiences through unusual (if brief) work—and of libraries collecting their labor. It is probably the most pecuniarily rewarding effort yet to be collected by the library, however—the same collection also contains 1980s mail art. And probably few other projects in the collection started when a writer found himself so bored in a fast-food joint that he pondered his own mortality: "I really just wanted to die with frustration," Foer told Vanity Fair of the project's genesis, when he was stuck in a Chipotle with nothing to read. (It's not even close to being the only fast food-associated American literary contribution, however: At the very least, Nicholson Baker writes in a Friendly's.)
The archive also speaks to the incredible material properties of paper. All of the items in the collection are unusual in some way, yet most are still made of dead wood or dead wood pulp. The thing meant to sell you on a different paint color, the containerboard box those paint chips come in,  is made of dead wood pulp. And here, even the thing structurally strong enough to hold a denser-than-you-want-to-think-about burrito and one pound of sugar water is made of paper.