Hiring: The First Librarian of Congress for the Internet Age
Experts say that a new librarian should digitize more works, raise more money—and use email.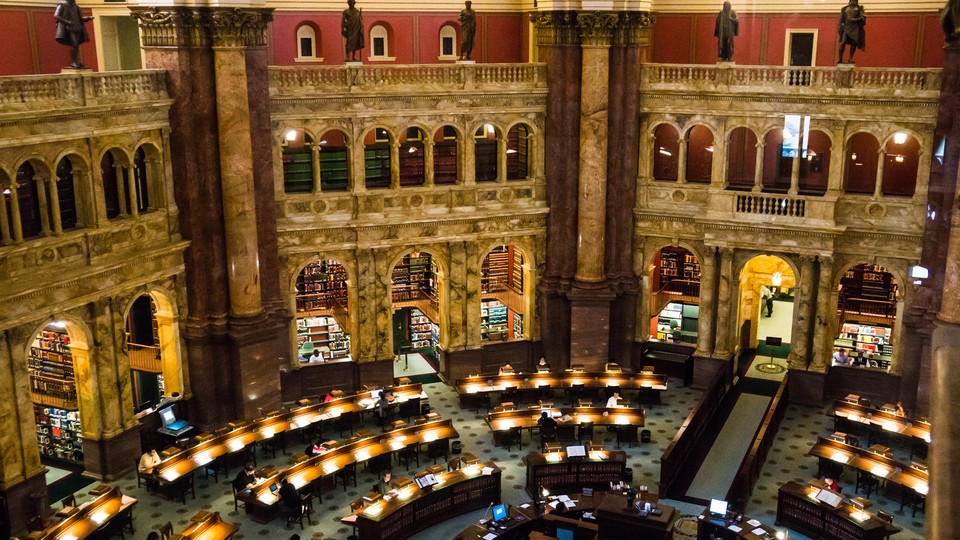 In a month or six, the United States will get its first new Librarian of Congress in nearly three decades. The current librarian, James Billington, has held the title since his appointment by President Reagan in 1987. Though named by the president and confirmed by the Senate, the Librarian doesn't change with every new White House. After being appointed, Librarians are free to serve as long as they want—that's why there have been only 13 of them since 1802.
In other words, this will be the first time a new Librarian has been appointed since the invention of the web.
The Librarian is a surprisingly powerful role. In addition to claiming one of the best titles in government (though The Atlantic's staff is split on whether "Senate Sergeant-at-Arms" or "U.S. Chief Justice" trump it), the new Librarian assumes considerable powers. This person will not only run the largest library in the world, with thousands of staff of its own, but also oversee the Copyright Office, the department which manages the U.S. copyright system. This gives them the power to declare what constitutes a copyright violation and what doesn't.
And the new Librarian could hold a potentially transformative role: They could be the first Librarian, many experts say, to truly embrace the Internet as core to the Library's mission. For although Billington sometimes used the web in innovative projects like Thomas.gov—a source of Congressional information online—the last decade had been marked by less expansion.
So what would this new, more digitized Library look like? Experts outlined a number of areas to focus on.
The first step, many said, would be for the Library to digitize more of its collections.
"Dr. Billington and everyone at the Library made some great progress in the '90s in terms of scanning some of their collections, but it's only a fraction of what's there," said Dan Cohen, director of the Digital Public Library of America.
"Digitization is not the only thing," he said, but it would help bring the Library's 160 million items "to many more people than who are able to visit the three buildings" in Washington, D.C.
The Library has already shown a willingness to digitize some of its holdings. It says it now has 52 million primary sources online. Thirty million of those are book pages, and more than 10 million of those are newspaper pages. Its print and photos collection, which exceeds 1.1 million items, is a treasure. (In fact, it inspires this superb Twitter account.) And the Library has also absorbed other institution's important digital archives, including the complete Twitter archive and the September 11 digital archive.
But those numbers pale against other efforts. HathiTrust, a consortium of  university research libraries that have digitized their holdings, claims to have more than 4.7 billion pages digitized, from 13 million total volumes.
And the last decade has seen other kinds of digital library innovation. Google Books and the Digital Public Library of America itself both allow different ways of interacting with digitized materials en masse, something the Library of Congress does not. (In 2013, Google Books even secured a legal ruling that found its technology counted as fair use—which now means that any institution, including the Library of Congress, can run a full-text corpus ngram search of digitized materials.) The New York Public Library has experimented with the civic and scholastic benefits of combining digitization and crowdsourcing with its Building Inspector, which lets web users identify old buildings on old, scanned maps.
Other libraries have tried to refocus on who their audience is in the first place. In Australia, the national library operates Trove, a big, searchable portal of every digitized book, image, document, and newspaper. Europeana, a similar institution which lets web users search across Europe's digitized collections, is funded in part by the EU. And the Cooper Hewitt, the Smithsonian's design museum (and therefore another research arm of the federal government), has begun a project of assigning every object in its collection a permanent URL.
"What 'digital' in the museum means is really that everything is available whenever you want. Wherever you want, whenever, however," Seb Chan, the director of Cooper Hewitt's Labs department, told me last year.
Jessamyn West, a trained librarian who also worked as the chief operating officer for the legendary Internet community Metafilter, told me that the Library could "model better sharing."
The Library, she said, regularly prepares reports for members of Congress on topics like terrorism, nuclear weapons, and the Middle East, as part of its Congressional Research Service. Although these reports belong to the public, they're not made available directly. Right now, the Federation of American Scientists, a third-party advocacy organization, requests the reports via a member of Congress and then archives them on its website. But these are the people's reports, and there's no reason, said West, that the Library of Congress couldn't publish them themselves.
That project would not "require millions of dollars and a team of thousands," she says. "It's just flipping a switch and saying, these are now available."
Indeed, a lot of what a new Librarian could do seems straightforward, as it would return the institution to a baseline level of technical competence. The new Librarian could appoint a permanent chief information officer, something the Government Accountability Office has begged it to do. (The library has churned through five temporary CIOs in the last three years.) It could invest staff and funding in clearing its backlog of books that have yet to even be cataloged, which the GAO says goes back to the 1980s.
"You're inheriting a legacy of 15 years, 20 years, of—the most charitable way to term it is—benign neglect," says West.
That abstention led to other institutions trying to fill the leadership gap—like the Digital Public Library of America itself, which has unified local and state public libraries into a single, searchable online interface with a robust application-programming interface. West said that the work of the Digital Public Library of America and HathiTrust should have been done by the Library of Congress. (Cohen said that, by nature of being young and small, the DPLA was able to act more with more agility than the Library of Congress.)
A spokeswoman for the Library says that it has aggressively digitized its holdings, but that it also has many responsibilities.
"Of course the Library would like to do more of a lot of things, but there are resource realities, and there is a broad mission. The Library's mission is not one-dimensional. We acquire materials, preserve materials, catalog materials so they are accessible, as well as digitize and put them online," said Gayle Osterberg, a Library spokeswoman, in an email.
In some ways, the new Librarian might only prod—and not drive—the Library's digital future. Billington, for all his faults, was politically popular. (Congressmen practically fall over themselves to praise him in The New York Times's otherwise fairly negative coverage of his resignation.)
Billington was also a good fundraiser—perhaps the most important job of any big institutional leader. In 2007, he secured a private gift of $150 million, the library's largest ever, to build a new campus for audio-visual materials in Virginia. West credited him with successfully bringing in funds for the library's special exhibits and projects.
Since the announcement last week, the American library community has debated who the new Librarian should be. A White House petition signed by more than 1,400 calls for an appointee who more accurately "represents librarianship."
"For the last 61 years, the Librarian of Congress appointee has not been a librarian. For as long as the position has existed, there has never been a Librarian of Congress appointee that is not a white man," the petition says.
Other librarians have pushed for further changes. The Library of Congress is technically an agency operated by the U.S. Congress and not otherwise connected to the United States. Erin Leach, a librarian in Athens, Georgia, argues that it should now formally become the country's national library.
West had smaller goals for the next librarian. Her ideal candidate, she said, would be "charismatic, diplomatic, [understand] the web, and could have a bunch of people working for them who could actually get the nitty-gritty stuff done."
Indeed, she said, one of the best things a new Librarian could do would be to just raise money and get out of the way. Or the Library could start by getting its most senior leadership on email. According to The Times, Billington rejected the technology, preferring to communicate with staff off-hours via a fax machine at his home.