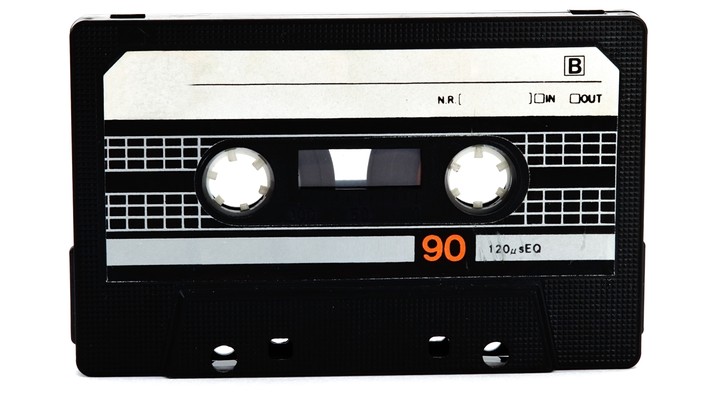 If not for a humble tape recorder, one of the most popular songs in history—arguably the greatest rock song ever recorded—may have evaporated in a dream.
It's been 50 years since The Rolling Stones released "(I Can't Get No) Satisfaction." The song's iconic guitar riff—those three irresistibly fuzzy notes—came to Keith Richards in a dream.
"On the road, he would use the little cassette machines with the batteries to put his song ideas on the cassette," the music historian John Covach told me. "He gets up one morning and he notices the cassette machine has gone all the way to the end but he doesn't remember recording anything. So he rewinds and listens. He hears himself getting up in the middle of the night, playing  '(I Can't Get No) Satisfaction,' and then there's a half-hour of snoring."
Richards has said he used a Philips recorder in those days. So it was probably a machine that looked something like this:
The Philips portable cassette recorder—built with technology originally developed for use in electric shavers—had only been out for about two years when Richards woke up with a tune he had to get down. ("I had a sound in my head that was bugging me," Richards once said of his songwriting process.)
Exactly where and when this dreamy recording session took place is a matter of some debate. Whatever the case, Richards originally intended for the riff to be rerecorded in the studio with horns instead of a guitar. You can hear his inspiration in the song "Nowhere to Run" by Martha and the Vandellas.
And Otis Redding's cover of the song, for his 1965 album Otis Blue, shows what the song sounds like with horns.
Redding's version may be more like what Richards originally had in mind, but the rest of the band nixed the idea when they heard Richards play the riff on the guitar. "If he had done what he wanted to do, maybe it wouldn't have been a hit," Covach told me. "Everyone voted in favor of him playing the fuzztone. Everybody in the room knew it was going to be a hit except Keith Richards."
We want to hear what you think about this article. Submit a letter to the editor or write to letters@theatlantic.com.
Adrienne LaFrance is the executive editor of The Atlantic. She was previously a senior editor and staff writer at The Atlantic, and the editor of TheAtlantic.com.