The Store Where Robots Sell Robots
A place where the employees and the merchandise are machines.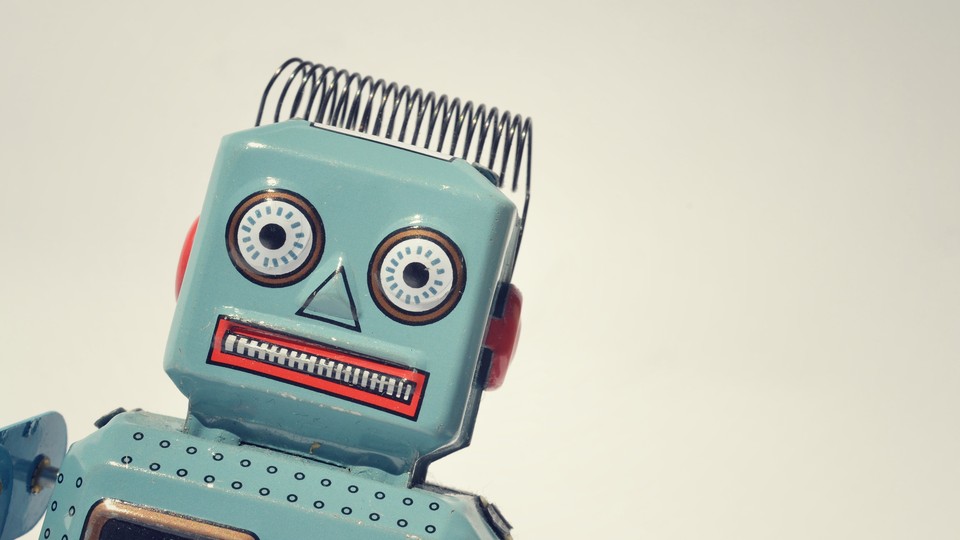 Arika Bunfill has heard it all.
"Are you real?"
"Will you clean my house too?"
"Will you go out with me?"
It's hard out there for a robot.
Bunfill works at the Beam store in downtown Palo Alto, California. Scratch that. Bunfill works from her comfortable home in Vacaville, about 90 miles away. But her presence, via Beam, a teleconference robot that looks like the offspring of a computer and a Segway, roams the floor at what Beam reps say is the world's first and only unmanned store. That's right, no human beings work at the store—it's operated 100-percent remotely by folks like Bunfill.
"Hello ladies," Bunfill says cheerfully to two women walking by the brightly lit shop. They are momentarily stunned by her greeting from a flat panel face, but then walk away, glancing back once. Bunfill is undeterred. She maintains her bonhomie, swivels her wheeled robotic base, and begins to chat up Vish Sastry and Kaval Ali, a young couple on their first date. Ali, a trademark paralegal, is unfazed that she's carrying on a conversation with a machine. "This is so Silicon Valley," she said with a dismissive wave.
Tom Wyatt is the store manager but he only stops by about once a week—mostly because he's a big fan of Cream, the trendy ice-cream shop across the street. Wyatt and a robot, controlled remotely by Michelle Posey, will head over there together. The sight of a man and robot getting banana walnut fudge together is a stunt that draws lots of attention—exactly what Wyatt wants. "Once you see the Beam in real time, it's easy to understand the value," Wyatt said.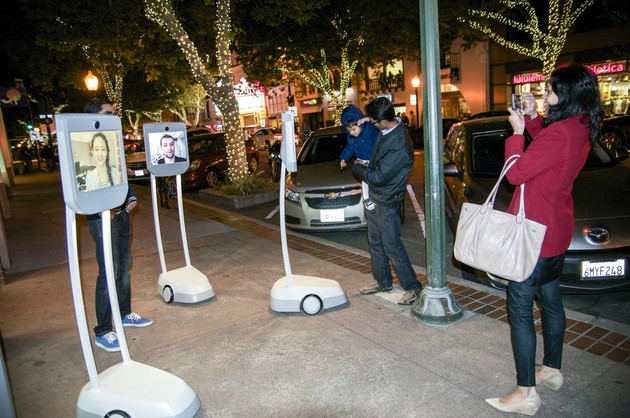 "The live environment is really effective," said Erin Rapacki, Beam's director of marketing. Effective means sales. The robots, after all, are trying to sell themselves. Posey, 29, joined the 30-person team in December and works four-hour shifts, five or six days a week. At the start of her shift, she simply logs into the system from her home in Monterey. From there, Posey can open and close the front doors of the retail space, adjust lighting and temperature, pilot the Beam around the store, answer questions about the product, and wow curious kids by dispensing brightly colored skittles from a tricked-out candy canister. With a few exceptions, adjusting to an unmanned space was seamless. Wyatt clumsily strapped a leaf blower on a Beam's base, and when trash clutters up the polka-dotted carpet entrance, one of the pilots will assume cleanup duty and whirl the Beam around the store.
For Posey, pivoting from her job as a blow-dry bar manager was a welcome change. "I used to spend four hours a day commuting in my car to my job," said Posey. "This allows me to have a life because I work from home and it's really interesting."
Standing at five feet two inches, the screen is set on two long legs that jut out of a wheeled base. The Beam slides around as if it were on ice skates. There's nifty parking assist function that guides the Beam into its charging dock, speed control, and a "party mode" setting that silences the back-facing microphones and reduces the ambient noise—perfect, said Rapacki, for networking receptions and factory visits where loud machinery might interfere with a one-on-one conversation. Shoppers can visit the store to take one of two versions, the Pro or the Plus, for a spin. The Plus is a smaller and less expensive version designed for personal use—just two hours of battery life—while the Pro has eight hours of battery life and is designed for conversations up to 20 feet away. Managers at companies like Power Bright have Beam robots stationed at plants in China. Beam says it has one customer, a graduate student at the University of Maryland who suffers from spinal muscular atrophy, who is able to attend classes remotely and even walk the halls with classmates using Beam.
The robot moves at about two miles per hour, which matches the walking pace of an average human. "The interactive piece is what separates us from traditional video tele-conferencing," said Posey. "Non-verbal cues, like where we stand for instance, are easy to pick up."
Meanwhile, back at the Beam store, Ben Day, a pilot who works from his home in Danville, California, is educating a couple and hoping to close a deal. Since the store opened, there have been quite a few sales of the smaller Beam Plus version—Wyatt wouldn't say how many—but it's enough to warrant a second store in San Francisco. Bunfill, Posey, Day, and the others bounce between locations when backup is needed but mostly work one shift at one location. Friday and Saturday nights are the busiest.
"We get a lively crowd," said Day, 26. Day sits in front of a backdrop that looks a bit like grammar school picture-day. He's friendly and laughs a lot when interacting with customers, particularly when he parks the Beam outside on University Avenue, an artery where Stanford University students mix with families and hipsters."The Beam frees people up to say things they might not say in person," said Day who, like Bunfill, fields inane questions and requests for dates adding, "it's changed the way I talk to people too … I'm more outgoing and courageous."
And there are other perks. Posey beamed into a party at a New York museum and even twirled around the dance floor. "I've never been to New York but I feel like I have," she said.