The Skyscraper of the Future
The push to build a new kind of tower has begun.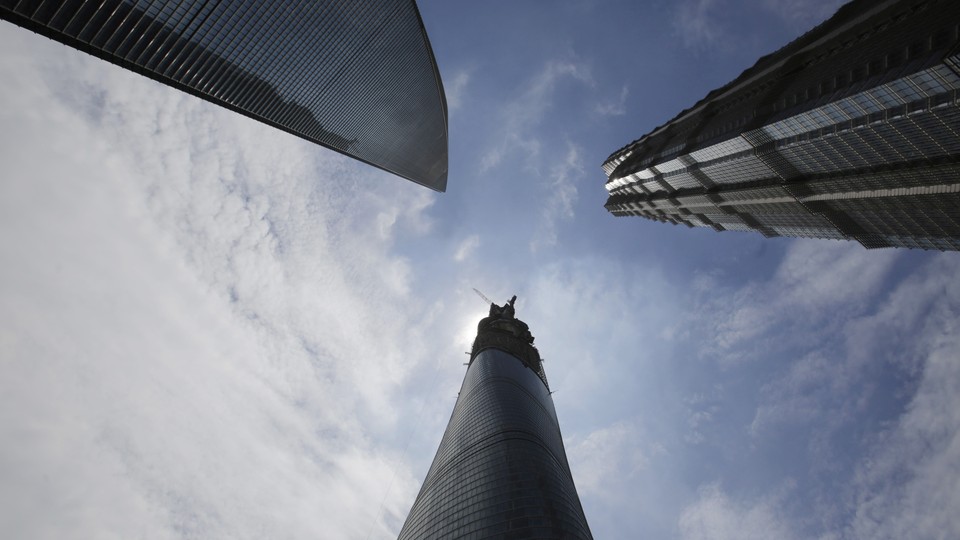 There's something inherently absurd about skyscrapers. They defy gravity and high winds. They require years of challenging high-altitude construction. They're dizzying to look at—from the ground and from their top floors, where a sense of vertigo is inevitable. They beg the question: Why do they have to be so tall?
Because cities need more space—and plenty of bragging rights. A skyscraper, after all, is the ultimate monument to technological genius. "They assume an iconic position within the cityscape," Edward Orlowski, a professor of architecture at Lawrence Technological University, told me in an email. "Each city wishes to hold the distinction for the tallest, the most unique, and the most innovative skyscraper."
In other words, tall buildings send a message for the city they're located in: We're risk-takers. We're innovators. Look at us! And whatever the message, a tall building sprouting in a city skyline is a dramatic feat. It's no wonder having a skyscraper immediately makes a city look more like a city. What's happening to a skyline is often how people can tell which cities are booming.
Just look at Shanghai. Since the late 1980s, the city's financial district has steadily grown from an unremarkable cluster of buildings into a forest of skyscrapers. In a little more than 25 years, an influx of investors and of people moving into the city—increasing the population by about 10 percent each year between 1993 and 2013, to a total of more than 23 million residents today—transformed the area from a city of the past into a city of the future. "Shanghai is the beacon for the futuristic look," said Russell Gilchrist, the design director and senior associate at the architecture firm Gensler. "It's usually considered the epicenter of the future of tall buildings."
Gilchrist should know. Gensler is behind the newest addition to Shanghai's skyline: Shanghai Tower, a colossal 2,073-foot-tall skyscraper set to become the third-tallest building in the world (after Dubai's Burj Khalifa and Tokyo's Skytree) when it begins operations in mid-2015. It boasts 121 floors, nine dividing sections, and a twisting facade. As its designers call it, the tower will be a "vertical city"—it looks like a city street turned to point upward, with each of the nine sections serving as a "block." With its massive height, the tower will eke in just ahead of the Abraj Al-Bait Towers (1,972 feet) of Saudi Arabia and Taipei 101 (1,671 feet) in Taiwan. It dwarfs the 1,776-foot tower at One World Trade Center, the tallest tower in the United States. (The Willis, née Sears, stands at a paltry 1,451 feet in Chicago.)
Shanghai Tower will also join the growing number of completed skyscrapers in Asia. The Council on Tall Buildings and Urban Habitat, in its 2014 Year in Review, showed how the completion of skyscrapers (classified as 200 meters—about 656 feet—or taller) underlined transitions in world economic power:
---
Locations of the World's 100 Tallest Skyscrapers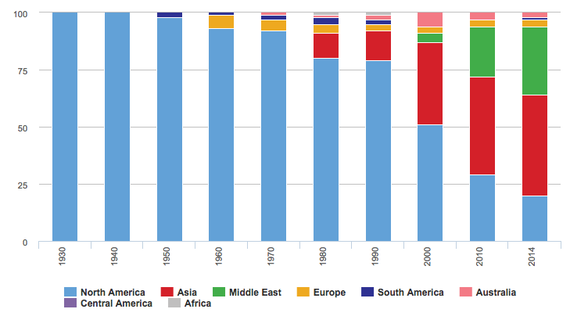 ---
But even as architects continue to build skyscrapers, the goal of building taller ones has changed. Designing the skyscraper of the future isn't so much about scraping or even piercing the sky, but using it to make its space more efficient than ever.
"The 'tall building' embodies that futuristic Blade Runner city, but I'm not necessarily convinced you need tall buildings to evoke that," Gilchrist says. "We're striving for high performance in our buildings."
This "high performance" can mean many things: added comfort, better energy conservation, more control for building tenants, etc. Cities will always need more space, which they'll find by building upward, but they also need to meet the needs of people living in a changing world.
That's not an easy task, as it's become harder for engineers to make buildings even taller than before. Take the Sky City project in Changsha, China, for example. The tower was supposed to not only become taller than the Burj Khalifa, but was also supposed to be built in just three months. Delays in design, construction issues, and pushback in the region have left the project on hold.
For most other skyscrapers, though, the challenges begin with elevators, which is the "real limit to technology" designers have faced, as Gilchrist puts it. Steel cords can hold only so much weight before the load becomes too heavy to carry, especially when traveling dozens of floor upward, and elevator cars can move only so fast. The fastest elevator, which will be used in the CTF Financial Center skyscraper in Guangzhou, China, when it opens in 2016, will travel at about 20 meters (about 66 feet) per second. Those speeds can be unforgiving on the bodies—and ears—of their riders.
Instead, elevator systems will need to work around both height and speed problems. One solution is being developed by the German company ThyssenKrupp. Their elevator, the Multi, boasts the ability to have multiple elevator cars move in one shaft at a time, and to have those elevator cars move horizontally, in a rope-free system.
How? Magnets:
The company says it plans to build a test tower for the elevator that will be completed in 2016. If it works—and that's a big "if"—it'll help resolve the elevator issue. But the plans for the Multi (and a competing design from Hitachi) do look like something out of science fiction. As an opinion piece in Al Jazeera points out, the Multi's rope-free concept builds on an idea that's been around since the 1960s, and might not be as revolutionary a design as it touts itself to be:
It's more likely that ThyssenKrupp's new model will be the next glass elevator—a gimmick for fancy hotels and malls—not one of the technologies that fundamentally transforms architecture and urban life, as masonry, plumbing, structural steel, and the elevators of Tufts and Otis have.
While the Multi and elevators like it will take years to develop, the skyscrapers of tomorrow can already begin to tackle their next challenge: energy efficiency.
Devon Patterson, a design principal with Chicago-based architecture firm Solomon Cordwell Buenz, points to Loyola University's Institute of Environmental Sustainability to demonstrate how energy can be better distributed inside residential buildings and high rises. The Institute's Chicago-based building houses both academic rooms and student residences, so it has to avoid heating or cooling everything at one time. Instead, it shifts energy use from heating or cooling classrooms by day to student dorms by night.
That idea will only become more sophisticated, Patterson says. In the coming years, as he puts it, "You'll be able to control your environment on a very localized level. Building occupants will be able to customize their environment to a much higher degree than currently, beyond just closing blinds or changing temperature or lighting."
Localizing energy usage isn't new; many single-family homes and apartment units can adjust temperature settings. What is new is the idea of monitoring and delivering that data consistently to occupants throughout a skyscraper. (Think devices like Nest thermostats that tap into the concept of sensing and self-learning to conserve energy in homes, but on a larger scale.) When more monitoring happens, more awareness happens as well, leading to more energy conserved. That's the idea, anyway. Duane Carter, another SCB associate working with sustainability, predicts that in 20 years, tall buildings may be able to completely eliminate energy waste if people learn to control the settings in their spaces. "I think it's perfectly reasonable for these tall buildings to get toward zero as far as consumption," he says.
Yet, customization won't work the same way for all new skyscrapers—which is where the look of a skyscraper comes in. With the help of Building Information Modeling software, designers can come up with newfound structures for skyscrapers and see them in 3-D. Gensler, for example, uses the system to document how a building will look and account for the challenges it will encounter at higher altitudes.
"When we design towers, we have to understand sunlight, how the wind influences it, what the facade will look like," Patterson says. "So we do a lot of simulations in a short amount of time."
Designing a tower's skin—the external material that creates the building's facade—not only involves working with factors like sunlight and wind, but also requires an understand of what the views will look like. For Shanghai Tower, that means using a twisting, second layer of glass outside the core of the skyscraper that gives the tower its undulating look, filters light in different ways, and offers the people inside unique views of the city from all angles.
Ultimately, a skyscraper's design should reflect its use. Orlowski points to The New York Times' eponymous office building in midtown Manhattan as an example of a skyscraper that prioritizes sustainability while also making sure to satisfy its functions. The building is a toolbox of systems that respond to its occupants' needs: It uses a lighting system that dims and changes according to daylight, an on-site cogeneration plant that captures the heat generated by electricity to heat and cool the space, and a louver system on its building skin that provides shade but also looks like the page of a newspaper. "Skyscrapers can be modified and 'tuned' to meet changing needs and conditions," Orlowski told me. "The key … is that systems are designed to work in concert with one another."
In other words, skyscrapers have to be more than just tall buildings; they have to adapt to their surroundings. Instead of simply constructing upward, they'll begin to integrate smart technology and become multi-functional. So in that sense, the next skyscrapers may not look like skyscrapers at all—they'll still be vertical cities, but they'll take whatever form necessary to best provide for their occupants.
Not that they'll stop being symbols of their cities, of course. "The vertical reach of the skyscraper," Orlowski says, "has always represented ambition, idealism, and power." The chameleonic facades, energy efficiency, and even magnetic elevators of future skyscrapers should do the same.