Facebook and the Illusion of Safety
After the massive earthquake in Nepal, the social network implemented a post-disaster check-in button. It may be reassuring, but it isn't necessarily accurate.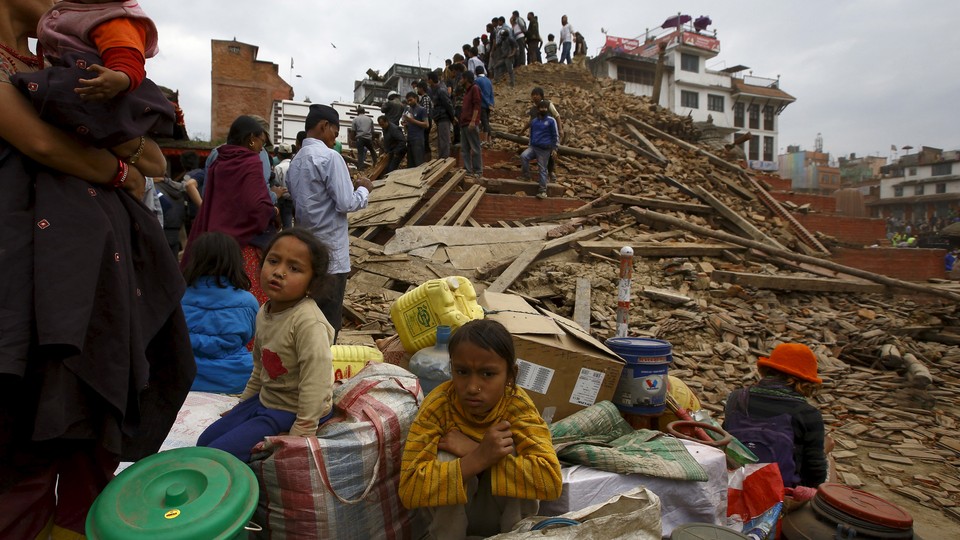 I sat on the tiny swell of a hill behind my hotel, waiting for the four-story building to crumble into dust and take me with it. And then I would be gone—one moment here, the next moment not.
This was not how I'd imagined the trip to Nepal would go. I was there to report on health and development—under-covered issues in Nepal, international coverage of which tends to focus on Everest and natural disasters. I was too numb to acknowledge the irony.
I knew no one else in the garden, and I had no idea where my coworkers were. I was utterly alone in a sea of strangers as shaken as I was. And I had no way to reach my loved ones; I'd left my phone and my laptop in my hotel room. I wondered if it was safe enough to venture back inside.
"Oh, no," said one of the hotel employees sitting near me. "Don't go inside yet." He explained that the aftershocks are often more dangerous than the quake; people think it's safe to go back inside—only to suffer from the aftermath.
"The earthquake weakens the building, but the aftershocks bring it down," he said.
It was the middle of the day in Kathmandu when the quake struck, the middle of the night back home. I knew I only had a few hours before my husband woke up and saw the news. And so, a few hours later, I darted up four flights of stairs, tensed the entire time for more aftershocks. I threw a change of clothes, my passport and cash, my laptop, and my phone into a bag and ran back outside.
The first thing I did was log into Facebook. At the top of the app, it said, "Nepal Earthquake: Are you in the affected area?" I tapped yes. "Mark yourself as safe," it said, and I hesitated before I hit yes again.
After all, how safe was I?
All disasters, I've learned, are different. Some you try to prepare for; others take you completely by surprise. Some last only a few moments; others extend for hours, days, weeks, the rest of your life.
I thought about what the hotel employee had said. Yes, I'd survived the quake. But the aftershocks continued, dozens of small and large rumblings that sent me running for open ground each time. I was alive, yes. But I was by no means safe.
Yet if I didn't check in, what would my loved ones think? My friends would be greeted with a notification saying I hadn't marked myself as safe—which would only make them more worried.
I checked in to reassure my loved ones, and the post—which is given higher priority in a user's newsfeed than usual statuses—prompted many relieved comments and exhortations to stay safe. Some took me at my word and believed the danger had passed. One friend commented that, now that I was safe, "I bet it was so awesome to be there." He was jealous that I'd put my survival skills to the test. "I've always wanted to be in a disaster/survival situation," he wrote. "Especially being able to go home afterwords [sic]." It was a sentiment that was echoed a little more delicately by other friends and loved ones. Yeah, it sucks to go through this … but now that you're safe, isn't it kinda cool?
I was sleeping outside, waking every few minutes when the earth moved. I had no idea when flights would resume—if the airport was even functional. I was stuck in a city that still rocked and grumbled in its sleep; I had no idea if I'd be able to go home afterwards. And I was a lucky one. No, it wasn't cool.
The Safety Check feature was originally developed by engineers in Japan who survived the devastating earthquake and tsunami in 2011. Before Nepal, it was deployed during Typhoon Ruby (Hagupit) in the Philippines in December 2014 and Cyclone Pam in the West Pacific in March of this year.
"When disasters happen, people need to know their loved ones are safe," Mark Zuckerberg wrote soon after the first quake hit. And they turn to Facebook to do so. In Nepal, about 8.5 million people were marked as safe, and more than 150 million friends were notified.
A friend of mine emailed to make sure I was really okay. As we corresponded, he said: "The Facebook 'checked-in safe feature' I never knew existed is just about my favorite feature on the site."
But I still had doubts. What if something did happen to me? It weighed on my mind constantly. If I were killed, it would likely take a long time for my loved ones to find out, if they ever got confirmation at all. They would log in to my profile page and see no new updates—only that I had checked in as safe on April 25.
Whenever I had a connection and something to say, I posted a status update. But sometimes I would go for an entire day with no mobile connection or wi-fi. (The fact that networks always came back eventually, even in the midst of so much destruction, continues to astonish me.) In those empty hours, when I couldn't update my timeline, my friends and family would post on my wall: "How are you? Are you okay? How are you holding up? I'm so worried."
I feared the "Melody is safe" notification would be the last thing anyone saw on my profile page—a taunting reminder that no one is as safe as they think they are.
Days after I finally left Kathmandu, another quake struck the country. I logged into social networks to check on my Nepali friends—and I saw a new hashtag alongside #NepalEarthquake: #safetycheck. Certain Facebook users as far away as Europe, the United Kingdom, and the United States were checking in as safe during the Nepal quake. Others quickly expressed their disgust: "No sh*t you are safe," one user commented, "you're not in bloody Nepal."
I contacted a friend, Stephen Jeter, who is still in Kathmandu photographing the relief effort. We had our conversation (where else?) on Facebook. "My first thought was that it could be useful in these kinds of disaster scenarios, where Facebook is often more reliable than cell phone networks," he wrote. But he agreed that "safe" is a relative term.
"I almost feel like marking safe causes more worry than it alleviates with a lot of people," he said. When his Facebook friends log in and see the notification that he's safe, they might wonder whether he is in more danger than he realizes.
He hadn't heard of the jocular check-ins when I asked, but a moment later he sent me a screencap of a friend whose husband marked her as "safe" as a joke.
"I guess it's too tempting for some people," Jeter wrote.
No one I contacted would go on the record about why they checked in. One false checker apologized profusely when I asked him about his status. It was a bad joke he didn't think anyone would call him on. Most seemed to be high-school students who saw the loophole and thought it would be funny—yet also true, wasn't it?—to broadcast their safety.
In a way, it makes sense. They were safer than I ever felt, Facebook check-in or no.
And if checking in serves to remind people that this sort of thing can happen to anyone, anywhere, and have devastating consequences—not just in some far-off country—then perhaps it's not a bad feature.
I left Nepal after a week of turbulence and uncertainty—as well as a growing sense of admiration for Nepali resilience and optimism. The next time I logged into Facebook, my safety status had disappeared. In its place was an appeal for donations. "Thousands of Nepal earthquake survivors need our help," the message said.
And just like that, I was on the other side.