The People's Manifesto on Police Body-Cameras
New guidelines about how law enforcement should implement wearable cameras from a coalition of nearly three dozen civil-rights groups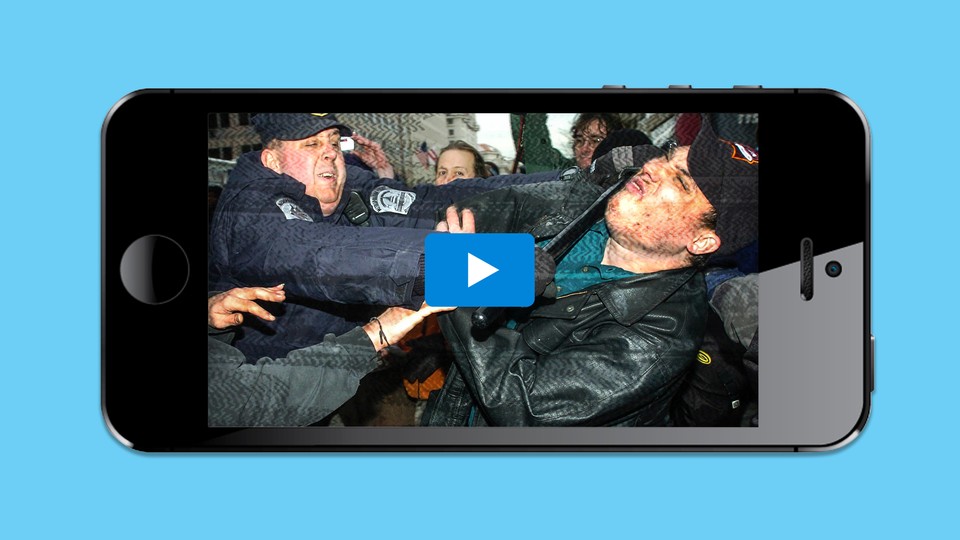 Body cameras are beginning to be used by law-enforcement agencies across the country. And they're starting to hit snags.
In Fort Worth, two police officers shot a man—and, despite both wearing body cameras, the incident wasn't captured on film. The department says both cameras were turned off.
In San Diego, when an experienced officer shot an unarmed 31-year-old man, a body camera didn't capture the footage, either—despite the city owning more than 600 of the devices.
And in California, a bill that was written to guarantee certain protections for citizens captured on body-camera footage has been amended—under pressure from local law enforcement—to have nearly the exact opposite affect.
All three of these cases confound the idea that body cameras increase accountability. Indeed, they suggest that body cams, in the hands of law enforcement, will only increase unchecked police power. But, say civil-rights leaders, it's not too late to make the technology serve the people.
On Friday, 34 civil rights groups—including the ACLU, NAACP, and Leadership Conference on Civil and Human Rights—announced principles that they hope will guide national and local policy on body cameras.
The principles are listed at the end of this post. Broadly, they say that city and state rules about body cams must be public: developed with the public and then available to the public. They ask for "limitations" on what kinds of technology can be used to sift through the footage, like facial-recognition algorithms. And—in the most specific policy described—they dictate that police officers should submit their own incident reports before getting to view body-camera footage, thus preserving the "independent evidentiary value" of both.
The principles also set up a balance between public interest and individual privacy. At a minimum, "footage that captures police use of force should be made available to the public and press upon request," they say, but they also specify that "departments must consider individual privacy concerns before making footage available to broad audiences."
"It's not a foregone conclusion that [body cameras] will be a force for good, but the possibility exists, and we want to ensure that possibility is greatest by having these principles," said Sakira Cook, a policy counsel at the Leadership Conference on Civil and Human Rights.
If state lawmakers hope to consult the guidelines, they should do it fast. Legislation being considered in at least 13 states—including Missouri, California, and Florida—already runs afoul of the guidelines. And Maryland state law allows an officer to view body-camera footage before filing a report, as long as they disclose that in their report. "Our hope is that these principles will be considered and used as the requirements for those [Justice Department] grant programs are being evaluated and developed," Cook said. The Justice Department will spend $20 million to purchase body cams for local police departments, which is a small portion of the more than $200 million the White House plans to spend on the technology.
The civil-rights principles are broad so they can be applied in any district, and they are written to try to accommodate technology that hasn't been invented yet. "The coalition had to act as futurists in a way," said Scott Simpson, a spokesman for the Leadership Conference.
Mostly, the guidelines are meant to keep body cameras from becoming one more tool of surveillance, in communities that often already feel closely watched.
"While video evidence collected by police officers 'may' enhance transparency and accountability, body-worn cameras don't watch the police, they watch the community being policed, people like me," said Malkia Cyril, the executive director of the Center for Media Justice, in an email.
"Without civil-rights principles that protect the communities the camera faces, any contact between civilians and cops that is recorded by law enforcement—including basic traffic stops or domestic-violence calls—supercharges the potential for cameras to be used as a tool of high-tech racial profiling, rather than one of transparency and accountability," she said.
Below, the full text of the guidelines.
To help ensure that police-operated cameras are used to enhance civil rights, departments must:

Develop camera policies in public with the input of civil-rights advocates and the local community. Current policies must always be publicly available, and any policy changes must also be made in consultation with the community.

Commit to a set of narrow and well-defined purposes for which cameras and their footage may be used. In particular, facial recognition and other biometric technologies must be carefully limited: If they are used together with body cameras, officers will have far greater visibility into heavily policed communities—where cameras will be abundant—than into other communities where cameras will be rare. Such technologies could amplify existing disparities in law-enforcement practices across communities.

Specify clear operational policies for recording, retention, and access, and enforce strict disciplinary protocols for policy violations. While some types of law-enforcement interactions (e.g., when attending to victims of domestic violence) may happen off-camera, the vast majority of interactions with the public—including all that involve the use of force—should be captured on video. Departments must also adopt systems to monitor and audit access to recorded footage, and secure footage against unauthorized access and tampering.

Make footage available to promote accountability with appropriate privacy safeguards in place. At a minimum: (1) footage that captures police use of force should be made available to the public and press upon request, and (2) upon request, footage should be made available in a timely manner to any filmed subject seeking to file a complaint, to criminal defendants, and to the next-of-kin of anyone whose death is related to the events captured on video. Departments must consider individual privacy concerns before making footage available to broad audiences.

Preserve the independent evidentiary value of officer reports by prohibiting officers from viewing footage before filing their reports. Footage of an event presents a partial—and sometimes misleading—perspective of how events unfolded. Pre-report viewing could cause an officer to conform the report to what the video appears to show, rather than what the officer actually saw.

American Civil Liberties Union

Asian Americans Advancing Justice | AAJC

Asian Americans Advancing Justice | Asian Law Caucus Asian

Americans Advancing Justice | Los Angeles

Asian Americans Advancing Justice | Chicago

Center for Democracy and Technology

Center for Media Justice

ColorOfChange.org

Data & Society

Demand Progress

Demos

Electronic Frontier Foundation

Free Press

Hip Hop Caucus

The Lawyers' Committee for Civil Rights Under Law

The Leadership Conference on Civil and Human Rights

Martinez Street Women's Center

May First/People Link

Media Alliance

Media Literacy Project

Media Mobilizing Project

Million Hoodies Movement for Justice

NAACP

NAACP Legal Defense and Educational Fund, Inc.

National Association of Social Workers

National Council of La Raza

National Hispanic Media Coalition

National Urban League

New America's Open Technology Institute

Public Knowledge

Southwest Workers Union

Urbana Champaign Independent Media Center

Voices for Racial Justice

Working Narratives

Alvaro Bedoya, Executive Director, Center on Privacy and Technology at Georgetown Law