The Big Money in Police Body Cameras
Taser International stands to profit enormously from the country's fast adoption of police-worn cameras.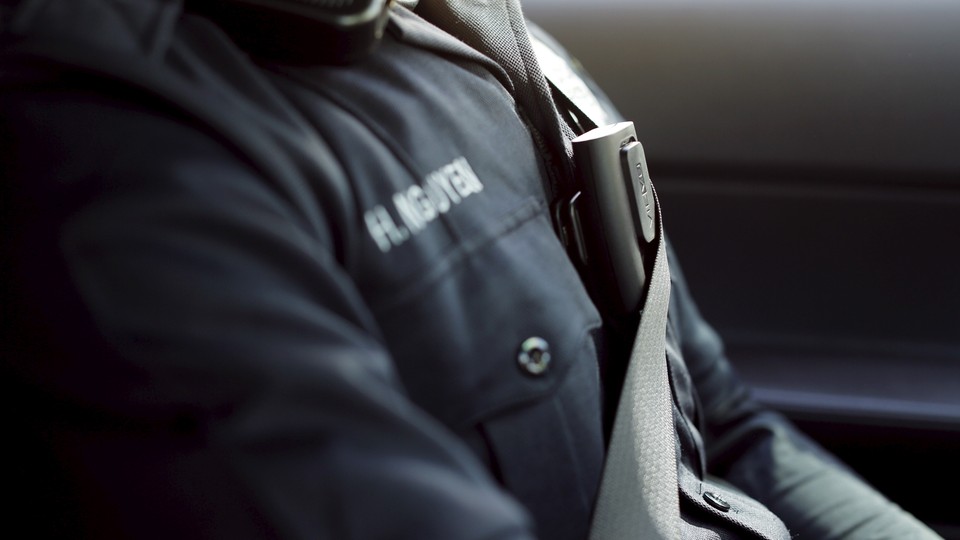 Body cameras are a tool of citizen surveillance and of public accountability. They're endorsed by police reformists and police chiefs, and, above all, by the White House, which has pledged $75 million toward nationwide adoption of police-worn cameras.
But they're something else, too: a business. And, on Thursday, we got a sense for how big that business might become.
That's because Taser International announced its first-quarter 2015 earnings. They beat expectations, in part because Taser, though best-known for its stun guns, is becoming one of the major American manufacturers of body cameras.
How major? Sixteen large U.S. cities have purchased Taser body cameras, according to the company. They include Los Angeles, Miami, and Las Vegas. Other cities, including Washington, D.C., are running smaller programs with the company's cameras.
Taser has two body-camera-related products. The first is the body cameras themselves, video cameras that can be worn on the chest or head, which the company calls the Axon series. The second is essentially a Dropbox for body-camera footage—a digital storage service to which departments can subscribe—which the company calls Evidence.com.
Revenue from those two businesses combined grew 73 percent to $6.4 million compared with the first quarter of last year—that's $2.7 million more than the same period in 2014. Almost half of that came from "service revenue"—in other words, new subscribers to Evidence.com. Taser now claims more than than 22,000 users for its Evidence.com.
In its embrace of Evidence.com, Taser shows all the proclivities of a modern tech company. The appeal of its business model is that money will come from selling an ongoing subscription service (like Netflix or Spotify) rather than one-time sales of technology made of plastic and glass (like any old Android phone).
Or, as the analyst Steve Dyer told the Washington Post in December: "The upfront cameras themselves are not that interesting. They are, or will be, fairly quickly commoditized. What investors will pay for is a recurring revenue stream."
The other big number: The company's bookings—that is, revenue it anticipates from contracts it signed this quarter—were up 288 percent from first-quarter 2014. That's on top of an enormous surge last quarter, when bookings revenue shot up 371 percent compared with the same quarter the year before.
Stun guns—or what the company now calls "smart weapons"—still make up the bulk of Taser's revenue, but a company spokesman cautioned in an email that that's because selling software-as-a-service has large costs upfront and large rewards later on. "Future contract revenue in the AXON segment however is $71.1 million," said Steve Tuttle, the company's vice-president of communications, in an email. Total revenue last quarter was nearly $45 million.
Taser's stock rose 10 percent Thursday on its earning news. The company's stock has more than doubled—and its market capitalization has nearly doubled—since Michael Brown's death last August.