A Transcontinental Culture War Could Cost Google Billions
The EU's antitrust case against the tech giant illustrates a fight over norms about privacy and business ethics.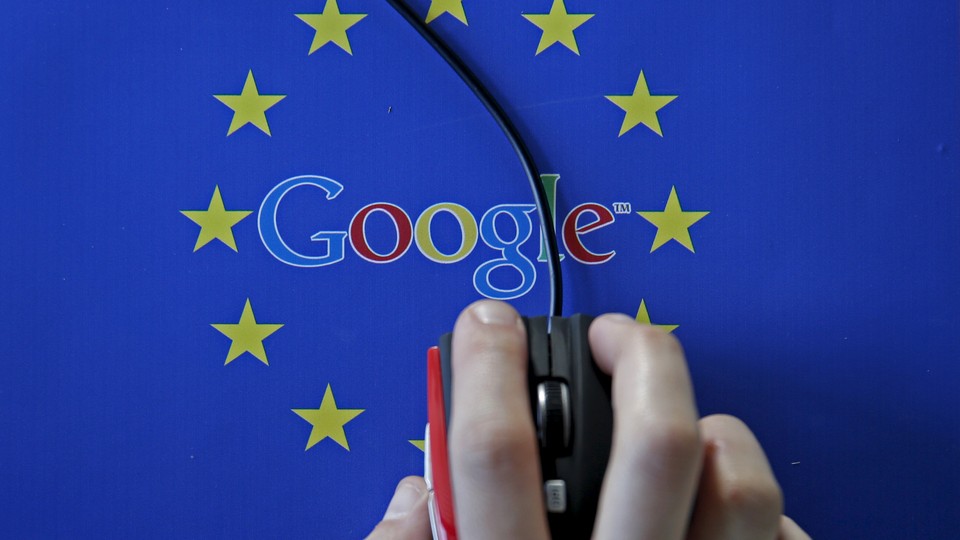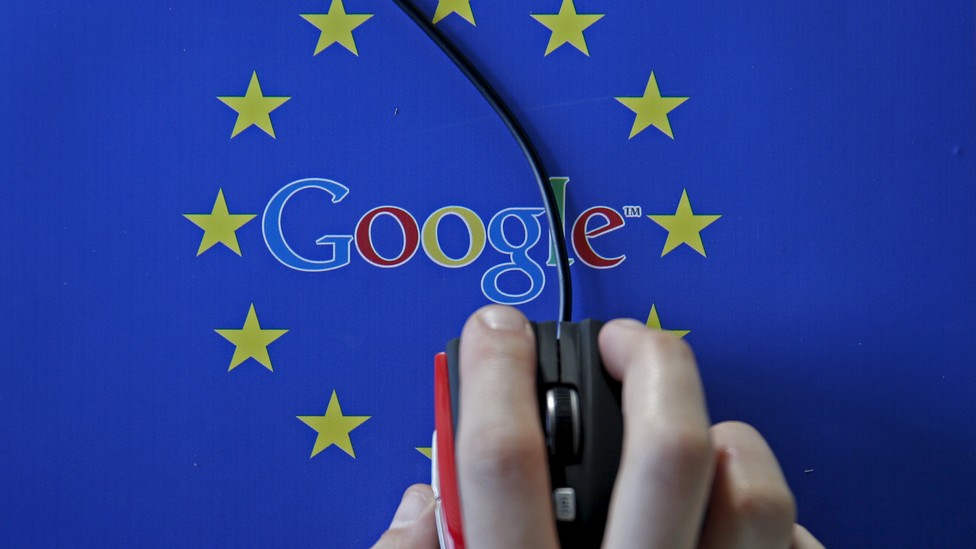 If you're like most people, when you Google something, you don't really think too much about how the top results got there, as long as you get what you're looking for. The tech giant's competitors charge that Google is using that to its own advantage, steering traffic to its own products and services. They complain that since Google's search is so wildly popular, they're being cheated, and they've convinced European regulators that this is a problem.
On Wednesday, the European Union issued Google a Statement of Objection, basically a charge sheet, accusing the company of steering customers to its own shopping services through its dominance of search traffic. If Google fails to rebut any of the charges, it could be fined as much as $6.6 billion dollars (though most analysts doubt any settlement would be that large) or be forced to change the way it does business—a potentially more costly change. The EU is also launching an inquiry into Android, Google's operating system that powers most smartphones around the world.
"Dominance as such is not a problem," the EU antitrust chief Margrethe Vestager said at a news conference. But she said the company can't use its power in search traffic to crowd out competitors in other realms, creating an uneven playing field before the teams have even left the locker room. A representative of other search engines says they want Google to apply the same search algorithm to others' products that it does to its own. Google dismissed the accusations, saying it's offering free services and that consumers can use any site they want, and it says its competitors are thriving.
The EU isn't the first regulator to cast a skeptical eye at Google's practices. The Federal Trade Commission considered whether Google was breaking antitrust laws, but it ended its investigation in 2013 without any charges, even as it expressed some wariness.
The different paths taken by American and European regulators on this case suggest that technology might be a cultural battleground where the differences between European and American approaches to business practices, privacy, and more are fought. Even as the Internet's champions portray it as a global, borderless, transnational medium, divergent regulatory practices threaten to make that ideal obsolete.
In 2014, European lawmakers passed a non-binding resolution calling on EU regulators to break Google up. Also last year, the European Court of Justice ruled that Google had violated a man's right to privacy by indexing a newspaper article about the repossession of the man's home in the 1990s. The court didn't rule that the newspaper had to remove the original article from the web—just that Google shouldn't make it findable. The ruling came under the "right to be forgotten," a newly established right in the EU. Reactions to the ruling illustrate the cultural differences at play. In Europe, it was generally seen as a reasonable and important protection. In the U.S., however, with its strong tradition of free speech and resistance to censorship of any sort, the ruling was broadly met with shock, outrage, and horror. Europeans also have far greater rights to know what sort of data is being collected about them than Americans.
Both the U.S. and EU prosecuted Microsoft for alleged anticompetitive processes in the 1990s and 2000s, but those cases also reached different resolutions. The underlying question in both involved Microsoft bundling software with the Windows operating system—the browser Internet Explorer in the U.S., and Windows Media Player in the EU. The U.S. settlement didn't force Microsoft to unbundle, but did require it to share API information with other companies. (Critics derided the agreement as little more than a slap on the wrist.) The EU, in contrast, ordered Microsoft to offer a version of Windows that didn't include Windows Media Player, on top of a $613 million fine. Then, in 2009, the EU went after Microsoft for bundling Internet Explorer, and when it determined in 2013 that the company hadn't met the terms of an agreement, it fined Microsoft $731 million.
Many of the protests about Google's behavior have come from German companies who feel they're being unfairly squeezed out by Google, The New York Times notes. But this isn't to say that the differences are just about cultural norms. Much of the impetus for the EU's investigation into Google came from U.S.-based competitors—Barry Diller of IAC has been complaining about Google's practices for five years, and Rupert Murdoch's News Corp has also filed formal complaints. (The Microsoft cases kicked off when its American competitors complained, too.)
With the Statement of Objection issued, following months of discussions, Google has 10 weeks to respond, or it can try to reach a settlement with the EU. But experts told The New York Times and Wall Street Journal that it might be hard to find a middle ground that both meets the European worries about anticompetitive practices and also keeps Google's business model intact, meaning the case could be headed toward litigation. A court case would provide a resolution to the Google issue, but it's unlikely to be the final word in the tug-of-war over culture between the two continents.