Further Proof That It's Hard to Be a Mets Fan
Facebook data of baseball allegiances shows the geography of fandom.
Growing up in central New Jersey, I lived on the border of two great warring empires.
To the north were the fractious but proud New York fans. To the south, the tough but often frustrated Philly fans.
As a kid, you could sense this in jerseys and glares and arguments, but there was no good way to measure it. What's more, there was no good way to judge the winning side: Did my county align overall with Gotham or Brotherly Love?
Now, finally, we have an arbiter. Every new season, Facebook publishes a fandom map: an image that shows, for every U.S. county, which sports team a plurality of Facebook users like. "Fans may not list which team they favor on the census, but millions of them do make their preferences public on Facebook," The New York Times has written about a similar image. This "unprecedented" data is the best measure we have of American regional allegiances—and the best way of gauging how far domains like Red Sox Nation really go.
The just-released map for the 2015 Major League Baseball is above. (There's also a high-resolution version.)
A few things to note. As with last year's map, the Yankees are the most-liked team in terms of number-of-counties held, despite also probably being the most hated. The Bronx Bombers can claim at least one county in 24 states.
The second most-liked team is the Red Sox, who can assert that their nation not only includes most of New England but indeed parts of two whole real nations. Canadians north of New Hampshire and Maine align themselves with Boston.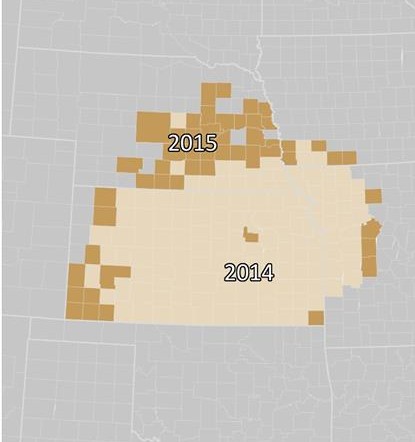 Most Canadians, though, claim the Toronto Blue Jays as their team. That makes the Jays—who hold a plurality in no American counties—better than the New York Mets and Oakland Athletics. Not one measly county has a plurality of Mets or A's fans.
Most interesting, though, is how post-season success expands a team's fanbase. As Facebook's sports-data team notes in the two charts below, the reach of both the San Francisco Giants and the Kansas City Royals expanded this year, eating into Rockies, Twins, or Mariners territory.
The Giants also moved to claim much of Hawaii.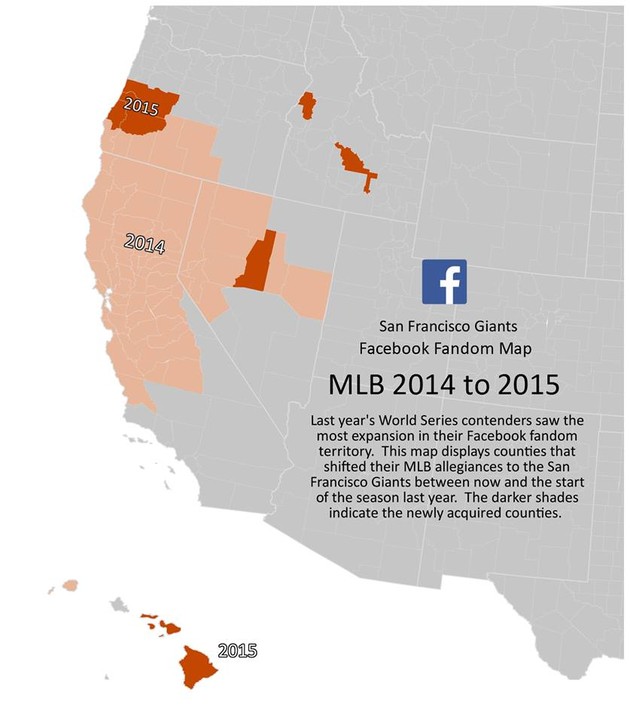 And what about those famous crossroads, those neutral zones where warring empires both make a claim? I was surprised to see that the Chicago Cubs retain much of the Midwest—except for Chicago proper, where the White Sox win. I also noted that the Twins crossed the border into hated Wisconsin, holding three of that state's most westerly counties. And the border between Pittsburgh and Philly seems to lie along the Appalachian ridge.
And what about my hometown, in central Jersey? I should've guessed. Counter my own Philly fandom, my home county aligns itself with that hated evil empire to the north.