The Truth About Bill Clinton's Emails
The former president says he only ever sent two electronic missives. Yeah, right.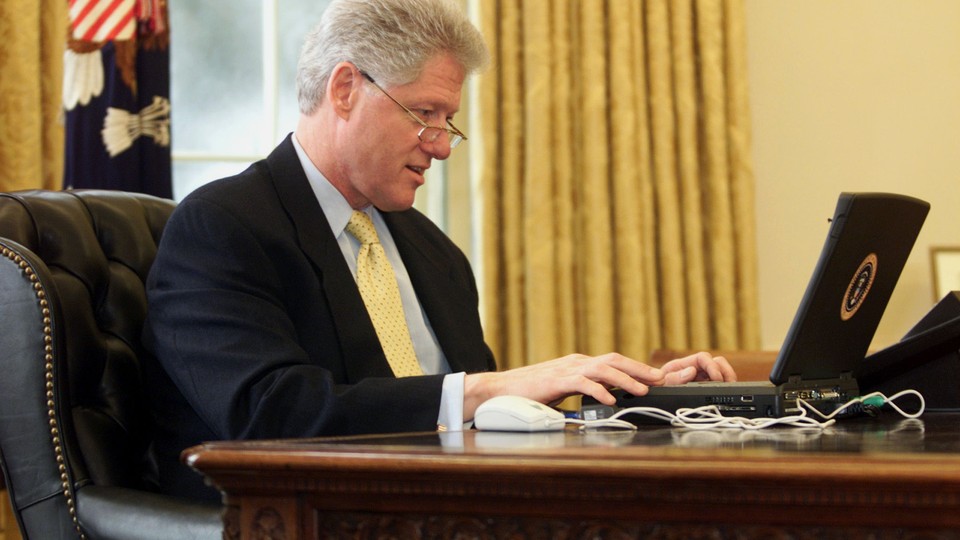 Updated at 9:54 a.m. ET on October 2, 2019.
Bill Clinton, the first United States president to send an email from the White House, is famous for practically never having used it. Clinton "sent a grand total of two emails as president," he said in a 2011 talk, a claim that has since been repeated widely.
Except it's not true.
The email often cited as Clinton's first presidential email was a congratulatory note to astronaut John Glenn in 1998. The other, he said, was a note of support to troops in the Adriatic.
But there are other public records showing Clinton's early email trail. Like the fact that he had an AOL address in 1993, ClintonPz@aol.com, according to The Los Angeles Times that year. The very first message he sent as president was just a test—and there was some debate as to whether it even qualified as "electronic communication" for archival purposes since, as Reuters reported in 2004, its purpose was "to see if the commander in chief knew how to push the button on an e-mail." Here's how John Gibbons, who was the director of White House Science and Technology Policy in the Clinton administration, remembers it:
[W]e wanted to introduce the President to email and the Net. So we brought him over to the old EOB, and he sat down in front of this computer—it may have been the first time he sat down in front of a computer—and showed him how email worked and gave him his email address over across the street in the Oval Office. So he typed in his first email message. It was something like, Bill Clinton, it's time to come home for lunch. Signed, Hillary, something like that. I saved a copy of it. That was his first email.
The president had a reputation for being more interested in face-to-face communication than his vice president, Al Gore, who was constantly on the computer in his office, according to several accounts. But Clinton did refer to himself a "cybernaut" when his administration uploaded a 1996 bill to the Internet. (It was a Telecommunications Act, naturally.) And though Clinton routinely joked about his technological cluelessness (his daughter knew more than he did, he insisted), White House aides told The Los Angeles Times that he used email before he was elected in 1992.
Clinton talked about the "information superhighway" a lot in the mid-1990s. Records of his public remarks are filled with references to a future in which American schoolchildren might access foreign libraries to learn about, say, volcano science in Australia. (That was a favorite example of his. It appears in at least a dozen speeches.) But he also referenced his administration's email habits, and his own. "We're the first White House to communicate with huge numbers of people from all over by Email," he told his Committee on the Arts and the Humanities in 1994. "And I'm trying to do a sociological analysis now of whether there's a difference between the E-mail communication and the mail communication—or the female communication."
Then, in February 1994, Clinton sent what the White House touted as the first email to a foreign head of state—a reply to Carl Bildt, then the prime minister of Sweden, who wrote to Clinton saying he wanted to test his "connection on the global Internet system" and congratulate the president on lifting the trade embargo on Vietnam. Clinton's response:
Dear Carl:

I appreciate your support for my decision to end the trade embargo on Vietnam and thank you for all that Sweden has done on the question of the POW/MIA's.

I share your enthusiasm for the potential of emerging communications technologies. This demonstration of electronic communications is an important step toward building a global information superhighway.

Sincerely,

BILL

What that transcript doesn't reveal, though, is that Clinton apparently wrote to the prime minister IN ALL CAPS, LIKE HE WAS SHOUTING. The president, The New York Times explained in 1994, hadn't "learned the basic protocol of 'netiquette,' the unofficial code of manners that has evolved on the network." Writing to Bildt with caps-lock on, the newspaper explained, was a "cardinal breach." (In 2019, Bildt tweeted a photo of the email, which appears to be not, in fact, in all caps, contra the Times' report.)
The William J. Clinton Presidential Library claims to have just two emails from the former president in its trove of 40 million emails from the Clinton White House. He certainly sent more. Hillary, it seems, is not the only Clinton with disappearing emails.