The Ping to Prayer
Can religion-themed apps help enhance devotion, or do they only get in the way?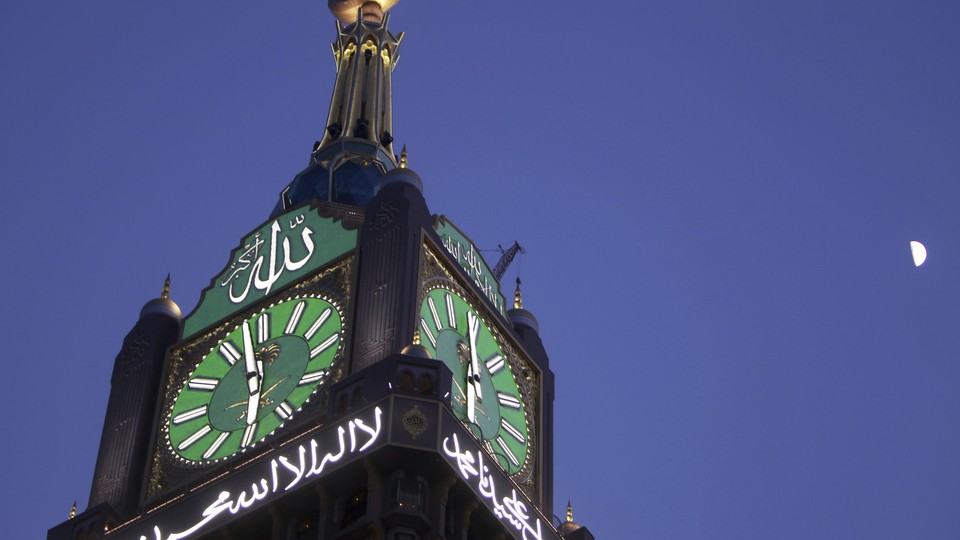 Looming over the palatial interior of the Sheikh Zayed Grand Mosque, in Abu Dhabi's central district, are nine multi-faceted digital clocks shaped like flowers. Surrounded by a majestic setting of white marble and crystal chandeliers, the LED screens might appear out of place if they weren't also encapsulated in gold pedals, blending in with the gilded designs of vines and flowers crawling along the walls.
Each of the clocks present Muslim worshippers with the current time and date, along with the five regular daily prayer times (a practice called "Salat," or prayer, which represents the Second Pillar of Islam). These times vary slightly each day, depending on geographic location and the changing position of the sun. Fajr, before sunrise. Zuhr, midday. Asr, afternoon. Maghrib, sunset. Isha, evening.
It was an unusual project for U.K.-based LED Synergy, the company that designed and manufactured the clocks (which are now seen by over 3 million worshippers and visitors each year, according to data from the mosque). In addition to constructing the ornate timepieces, the team developed a Salat-based content system capable of generating accurate prayer times for over 1,200 cities in 216 countries, hoping to build on its success in Abu Dhabi and win additional lucrative government contracts around the region.
In Muslim societies across the Middle East, these five prayer times set the rhythm of daily life. Calls to prayer (or "Adhan") are broadcasted by mosques throughout towns and cities, amplified by the crackling sound of loudspeakers. During a two-week trip to Abu Dhabi in 2013, my sleep was cut short each morning, just before sunrise, by the call to Fajr from a mosque across the street. The broadcasted voice (performed by a "Muezzin") was deep and lyrical, its echoes spilling into the adhan's intermittent pauses. "I guess it can seem strange but I'm constantly aware of the sun," my friend Zeshawn Ali, a practicing Muslim and filmmaker based in New York, told me. "Time is always on my mind. I'm instructed to think about it five times a day."
The experience of an urban community ceasing (often economic) activity to partake in the spiritual felt, to an outsider, like a kind of anachronism, a practice that defied modern logic and timetables. But if the routine initially seemed cumbersome, it wasn't long before it felt essential. Pushing oneself to be more mindful, several times throughout the day, from sun-up to sun-down, had the side-effect of making days feel richer and more fully lived.
But for Muslims like Zeshawn, who reside in non-Muslim communities, there are no public calls to prayer, and it becomes dependent upon the individual to remain disciplined about Salat. Traditional prayer "aids," such as printed books or pamphlets, have long offered a fixed set of prayer times and Quranic excerpts. In recent decades, the Internet has fostered new kinds of digital "aids" that assist Muslims in all aspects of their daily worship.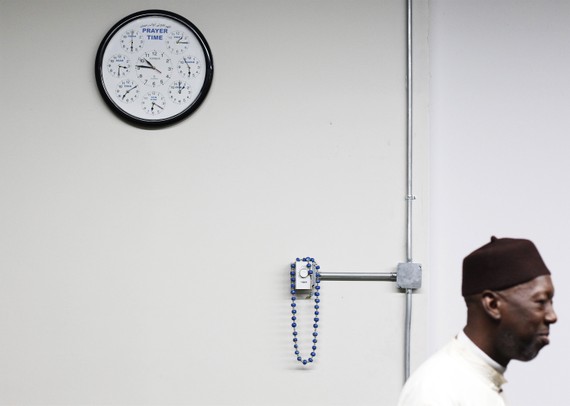 Websites launched in the early 1990s, like IslamicFinder and IslamiCity, offer not only a large database of prayer times (including SMS-based prayer time notification services), but also a broader online hub of historical and educational materials about Islam, e-learning quizzes and flashcards, opinion articles and discussion forums. Newer mobile applications like Athan and Muslim Pro include geo-based features such as a digital "compass" expressing direction and distance from Kabba (in Mecca), and "finders" that locate nearby mosques, halal restaurants, Islamic education centers and businesses, and more.
Athan, developed by VentureDive (a product consultancy firm) in conjunction with IslamicFinder, is also experimenting with non-traditional features to integrate into the app. Its popular "Prayer Book" extension allows users to log both completed and missed prayers throughout the day (so that they can be made up at a later time). "I think there is an opportunity to introduce an element of gamification," Saad Fazil, a co-founder of VentureDive, told me. "For instance, a certain number of prayers can garner a badge, and users can compare those scores on a common leaderboard."
For apps like Athan, Fazil says, the introduction of the Apple Watch could be huge. "The Athan app is a perfect use case for wearables, especially smart wristwatches," Fazil said, predicting that this transition will happen over the next two to five years.
Fazil also noted that as new devices and platforms come into mainstream use, the promise of older features can become more complex. His team is investigating how to adapt Athan's prayer-time algorithm to accommodate unusual circumstances, such as plane travel (which often spans several time zones) and remote areas where the days are either very short or very long.
Maybe the most aspirational mobile initiative to date is Ahli, which aims to make praying in groups more convenient by notifying users when fellow Muslims are nearby. Group prayer is considered to be especially important in Islam.
The market for these apps is still premature, according to Fazil, but Athan's user base already spans Muslims in their early 20s to late 50s. If the older generational mindset was that Muslims should reposition their day around Salat, newer interpretations are allowing for a degree of flexibility, and digital prayer aids are helping people better fit the religion into their modern lifestyle. Similarly-minded apps currently on the market encompass Christianity (PrayerMate), Judaism (Shabbat by GPS and Is It Kosher?), Hinduism (iPuja), Buddhism (Daily Buddhist Prayers) and the nondenominational Peter Thiel-backed Instapray, which recently surpassed "30 million prayers shared."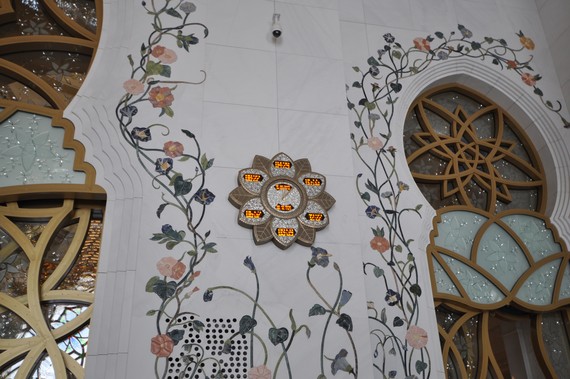 This market is catering toward a more digitally inclusive version of religious practice at a time when religious leaders, too, are thinking about new ways to incorporate technologies. The vision behind the Sheik Zayed Grand Mosque, which was built only a decade ago, was indeed to demonstrate "that tradition and modernity can coexist, even interconnect, without one cancelling the other out… [that] in fact, each provides a source of richness for the other," according to text from a speech by Sheikh Mansoor bin Zayed Al Nahyan, deputy prime minister of the U.A.E., posted on the mosque's website. This journey towards co-existence pushes onward at a gradual pace: older and younger generations feeling their way forward, attempting to find the right balance.
"There is always the fear of making things too easy for people," my friend Zeshawn told me, explaining how several mosques have begun livestreaming Friday congregational prayers, so that people who can't get away from the office can follow along at their desks.
"Some of the prayer apps now send out motivational quips that can be cute or funny, which is great, but even those can easily become inappropriate," he said. "The other day I saw someone Snapchatting a prayer while he himself was praying, and that definitely felt wrong."