The Luxury Liner of the Future
Robot bartenders, livestreamed ocean views, and maybe the environmentally friendliest ship on the seas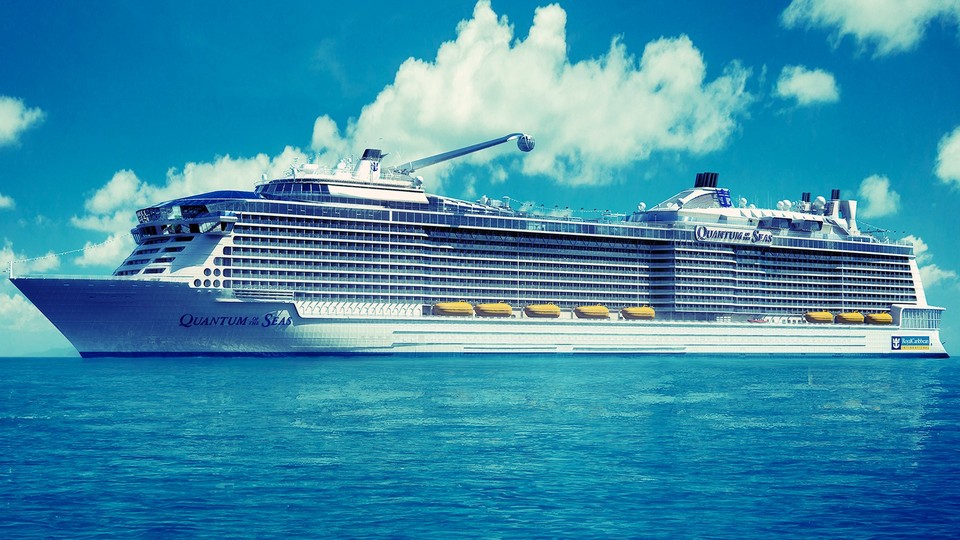 Watching the process of loading a cruise ship is a bewildering spectacle of logistics and organization. Tons of food and drink join a seemingly endless assembly of trucks packed with other essential supplies—lugging aboard a menagerie of goods aimed at anticipating the every need of paying passengers.
Which is a sort of nice way of saying: There's a lot of junk that gets loaded onto a cruise ship. And even more that ends up coming off of it. The cruise industry has been widely criticized for the amount of waste it generates. Witnessing the loading process in and around the new Quantum of the Seas is all the more intriguing, then, when you realize none of the supplies going onto the ship will come off as waste.
That's the claim by Royal Caribbean anyway, which built the $1 billion Quantum of the Seas to be the most energy-efficient and environmentally conscious cruise ship on the ocean. Along the way, the ship's engineers wanted to lay down the blueprint for all cruise ships to come. So, during a recent "back of house" shakedown cruise from Cape Liberty down the eastern seaboard, the Quantum crew opened the ship up belowdecks to unveil its inner workings.
"We live in an era in which sustainability is more than a passing fad," said Richard Pruitt, VP Safety and Environmental Stewardship for Royal Caribbean. "It has become a consumer demand and an issue of corporate responsibility. The times demanded a ship like this, regardless of the engineering challenges or the cost."
Registered in the Bahamas, where the ship will be in service most of the time, Quantum of the Seas is the third-largest vessel in the Royal Caribbean fleet. More than 50 yards wide and three football fields long, all 168,000 tons of Quantum cuts through the waves at a cruising speed of 22 knots—about 25 miles per hour—thanks to twin diesel electric engines and their combined 83,000 horsepower. Older cruise ships of similar size and power historically laid a carbon footprint per mile three times as environmentally harmful as civilian aircraft. Studies originating from pro-environmental groups like Friends of the Earth, Tourism Concern, or ClimateCare consistently all handed out negative report cards on cruise ships and their builders' lack of environmental effort. Royal Caribbean got an overall D rating on the Friends of the Earth report card last year. The group gave Quantum a C-.
Jackie Savitz, U.S. vice president of the global oceans activism group Oceana, said the reaction within the environmental activism community to Quantum of the Seas has been muted. "Some of those [Quantum of the Seas] technologies, like air lubrication, are being discussed more widely in the shipping industry because they increase fuel efficiency and save companies money—while also having environmental benefits," Savitz said. "But there are many other simple things that can be done—such as slow steaming. Reducing speed by as little as 10 percent can increase fuel efficiency even more."
According to Pruitt, fuel efficiency was the first thing Royal Caribbean addressed in its new design. Special jets below the waterline pump out a steady stream of bubbles to coat the bow and allow the hull to slide through the sea more smoothly—maximizing fuel efficiency. "The bubble jets and hull hatches are specially covered so fish can't be pulled into the ship," Pruitt explained. "That prevents marine life from invading a destination's ecosystem."
Obviously, the Quantum can't run on good intentions and spared fish. It has to burn some diesel fuel oil to make way. But, Pruitt said the diesel exhaust leaving the ship's stacks is screened and filter scrubbed back to breathable air quality before it wafts into the sky.
On the inside, the ship is similarly technologically focused. Quantum's interior largely resembles those of its sister ships—with clean, modern lines highlighted by marble floors, repurposed wood floors and glass elevators. The guest cabins, regardless of size, rely on white linen and light wood hues—comparable to modern rooms at mid-range luxury hotels. Cruise passengers have come to expect technology like ship-wise wi-fi. The Quantum's stern also includes a walk climbing wall, indoor skydiving, bumper cars, and a surfing simulator. The NorthStar Observation Tower on the top deck lifts a seven-ton glass capsule—like the individual compartments of the London Eye—atop a 40-plus yard crane so up to 14 guests can ascend 300 feet over the ship to look out over the Atlantic. And for those who can't afford ocean views from their rooms, cabins below the waterline use high-def screens to simulate an ocean view with real-time video from outboard cameras.
The ship's party pieces are the bionic bartenders on the ship's main promenade. The two robotic arms mix rail drinks and original recipes ordered via tablet. With the necessary liquor suspended overhead and mixers waiting on an automatic fountain, the droid drink slingers can shake, stir and deliver an extensive selection of cocktails.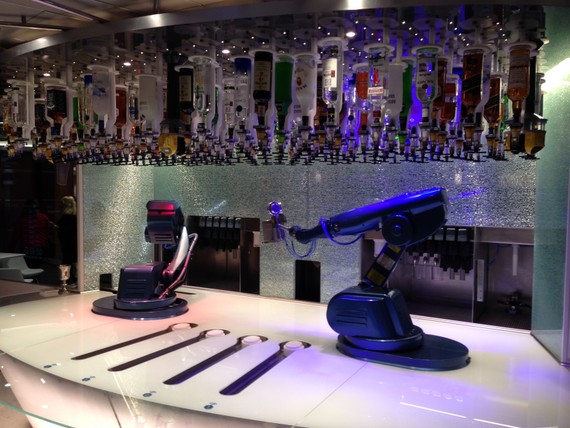 And the ship has 18 restaurants, all of which divert waste to Quantum's onboard recycling center. "We sort and redirect waste here flowing in from the 18 onboard restaurants and assorted bars," said Tavia Robb, manager of Corporate Social Responsibility for Royal Caribbean. "All glass is separated from plastic and sorted by color—with the material stored onboard until the ship docks… We use onboard incinerators that burn that material and other passenger waste into high grade ash that's eventually shipped to concrete factories to be transformed into road surfacing."
Of course, there is always the sensitive issue of human waste. The Quantum of the Seas engineers turned that problem into a benefit in case of emergency. Through a mix of incineration, maximum filtering, and ultraviolet purification, Quantum can clean gray water into drinking water if the ship should sail into difficulty and run out of its onboard supply. To reduce the need for plastic water bottles and stored water that adds fuel-burning weight to the vessel, Quantum packs a desalinization system that transforms sea water to fresh drinking quality.
Now that this ship is in service, Pruitt said it sets the bar high for environmentally aware cruises—making it difficult for Royal Caribbean or any of its rivals to use any vessel without the same zero-waste policy. "[Quantum of the Seas] wasn't built as an experiment," Pruitt said. "We see it as the ship modern environmental concerns demand."
Savitz, the Oceana environmentalist, said Quantum's environmental changes need to be adopted industry-wide to have a noticeable impact. "If Royal Caribbean wants to be viewed as green, it should step up its game and make a commitment for a fleet-wide carbon dioxide emissions reduction by a certain date," she said.