The Ghost of Earthquakes Past
Mega-quakes trigger massive temblors for years after they first hit.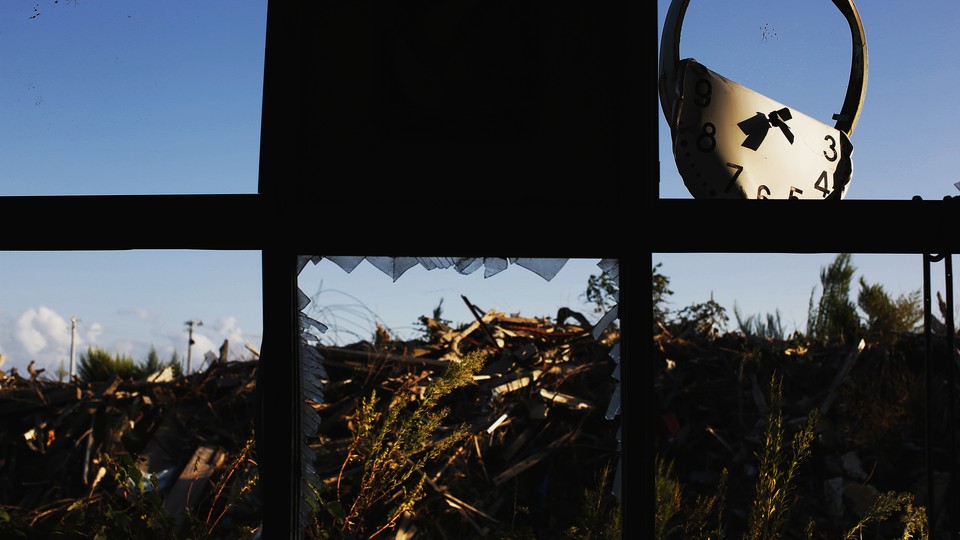 The 6.7-magnitude earthquake that rattled Northern Japan on Monday struck just over 100 miles away from the epicenter of the devastating 2011 earthquake and tsunami that killed at least 15,890 people that year.
The close proximity isn't surprising. Monday's quake was technically an aftershock. That's right—huge aftershocks to the devastating earthquake are still shaking Japan four years later, and they'll likely continue for some time. The one on Monday was, by the Wall Street Journal's count, the 830th aftershock of a magnitude 5 or higher since the March 2011 quake.
And there's reason to believe that significant follow-up temblors could continue to happen for years or longer.
Typically, the larger an earthquake is, the larger its aftershocks will be—bigger initial quakes also produce more aftershocks over time. Just how long might that be? "There are no hard and fast rules about this," Robert Williams, a geophysicist for the U.S. Geological Survey, told me.
But although aftershocks decrease in number as time passes, they don't necessarily decrease in intensity. Which helps explain why there was such a strong aftershock on Monday, years after the initial seismic event.
"The general public often believes that both the number and magnitude of aftershocks decrease with time, but it appears that only the number decreases," according to a 1997 USGS paper. "Thus, large late aftershocks are not uncommon." (For an earthquake to be classified as an aftershock, it has to occur one or two fault lengths away from the original, and, according to USGS, "during the period of time before the background seismicity level has resumed.")
The star in the map below shows where the 2011 quake struck:
And here's a look at the location of Monday's earthquake, which generated a small tsunami but no reports of serious injuries:
Much of what we know today about aftershocks emerged in the wake of the 9.2-magnitude Prince William Sound earthquake of 1964—often referred to as the Great Alaska Earthquake. After that earthquake, thousands of aftershocks were recorded over a period of years, according to the Seismological Society of America.
There were a staggering 11 aftershocks above 6.0 magnitude in the first 24 hours after the quake—11 huge earthquakes in their own right!—and thousands of smaller aftershocks every single day for several weeks.
All this is a reminder that aftershocks aren't necessarily small just because they're smaller than an original quake. In fact, aftershocks tend to be some of the largest recorded quakes in USGS's records. Or, as the authors of the 1997 paper put it, "Aftershocks are earthquakes and sometimes they are big earthquakes."