The 500-Pound Fireball Over Pittsburgh
NASA captured video of a bright meteor blazing through the morning sky this week.
With a brilliant flash of light, a fireball pierced the predawn sky over Pittsburgh on Tuesday. Not one, not two, but three NASA cameras caught footage of the fiery streak—which turned out to be a two-foot-wide, 500-pound meteor traveling at some 45,000 miles per hour, according to NASA's Meteor Watch Facebook account.
The cameras are part of NASA's All Sky Fireball Network, a system of 15 specialized cameras that record black-and-white footage of meteors.
Dozens of people fortunate enough to be awake around 4:45 a.m. in Ohio, New York, and Pennsylvania caught a rare glimpse of the blast when it lit up the sky like a full moon. A few even reported hearing a delayed boom following the sight, according to the American Meteor Society.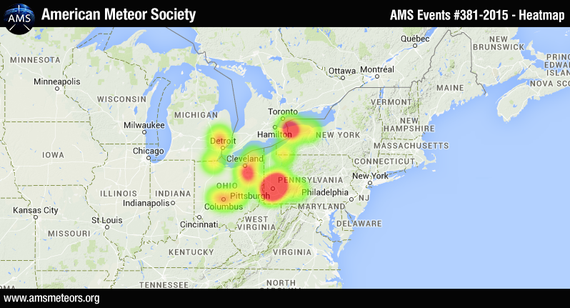 NASA also created a simulated trajectory of the recent meteor that shows it traversing through the asteroid belt somewhere between Mars and Jupiter, and hurtling toward the northeastern United States.
The event comes nearly two years to the day that a much larger space rock exploded over the Russian town of Chelyabinsk, injuring more than 1,000 people.