New York City Subways Are Covered in Microscopic Pizza
Also: tiny particles of bubonic plague, anthrax, and dysentery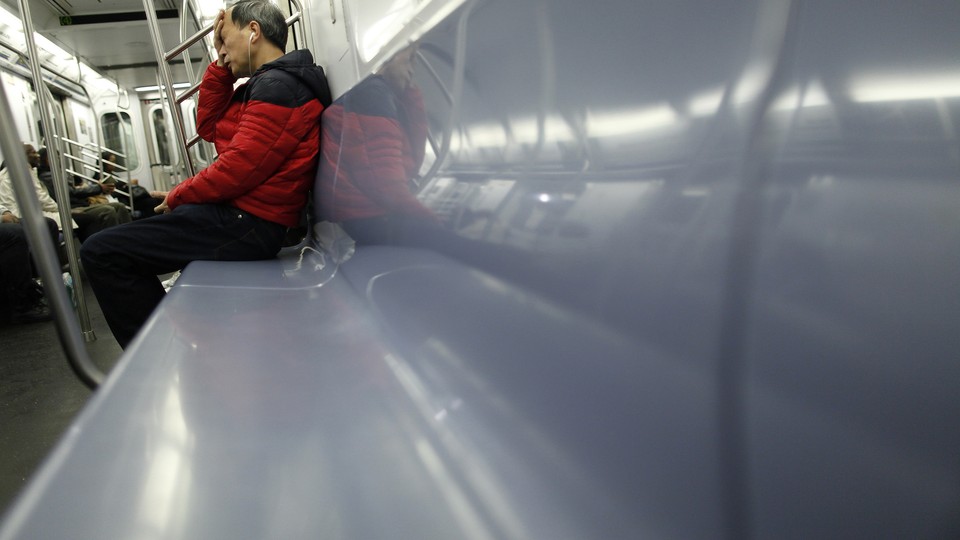 The trains that carry millions of people in and around New York City every day are also teeming with thousands of bacteria species—a parade of life forms too small to see, including traces of bubonic plague and anthrax.
"When you think about it, the subway is a giant laboratory where we all experience the world," said Chris Mason, a genomics researcher from Weill Cornell Medical School in New York City. On a typical weekday, more than 5.5 million people pass through turnstiles and enter the underground behemoth that is the New York City subway system. Clinging to them are microscopic stowaways from the surface world. The genetic echoes they leave behind become a part of the subway ecosystem.
To get a clearer picture of what that ecosystem is made of, Mason and his team set out to map the vastness of the urban microbiome. Using nylon swabs and mobile phones, the group identified 15,152 different organisms lurking on railings, trash cans, seats, and kiosks in 466 New York City subway stations. Their findings were published this week in the journal Cell Systems.
The team also found that, on a microscopic level, the subway is littered with leftovers—evidence of what New Yorkers like to eat. Cucumber particles were the most commonly found food item, along with traces of kimchi, sauerkraut, and chickpeas. Bacteria associated with mozzarella cheese coated 151 stations. And other traces of pizza ingredients such as sausages and Italian cheese were everywhere. (The Wall Street Journal transformed much of that data into a clickable map that lets you explore the findings by subway line.)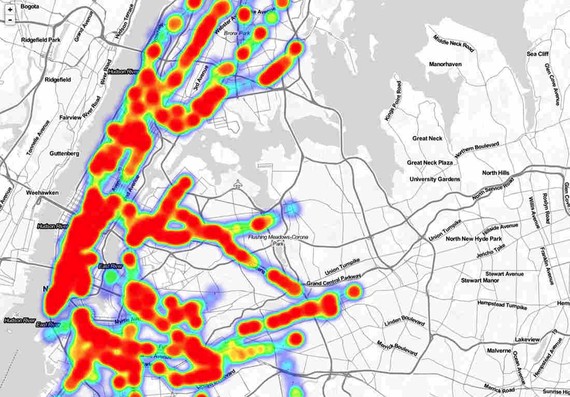 And although Mason and his team also found particles of harmful bacteria related to the bubonic plague and anthrax, the levels were so low that they pose little danger to humans. "The important fact is that the majority of the bacteria that we found are harmless," Mason said. Much more common were the protective bacteria that eliminate toxins and make the subway cleaner. "They represent a phalanx of friends that surround us," he said.
"The most surprising thing was the fact that almost half of the DNA we found matched no known organism to humanity," Mason told me. "We've never seen it before, we have no idea what it is, until now."
Of the more than 10 billion DNA fragments that the team sequenced, about 5 billion were unaccounted for. That's not to say that these DNA fragments belong to never-before-seen organisms. Rather, it shows that the library of sequenced genomes still has many empty shelves. Where beetles and flies were most prevalent in this sampling, evidence of cockroaches was absent—not because New York isn't crawling with them (it is), but because scientists haven't fully sequenced the cockroach genome yet. Once that information becomes available, cockroaches will become better represented in the sampling, according to Mason.
His team's next goal is to streamline the real-time mobile swabbing and sequencing process. Such a system would enable subway riders, if they really wanted, to track the little bits of bacteria and leftover pizza particles on the seats next to them. "We want to make the city more responsive to the molecules that are present in it," Mason said. "It's a little bit futuristic but not too far away."