The Story of Twitter's Fail Whale
The illustration's original title: "Lifting a Dreamer"
This is part of an occasional series about abandoned Internet icons.
When Twitter discontinued its beloved Fail Whale in the summer of 2013, the decision had more to do with what the whale represented—a service outage—than the image itself.
"It had a long history and some of our users feel very connected to it," Twitter's senior vice president of engineering told Wired that year. "But in the end, it did represent a time when I don't think we lived up to what the world needed Twitter to be."
He had a point.
The illustration that came to be known as the Fail Whale features a serene, optimistic beluga being lifted out of the waves by a flock of orange birds. Not only was the scene perhaps too cheery for a problem as serious as a service outage, but Twitter wanted its platform to be so reliable that such an image was virtually unnecessary. Besides, the whale wasn't meant to represent failure in the first place. Originally, before Twitter plucked the whale from a stock image site, artist Yiying Lu had made it for a birthday card. Lu had given her creation a dreamy title: "Lifting a Dreamer."
Lu and others believe Nick Quaranto was the first to suggest the nickname "Failwhale" for the design in 2008.
The twitter whale needs a name. I propose 'Failwhale'

— Nick Quaranto (@qrush) May 29, 2008
"I think that may have been one of the first tweets that caught on—but I don't really know," Quaranto told me in an email. "All I can remember is that I was in college, on Twitter, and frustrated that it was down, and perhaps a little too deep into memes/Reddit... However, I think @jensimmons may have the actual first mention going back to 2007."
Oh, fail whale, you are making my website fail. No more wordpress-twitter-crossposting.

— Jen Simmons (@jensimmons) September 2, 2007
Quaranto directed me, too, to this 2008 Flickr discussion in which the term "fail whale" appears repeatedly. Origins of the nickname aside, Lu told me she's "really glad" her design became so well liked. "On a personal side," she told me in an email, "I love how happy art can help people change emotion."
And it's clear that "Lifting a Dreamer"—Lu still calls her illustration by that name, using "Fail Whale" only occasionally and parenthetically—resonated with people in a way that most error pages do not.
Lu's whale has popped up offline, finding its way onto beer bottles, tattoos, manicures, street art, cakes, and so on. (Lu keeps an online gallery of some of her favorite interpretations of the whale.)
And though it has left the Twittersphere, elsewhere, still, the whale can be found.
These days, Lu peruses the images as a way to celebrate her illustration's retirement from Twitter—or, as Lu put it to me, the whale has "failed to fail." And, of course, she has a new illustration of what she has rechristened the "win whale."
A Twitter staffer, Lu explained on her website, once asked her what image she'd create to depict Twitter's improved stability. She came up with this: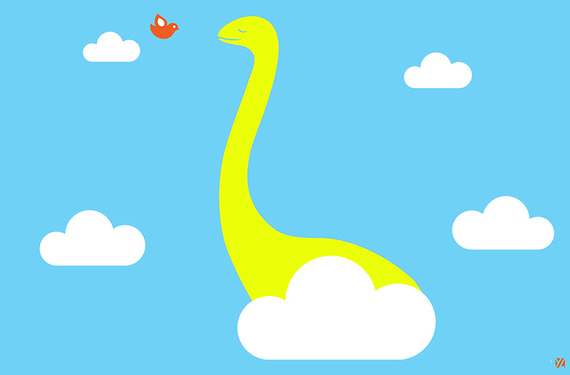 The "Success Loch Ness" may not have caught on widely, but it captures the aesthetic of Lu's beloved whale.