'The Night I Hit Rock Bottom, My Drone Hit the White House Lawn'
A government employee who had been drinking crashed a drone on the president's property. This is his song.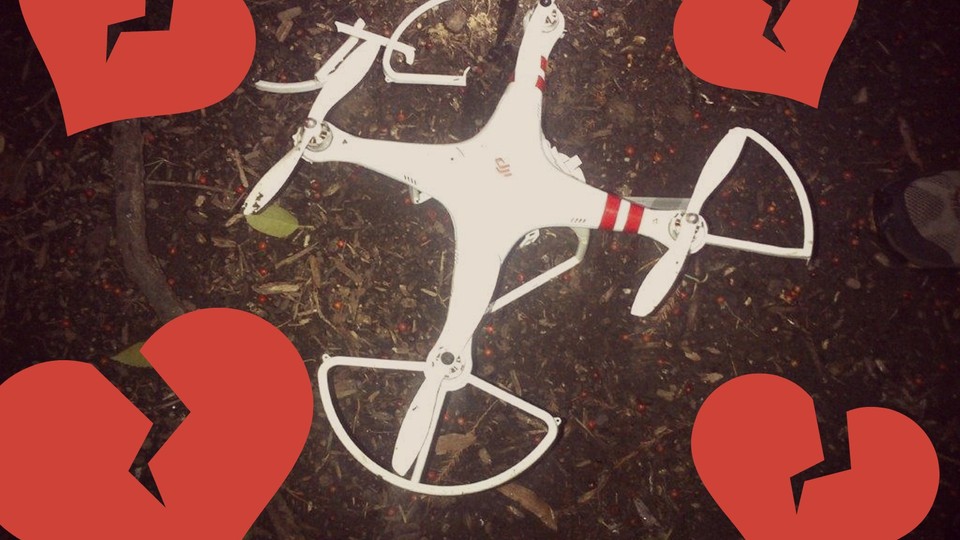 Early in the morning of Monday, January 26, a small, recreational, helicopter-type drone crashed on White House grounds. It was an accident—an employee of the National Geospatial-Intelligence Agency had been drinking at a friend's apartment nearby. According to CNN, "he was demonstrating the drone to a woman who was also in the apartment."
Booze, women, boys's toys: It was all too much. I had to write a country ballad for the poor government worker.
In the din of the dark party
I press the phone to my ear
"It's 911, what's wrong?",
She asks, as my chest fills with fear
Ma'am, there's no fire raging
And no fight about to start
Just a broken, lost quadcopter
And a broken, lonely heart
You see, it started out this evening,
We had a pre-game in my room
We'd just got back from Shake Shack
Goin' out to Dupont soon
When across the room I saw her
She wore leggings and North Face
Right then, she made my face flush
But she led to my disgrace
Chorus:
Oh, dispatch, please believe me
The wind swept my love away
When it took off with my new, white UAV
Her eyes were hazel-autumn
As she turned and said, "It's gone…"
The night I hit rock-bottom
My drone hit the White House lawn
I moseyed up and mustered,
"Haven't seen you here before."
She was new to the District
Workin' for Americorps
She asked me about my drone
So I took it for a flight
The first was smooth and easy
And it looked like a good night
And then 'cause it's my destiny
A gust rushed to the west
And I lost sight of my baby
But I sure did have a guess
You see, I knew where it was bound
No man should ever, ever enter
And I as sure as hell
Don't mean ol' Metro Center
Repeat chorus:
Oh, dispatch, please believe me
The wind swept my love away
When it took off with my new, white UAV
Her eyes were hazel-autumn
As she turned and said, 'It's gone…'
The night I hit rock-bottom
My drone hit the White House lawn
You have to hear me, madam
My honor and my love are thwarted,
It's not a normal emergency
But I have to self-report it
A week later, that girl won't speak to me
Won't even open up my Snaps
Work's got me pushing spreadsheets
Won't let me look at spy maps
The director called me in and said,
"Your actions are insulting."
But jokes on him, I'll quit this job
And go into consulting
[repeat chorus, guitar solo to fade out]