The Devil Wears Pulsars
Why does high fashion go over the moon for the stars?
The night sky is a perfect canvas for the stars—and for fashion designers seeking inspiration. Celestial objects are inherently stylish, because designers can translate them into simple shapes (think circles for planets, streaks for comets, five-pointed polygons for stars) that look pleasing as patterns on fabric.
Which is why the universe of, well, universe-inspired clothing is everywhere. For every moon necklace on Etsy, there's a pair of "galaxy" leggings available on Modcloth. Constellation-themed formal wear dot Pinterest boards. And Tumblr just can't get enough of star dresses.
On the runway, high fashion borrows from astronomy less frequently, turning only to the celestial in phases, if you will. But it happens: Back in 1913, the cover of the first issue of Vanity Fair featured an illustration of a woman gazing at her reflection while sitting on a perfect crescent moon: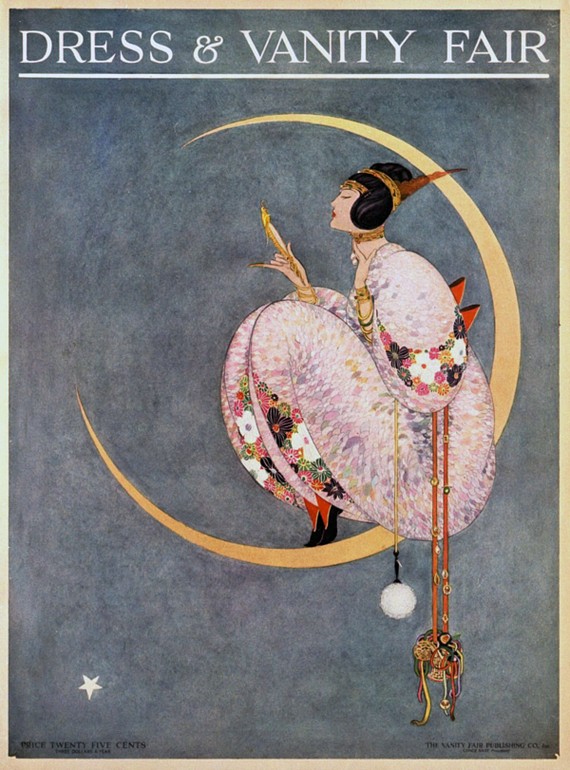 Other collaborations between art and the stars in the 20th century and onward often avoided showing the stars themselves. At the height of the Space Age, the French designer André Courrèges created the "moon girl" concept, envisioning the future of women's wear dominated by bold colors and quirky accessories. His fellow French designer Pierre Cardin used unusual textiles including vinyl and plastic to make helmet-like hats that mimicked those of astronauts. And astronauts themselves have been in fashion's spotlight: In 2009, Sally Ride, Buzz Aldrin, and Jim Lovell joined an ad campaign for Louis Vuitton, prompting New York magazine to declare that in fashion, "Astronauts Are So Hot Right Now."
That brings us to today. This month, Valentino unveiled its pre-fall 2015 collection, which used cosmic motifs for the key pieces in its grand finale. The brand's designers Maria Grazia Chiuri and Pierpaolo Piccioli collaborated with the British designer Celia Birtwell and Italian pop artist Giosetta Fioroni to create dresses, boots, skirts, and even outerwear decorated with planets, crescent moons, and stars. "We want to believe in a fantastic future," Grazia Chiuri told Style.com. Below, three pieces from the collection: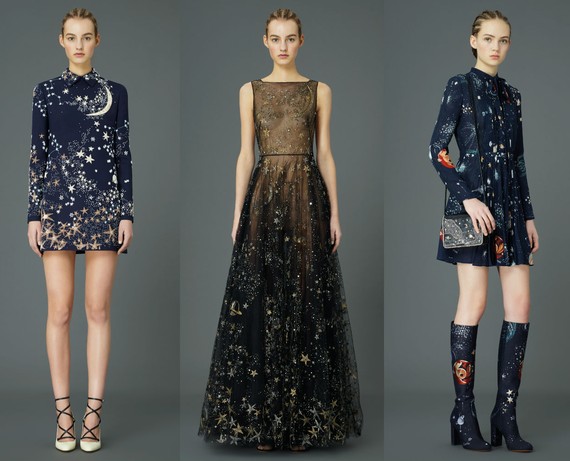 Valentino isn't the only high fashion brand looking to the stars again. Marc Jacobs' 2015 resort collection also features the Space Age as a key theme, while Tommy Hilfiger's spring 2015 women's collection repeatedly uses star patterns.
But why is haute couture paying attention to astronomy now? Emily Rice, an astronomer and professor at the City University of New York's College of Staten Island, and Summer Ash, an astrophysicist at Columbia University, say it's mostly because astronomy is having a moment. They should know—the duo run the part-science, part-space blog STARtorialist, where they chronicle astronomy-inspired fashion.
Rice and Ash point to the past year's worth of astronomy-related news and pop culture as the culprit behind the space fashion boom. 2014 was particularly productive: Christopher Nolan made a film about exploring the outer reaches of the universe (not to mention the fifth dimension), Star Wars named the next installment of the saga set to hit theaters December this year, and in real life, the European Space Agency landed a robot on a moving comet. On top of it all, NASA continues to release jaw-dropping hi-res photos, like the gigantic composite image of the Andromeda Galaxy taken by the Hubble Space Telescope.
"There's a general consciousness of what's going on in space science and astronomy and astrophysics," Rice says. "It's so powerful to have a live landing like the Rosetta one, to have the world watching."
"Astronomy is not a subculture anymore," Ash adds. "I feel like scientists are being more integrated into culture overall."
Therefore, the accessibility of space—and science as a whole—has made people pay attention to it, and prompted many to wear their fascination literally on their sleeves.
At least, that's what May-Britt Moser, one of the recipients of last year's Nobel Prize in Physiology or Medicine, did. To accept the prize in December, she wore a dress decorated with a neuron grid. Created by British engineer-turned-designer Matthew Hubble, the dress managed to represent her work with neuroscience through art and formal wear. Moser put it this way to the Scientific American:
A good designer has a lot in common with a good researcher. Both hunt for excellence and perfection. And you have to really focus on the details, and you don't really know what the final result will be before you have it.
The idea of merging the scientific and the artistic hit the runway last fall with Descience, a project that paired designers with scientists in different fields to create innovative garments.
The project's executive director, neuroscientist Yuly Fuentes-Medel, tells me she realized designers and scientists are similar when she went to her first fashion show on a whim for a friend. "[Scientists and designers] think, develop, and create in very similar ways, but it has never been put together," she says. "Fashion is an amazing visual language, and fashion designers are amazing translators for scientists to communicate their work in a completely different way."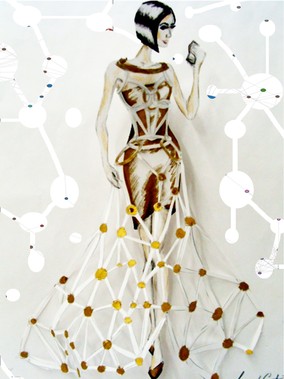 In 2014, Fuentes-Medel recruited designers and scientists to create teams of two. One designer, New York-based Amanda Curtis, joined after years of working on her own collection. The experimental, scientific aspect of the project didn't seem strange to her when she joined, she says. Instead, she had noticed that "a general science or technology renaissance" had started permeating fashion. Business models were changing—designers could use Kickstarter to manufacture and launch brands, for example—and she wanted in on the action.
Plus, the world of science is more accessible than ever. Echoing Rice and Ash, Curtis points out how easy it is to seek out and learn about space: All someone has to do is download an app, point a device toward the sky, and examine a map of constellations. So, when Descience began, she wanted to interpret this shift. She ended up designing an interactive dress with MIT Media Lab's César Hidalgo that would respond to social-media mentions by lighting up, though she never created the dress itself (her company moved from Boston to New York while she was working on it).
"Fashion is a translation of the world around us, of what's happening and where people are paying attention," she tells me. "Designers interpret that and make that visual."
Another team, designer Tatiana Tejedor and synthetic biologist Tal Danino, designed a glow-in-the-dark dress that used microscopic images of cancer-detecting bacteria—and even some of the bacteria itself. "When you turn the lights off, you can see that these small little sprinkles are real fluorescent bacteria that are painted onto the dress," Danino explained in a video about the project:
It may seem gimmicky to put cells on a dress and call it a day, but to Fuentes-Medel, Descience's concepts and dresses—finished or unfinished—were meant to show how scientists and designers can collaborate. The teams may not produce scientific breakthroughs or discoveries, but that's not the point. The point, Fuentes-Medel says, is to help both sides understand the other's and in the process, draw new inspirations for their work.
After all, she notes, Valentino can only conceive of its cosmic motifs because the house's designers can see actual images of the cosmos. And those images came from scientists and engineers, the ones who produced and fine-tuned telescopes and cameras to capture images of space in the first place.
"There's this connection between how we discover the world around us through scientists and how fashion can bring it to life through designers," she tells me. "It's a constant loop of inspiration that you create around two worlds that are supposed to be super far apart, but are now together." So in other words, fashion and science are now, finally, in orbit.