Most Popular on The New York Times in 2014? The Curiosity App
Facebook, memoirs, and that famous dialect quiz drove users to the Gray Lady last year.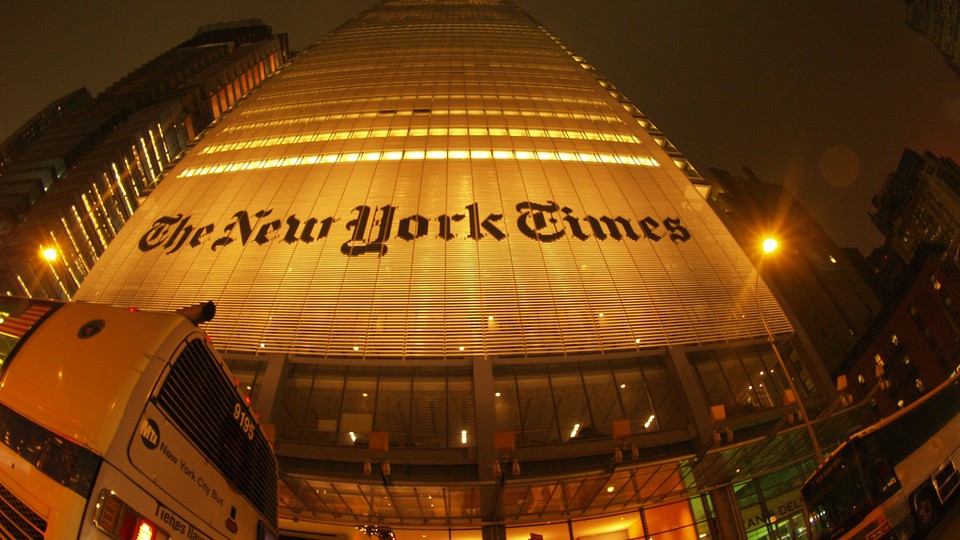 In 2013, something funny happened at The New York Times. The paper published thousands of stories online, yet its most popular piece of content wasn't a story at all.
It was—as I noted at the time—a quiz. Specifically, the famous U.S. regional dialect quiz.
Published in 2013's final fortnight, the quiz beat out every article, every obituary, every magazine feature. It dominated. The rest of the news media evidently learned a lesson from its success: In the months that followed, BuzzFeed unleashed its own brand of Facebook-friendly quizzes; and Slate published its super-simple Name Travoltifier, which itself became the most-visited "article" in the site's history.
Now the Gray Lady has released its most popular stories of 2014, and while the dialect quiz has surrendered the top spot, it's stayed on the winners' podium. The app was the third-most visited thing last year.
I've posted the rest of their list below, with links to the stories themselves. Scanning this list, I'd note how many of these stories aren't news stories at all, or exemplify "curiosity journalism"—Atlantic contributing editor Ian Bogost's term for a kind of story that does well online. "Forty Portraits in 40 Years," "The 52 Places to Go in 2014," "Watch 10,000 League of Legends Games in 30 Seconds," and the seven-minute workout all scratch an itch for readers. They promise a diversion, and—because viral-friendly content is still something of an anomaly for the staid Times—they usually supply it.
Some of these attention-getting stories are new variants on ancient newspaper techniques. "The 52 Places to Go in 2014" is just an old-fashioned travel feature, albeit a very pretty one online. Celebrity obituaries hold two top-10 slots (think of People's many In Memoriam issues). Health stories appear, too, sometimes with a newsy edge, and sometimes not: 2013's Seven-Minute Workout story is the other non-2014 piece which appears. (The Times also published an "advanced" version of the workout this year, for which it even made its own app—something I'd lamented it failing to do in 2013.)
One final type of story that emerges from the list? The first-person, memoir-like essay. Two stories from the top-ten fit this mold: one about turning 44 and the other about working on Wall Street. And the most-popular story, a photographic document of sisterhood over time, is itself a memoir of sorts.
And what might combine many of these threads? Last year, it was a first-person essay by a celebrity about a health issue: Angelina Jolie's May 2013 Op-Ed about her preventive double mastectomy. This year, it was something more tragic: Dylan Farrow's open letter alleging sexual abuse against her adoptive father, Woody Allen.
Why did the dialect quiz—and the seven-minute workout—do so well? The dialect quiz was published late enough in 2013 that it probably extended its initial run well into the new year. But it and the workout also likely benefited by Facebook's dramatically expanded reach in late 2013. News agencies are publishing old content to their Facebook feeds and finding new and larger audiences doing it. And even if they don't republish old stories, Facebook has permitted old stories going viral, finding vast new audiences for articles published years before.
In other words, two big components of New York Times popular success in 2014 were playing old tricks in a new landscape. And also, sometimes, you know, breaking news. There are two straight-news stories in the list, and they're about some of the year's biggest stories: ISIS and the murder of Michael Brown.
Here are the most popular New York Times stories of 2014: