Visiting 1985 With the Ghost of Christmas Past
A look back at a 29-year-old issue of Better Homes and Gardens
This article is part of an occasional series that revisits moments in American history through the lens of old magazines. Previous entries include "Money, Power, and College Sports in 1905 America," "A Trove of History As 1970s Housewives Lived It," and "Guns: Protection Against the 'Growing Menace of Auto Bandits.'"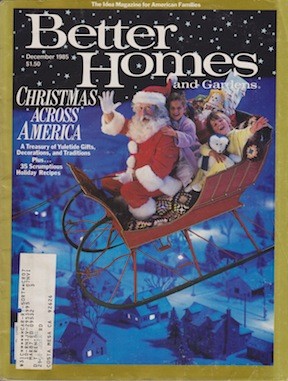 Gather around, youngsters, for a Christmas story about the days when I was just a lad. The year was 1985. Ronald Reagan was president. Magic Johnson was the best basketball player. Bruce Springsteen's "Born in the USA" was an especially popular song. And my grandmother received the December issue of Better Homes and Gardens, a magazine with a circulation of 8 million readers at the time.
The issue's cover story, "Christmas Across America," spotlights regional traditions beginning in New England, which was evidently a hotbed of cross-stitch folk art. Did you know that "handicrafts are as much a part of New England tradition as Yankee pride and ingenuity"? The "great North Woods" was the next region to be profiled, with its "dark forest pines, silent snows, ice crystals, and glad hearths." And then the South, where Christmas is a time for "old-fashioned elegance and colorful charm," much of it recalling the "graceful manners and grand plantations of yesteryear." (Pardon me, ma'am, is that southern magnolia wreath decked with a bow of crewel-embroidered garland?) And finally the southwest, where "every Christmas is greeted with a rustle of brightly colored tissue-paper, shiny tin ornaments, piñatas, candlelight, colorful pageantry, painted figures, and festive foods."
All of that is to say that the editorial features in the issue of Better Homes and Gardens do not resemble any Christmas I used to know in any part of the United States. (Your experiences may vary.) But when I looked past the articles and started focusing on the ads, I was suddenly transported back to a familiar America that I'd forgotten in the course of surfing the Internet these last years to digital gift guides filled with innovative consumer electronics and artisanal foodstuffs. It was a more traditional America, where a play session involving two kids in a toy kitchen was presumed to entail the little girl serving pretend foodstuffs to a little boy, "just like mommy," as it says in text that you shouldn't overlook:
We were fortunate to play with fake food, because the real food wasn't particularly good–not like today. Circa 1985, even a professional photographer trying to evoke a delicious holiday meal showed fare that wouldn't make Instagram now:
Automobiles back then were boxy, as illustrated by the Ford Aerostar, a brand new model that year: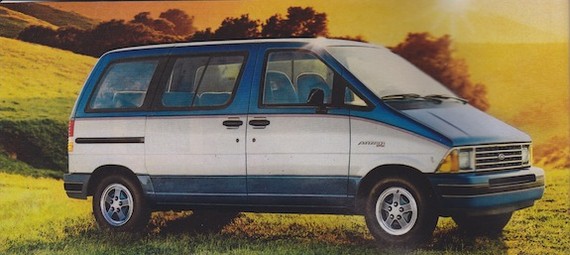 We've all seen enough old movies to understand how cigarettes first attained their aura of glamour and cool. But we might not get it if we had to judge by 1980s cigarette ads: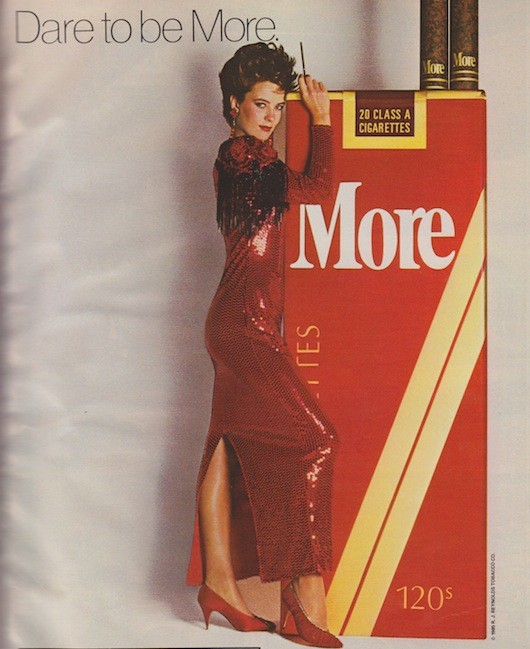 What I wanted most for Christmas at that age was a bike. But another present I requested, something I'd totally forgotten about until thumbing through this magazine, recalls the inexplicable moment when America decided tubes were not the optimal method for dispensing toothpaste. What excitement I felt about the pump: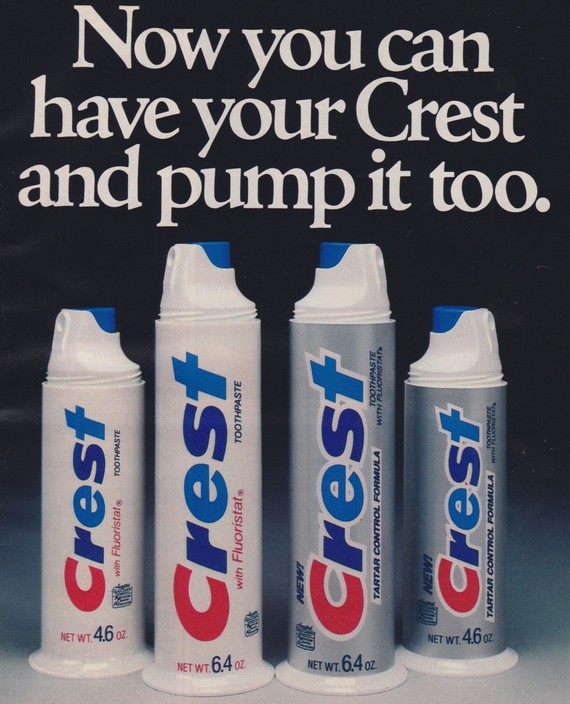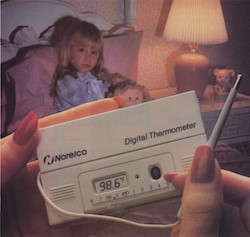 Other technological innovations make appearances in the issue–a digital thermometer, for example. The thermometer people certainly have made impressive progress packing the same technology into tinier and tinier plastic housing. And I trust I'm not alone in experiencing subconscious relief that the nice little girl in the photograph does not have a fever, if that year's Norelco is to be trusted.
Youngsters might be surprised to learn that Apple wasn't yet in the phone business back then, but that didn't mean the era's leading firms weren't innovating, as the several features touted on this model with a 16-inch coiled cord attest:
Of course, the ads weren't all fun new gadgets. There were also attempts to reach the public to address important issues, like the "heightened social strife" being caused by a sensational media reporting on second-hand smoke as if it was dangerous:
And Jews for Jesus seized the holiday issue to get out its message: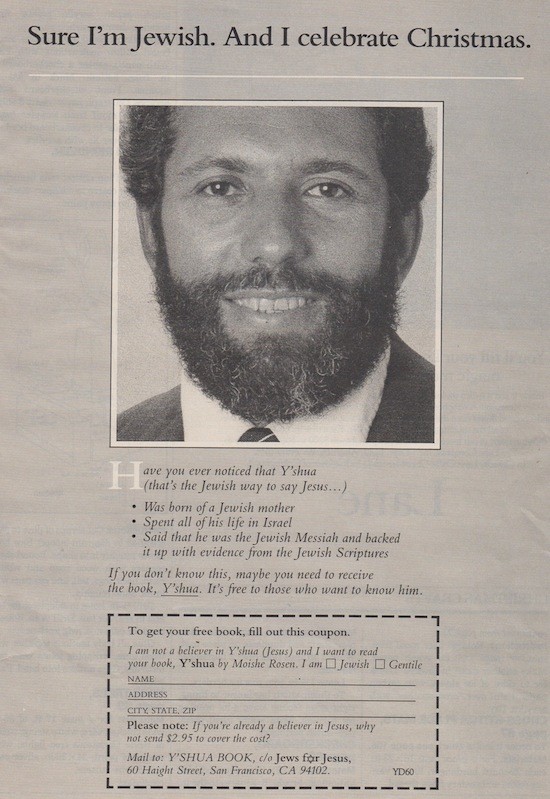 I'm tempted to conclude with this very 1980s couple from a Crum and Forester Personal Insurance ad: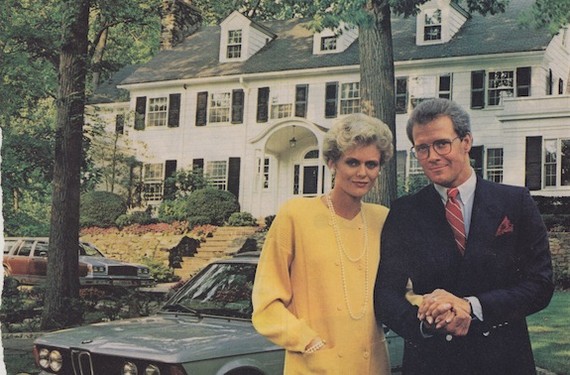 Or what is, in hindsight, the first journalistic tool I ever received:
And that ad does end the 1980s nostalgia portion of our story. But I'd be remiss if I didn't include in this post a tangential but fascinating moment when–I am speculating here–the head writer for the J. Peterman catalog wrote copy for an oregano ad: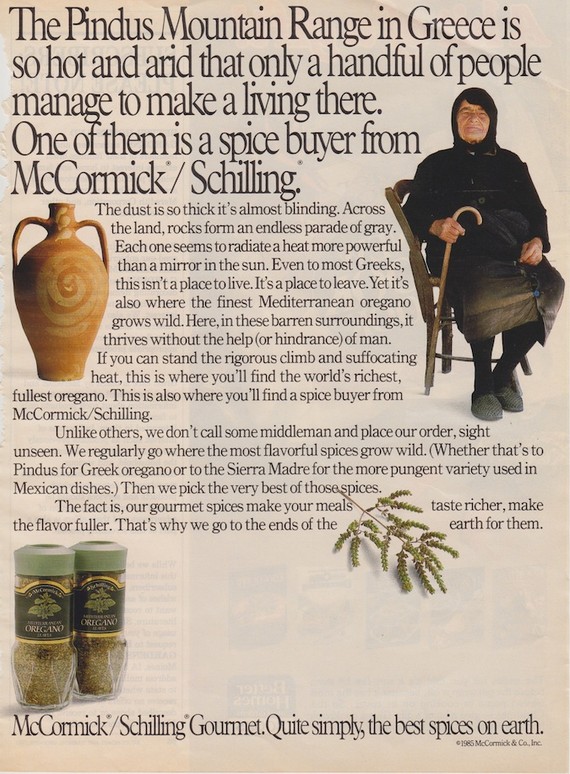 And we all lived happily ever after.