The Intense Competition to Be the World's Most-Decorated House
Winning, this year, took 601,736 lights.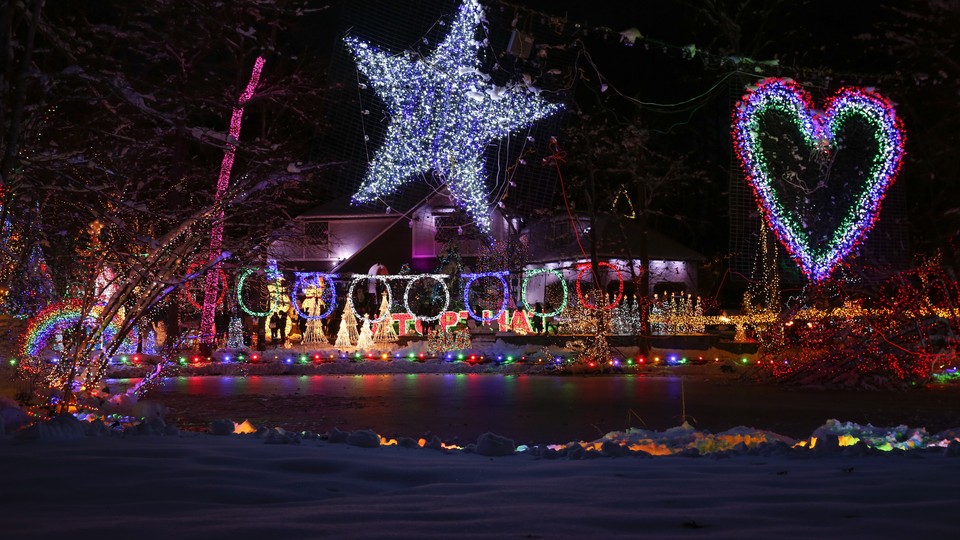 This is a story about family. It is a story about home. It is a story about striving and progress and competition and collaboration and the triumph of the human spirit.
Mostly, though, it is a story about blindingly excessive holiday lights.
In 2001, the Richards family of Canberra, Australia, set the Guinness World Record for the most holiday lights ever to grace a human house. They won that honor by festooning their home with more than 300,000 bulbs (331,038 of them, to be exact: Precision is crucial when you are vying for the title of Most Well-Lit Home of All Time). The family's retina-scorching record stood for more than a decade.
Then, in 2012, another family—the Gay clan of LaGrangeville, New York—bested the Richardses: They decorated their house with 346,283 lights. (Many of those were, to add tinsel to injury, synchronized to music.)
The whole thing looked like this:
Yes, that appears to be a shark wearing a Santa hat. And, yes, it is awesome.
Awesome, that is, unless you are the Richards family of Canberra, Australia, and your position as a luminary of international proportions is at stake. If you are the Richards family of Canberra, Australia, this case of American exceptionalism cannot stand. So, last year, the Richardses upped the ante, decorating their house with more than 502,165 lights. (This equates to, just to give you a sense of the feats of engineering involved in this cross-continental bulb-off, more than 29 miles of wire.)
The Richards house, post-decoration, looked like this: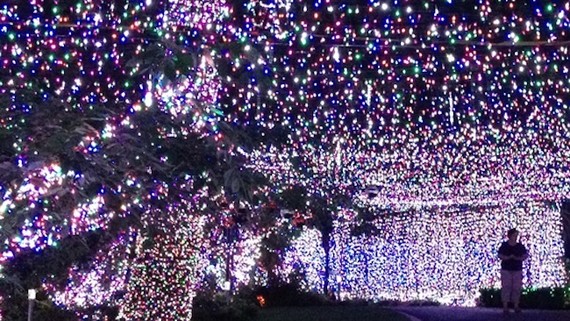 But! There is, of course, always room for more light. So, this year, the Gay family got their revenge: They covered their own house—and, crucially, its grounds—with a display that involves 601,736 lights. The whole thing took roughly two months to build. It spans two acres. It also involves much more than lights: It includes more than 200 songs, including both top-40 hits and traditional holiday songs. (Passersby, Guinness notes, can tune into a local radio station to hear the music while driving—yes, driving—through the show.)
The whole thing looks like this: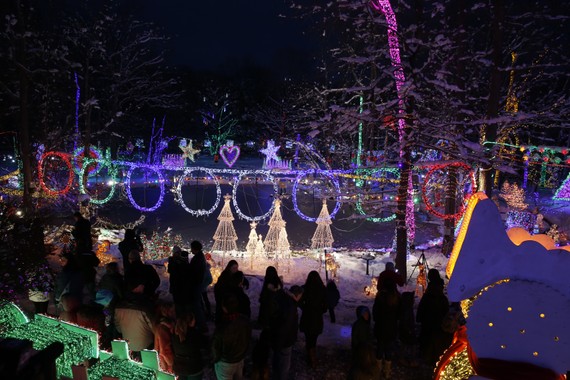 Your move, Richards family. As Tim Gay told Guinness, on the occasion of his win: "My family and I are thrilled to bring the World Record back to the United States." He added: "And we're even more excited that we did it with nearly 100,000 more lights than the previous record."