How One Small Idaho City Has Embraced Body Cameras
After early skepticism, police officers say the technology has improved their work.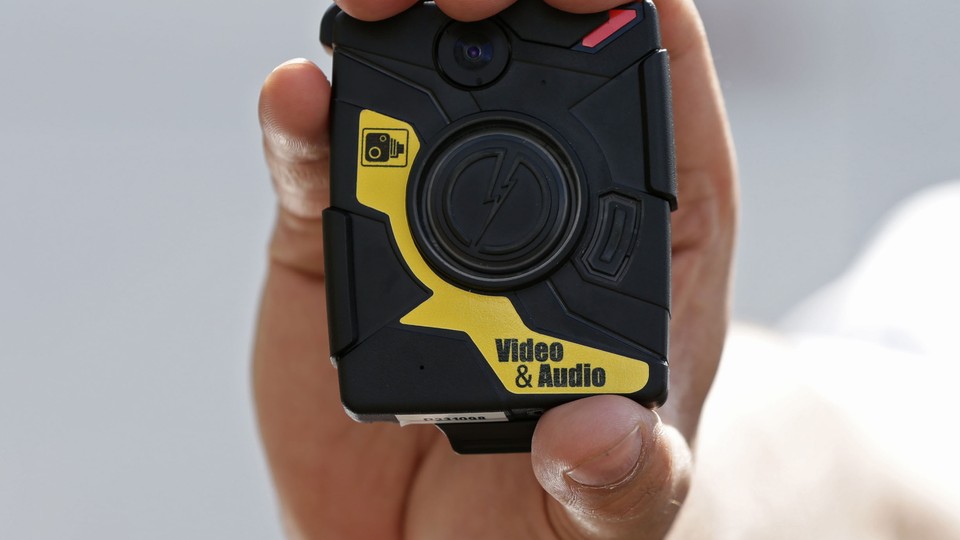 In most big American cities, body-worn cameras are new and fledgling additions to police officers' toolkits. New York City planned to outfit 50 cops with the devices over the weekend. Chicago hopes to start testing them in two months. Even departments comparably well-versed in the technology—like the one in Oakland, California—began seriously installing them last year.
In Post Falls, Idaho, however—at population 30,000, the state's 10th largest city—body-worn cameras are practically old hat. Officers in the department started wearing the cameras in 2007, and they were made mandatory for all uniformed activities in 2011.
So I talked to Scott Haug, Post Falls's police chief. He told me how his department has implemented body cameras and the policies around them. I found his insight interesting—not least because it gives a clue to how the cops-with-cameras future will look, especially beyond large metropolises with well-funded law enforcement.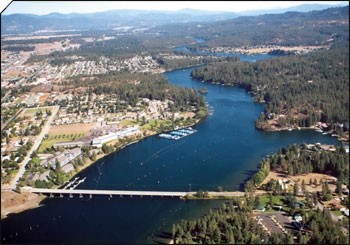 As elsewhere across the country, Post Falls's use of body cameras started with in-car cameras. The department adopted them in the mid-1990s, Haug said, at first rigging Super-8 tape recorders on squad-car dashboards. Over the course of a decade, those became VHS recorders, then mini-DVDs, until the department went fully digital around 2005.
In that time, Post Falls has assembled quite the archive. It is department policy to retain run-of-the-mill footage for five years, and trial evidence indefinitely, so 8-millimeter film, VHS tapes, and DVDs all reside in the local evidence room.
In the same figurative room: a server with 40 terabytes of video data, backed up to an off-site location.
Post Falls has 42 sworn officers. Forty terabytes, then, represents the scale of that team's data exhaust. It's data output of three years of full-time recording—body and dashboard cameras, combined—and two years of partial body-camera recordings and in-car cameras.
I found that number useful. Forty terabytes is big, but it's not unimaginable. Single-terabyte hard drives are available in every office-supply store in the country, and 20-terabyte drives are said to be coming in 2020. Companies generate 40 terabytes of data all the time.
For Haug, cameras are useful because they document officer actions. When his department began testing body cameras, it was "in an effort to ensure that what the officer was dealing with was properly documented," he said.
Now, he sees cameras as an important part of a cop's toolkit. Almost everyone they encounter will have cameras, so it's important that they do, too.
"Everyone that's out there is a photojournalist now, and we wanted to make sure officers could describe and document what they see," he said.
"Early on, I think a lot of officers were very skeptical," he added. "I think the majority of the officers now realize it's a big benefit to them. A lot of officers come up to me and say, 'I wouldn't do police work without one now.'"
Post Falls mandates officer that body-worn cameras be turned on during all uniformed police work. Even Haug turns on his camera when he goes out in uniform.
"Any time they are taking enforcement action, the body camera is supposed to be turned on. Some agencies leave it to the discretion of officers, and I think that's a mistake," Haug said.
That view is supported by police sociologists, who have found officers abusing that power when it's granted to them. Investigating a midwestern department, researchers found that even though dash cams were programmed to start filming as soon as emergency lights activated, the audio portion was still left to officer discretion. The outcome?
In terms of actual microphone use, the microphone was turned off 95 percent of the time, with partial or complete audio the other five percent of the time. […] The researchers found that officers selectively turn on microphones at certain parts of the encounter, and turn them off during other parts of an encounter.
Haug, in fact, encourages his officers to record all the time. "To me, storage is pretty inexpensive," he said. "I would rather have a bunch of data I didn't need, then not have it when I need it. If you don't need it, you can always get rid of it."
"You don't know as an officer when you're going to need it," he added.
Post Falls requires that its supervisors review their officers's video every week. Commanders also must watch body-worn and in-car camera footage whenever there's a use of force or "critical incident." Haug will also release footage from both from time to time. When I talked with Keith Cousins, the cops and courts reporter at the local Coeur d'Alene Press, he confirmed that the Post Falls police department has released its camera footage when it can.
Post Falls should not be seen as an average case. The suburb of two large Western cities, it's about 94 percent white. And while I doubt that its policies will be duplicated across the country, it's a clue to what regulations around body cameras might look like. If police-worn body cameras are coming—and with $263 million in federal funding on the way, it's hard to imagine a future without them—these are the kind of rules that reformists might advocate for.
Haug did have one big trepidation about how body-worn camera footage would be used. As cameras improve, he said, they are likely to have far better night-vision than police officers.
"A camera doesn't show you what the officer saw," he told me. "It shows you what the camera saw."
Specifically, Haug can imagine a situation where a jury is shown body-worn camera footage. In the footage, it's clear that a victim would be holding a cellphone—even if an officer on the scene could mistake it for a gun. If the officer makes a split-second decision and shoots, Haug asked, will the jury be able to distinguish between what the camera captured and what the officer was able to see?
"Just because cameras saw something," Haug said, "doesn't mean that the officer did."