The Clone of My Hometown in China
Why the country is building its own version of the American West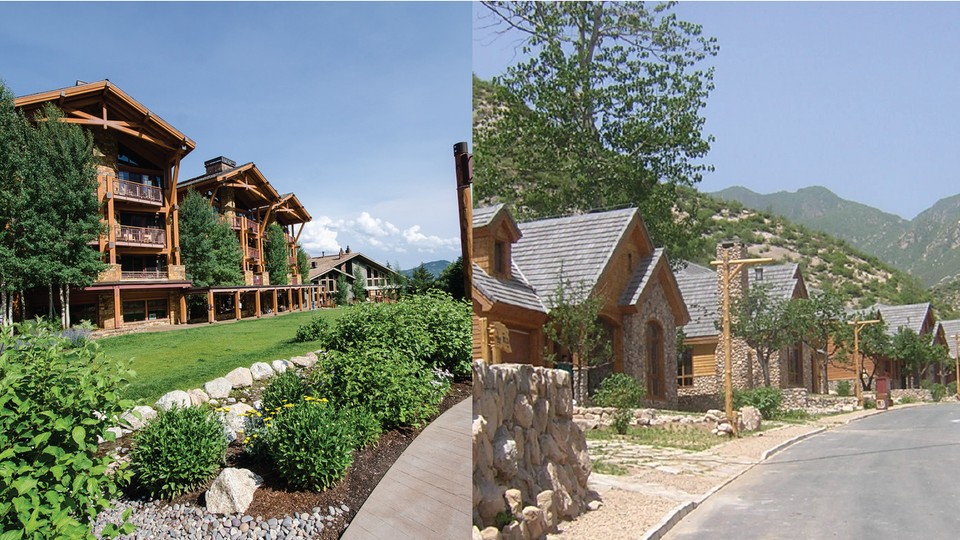 I grew up in Jackson Hole, Wyoming, which many locals will tell you is the most beautiful place on earth. The best place. The only place to be. In fact, when I announced several years ago that I was abandoning the mountains of Wyoming for the skyscrapers of New York City, I was treated alternately like a traitor and a fool.
Jackson Hole is loved fiercely by both natives and by transplants who were lured to its pristine outdoors. There's a lot to love. In this valley surrounded by breathtaking mountain ranges, only 3 percent of the land is privately owned. The rest is federal or state-managed, including Yellowstone and Grand Teton National Parks and the Bridger-Teton National Forest, the second largest in the lower 48. It is a haven for outdoor sport enthusiasts, especially skiers, and anyone who enjoys pleasant surroundings.
Jackson, the area's main town (Jackson Hole is the name of the larger valley, not a specific town) is home to just over 10,000 people, and the surrounding county brings the area's population to around 22,000. It is small enough that if you don't know someone, you at least know somebody who knows somebody who knows them.
As a Jackson Hole native, part of me wants everyone to know how singular my hometown is, and wants them to see it. But another part of me couldn't help but feel a bit possessive, and even jealous, when each year several million tourists descended upon us. And that's not even counting the ultra-wealthy (and some celebrity) vacation home owners. It wasn't that I didn't want people to visit. I simply resented the fact that all these people seemed to think of our town as theirs. They sweep in every year as if they own the place, and in a sense, they do—Jackson Hole's economy is dependent on them. That reality can be a harsh one when people are treating your home like it's Disney World.
So imagine locals' collective bemusement and indignation when we learned that there was another Jackson Hole in a very unlikely place: China. The news of this resort community, which lies in the mountains north of Beijing, first began to circulate when I was in high school. It's an exact replica of our town, people said, listing landmarks that had been perfectly reproduced. Wild fantasies of a bizarre parallel universe abounded.
That isn't exactly true according to Allison Smith, the Portland-based designer behind the Chinese resort community's look. While some elements are closely imitated, it's more accurate to say that the town and the houses in it are heavily inspired by Jackson Hole. The Chinese vacation homes do look as though they could belong in the American Jackson Hole—the architecture and materials look right, though their smaller size is a giveaway. The closest thing to a replica is the resort's commercial center, known as Teton Village. In Jackson Hole, Wyoming, Teton Village is the location of the famed Jackson Hole Mountain Resort and a number of luxe hotels. The buildings in the Chinese Teton Village, while still smaller, could be mistaken at a glance for the hotels in the American Teton Village. There is also a bar in the Chinese Teton Village called "Cowboy Bar," clearly named for the Million Dollar Cowboy Bar, one of the town of Jackson's most recognizable landmarks.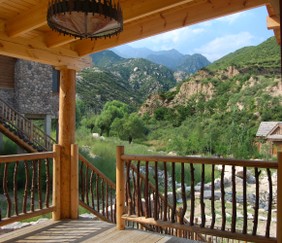 Mostly, Jackson Hole, China, emulates the sort of frontier town created and immortalized in Western movies. The resort's Chinese name translates to "Hometown, USA." Its creators are tapping into the same archetypes that attract tourists to the original Jackson Hole: It's a place with a Wild West legacy, but it also has that quintessential American small town feel, where a visitor can imagine being part of a tight-knit community.
But China's Jackson Hole is no rustic homestead—Smith said the developers were also attracted to the exclusivity and notoriously expensive real estate of modern Jackson Hole. The resort's website assures visitors that "almost all U.S. presidents, telecoms tycoons, financial magnates, media giants, Hollywood stars have their own private Vacation Home [sic]," and that Jackson Hole is a popular destination for the wealthy.
Smith was contacted by Seattle-based Pinnacle Realty Management in 2006 to consult on the project, which was being developed by a new Chinese partner and was in its very early stages. At the time, there were only a few villas on the site, and no cohesive style. After bringing Smith on, the developer decided to start over from scratch.
"They really wanted it to be something American. We listed major names of resort communities up on a big board, and one of them was Jackson Hole. They were just immediately attracted to the idea," Smith told me. "The whole thing of pioneering the West was fascinating to them. The cowboys, the Indians, discovering gold, the history behind it. I think part of it is also the idea of freedom from the mother country."
Smith said that the location of the Chinese site reminded her of the low-lying parts of Jackson Hole, although the surrounding mountains are less impressive and there are few wild animals to be found. "Martha's Vineyard, for example, wouldn't have been a good fit," she said. Smith visited Jackson Hole as a child and has lived in Wyoming, Montana, and Utah, so she drew on those memories to craft a tribute to the American West.
Reproducing the feel of the high-end American West was a process of trial and error. Smith sent material samples and furniture prototypes to China that were then reproduced. "They really liked some of the more kitschy things," Smith said. These included bear skins, old whiskey bottles, snowshoes, wooden chests, and elk antlers (popular decorative elements in the original Jackson Hole that often perturb tourists who don't realize that the antlers fall off, and no animals are killed for them). Smith filled shipping crates with antiques and knickknacks that were placed in each house "so it didn't have such a new construction feel." The resulting homes boast hardwood floors that are pre-engineered to look timeworn with exposed beams and iron light fixtures.
According to Smith, one of the biggest challenges wasn't interior decoration, but rather working with Chinese architects and contractors who were unfamiliar with American home design. "They're used to building skyscrapers and using nothing but mortar and steel construction," said Smith.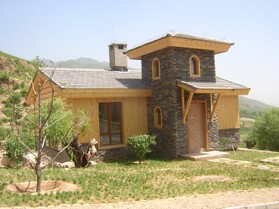 Though it began with little direction, Jackson Hole, China, has become a wild success. After several expansions, the community now includes nearly 900 single family homes. Smith said that the first model homes sold for $180,000 to $330,000, and that they have now tripled in value. By comparison, the average worker in China makes just over $4,000 per year, according to the World Bank. Teton County, Wyoming, on the other hand, is the wealthiest in the U.S., with an average annual income of nearly $300,000. According to Jackson Hole Real Estate Associates the average single family home in Teton County sells for $1.1 million, while the average "luxury" home goes for over $5 million.
Jackson Hole, China, has been touted by CNN and Foreign Policy as an example of Chinese fascination with the West, and the desire of many Chinese people for more individual freedoms. We Americans love to hear about how obsessed foreigners are with our culture. They love it so much they built an imitation, we think. But the truth is that Americans who visit the original Jackson Hole are buying into the same fantasies almost as eagerly as the well-off Chinese who buy homes in Jackson Hole, China.
When I tell people that I am from Wyoming, I sometimes get bewildered stares. I have heard the phrase, "Wow, you're the first person I've ever met from Wyoming!" more times than I can count. Some think of it it as a lavish getaway spot full of expensive homes. Most seem to think that I have stepped out of a movie. They ask me if I grew up riding a horse to school (which I tell them is absurd, although I do have to admit that I know a girl who rode her horse to school. Once). They express shock at seeing me in a city as big as New York, as if a wholesome small town girl must certainly implode when exposed to such massive crowds teeming with vice. Mostly, they gush about how nice it must be to grow up in a quaint, tiny town where everybody knows your name and says hello.
This is exactly why Jackson Hole is so appealing to tourists and wealthy second home owners alike. Jackson Hole embodies two classic American archetypes: the rugged, individualistic, and sometimes bawdy Wild West, and the kind, welcoming small town. It's a Wonderful Life and Stagecoach all rolled into one. Plus, now you can stay at the Four Seasons if you don't feel like pitching a tent.
And the American Jackson Hole's rustic aesthetic is as carefully maintained as the Chinese one. The Zoning District Regulations Section of the town's Municipal Code makes use of the word "character" 77 times in 101 pages. One of the stated goals of the Jackson/Teton County Comprehensive Plan, a set of guidelines for growth and development, is to ensure that growth "is consistent with the historic development pattern that defines our western, rural character." In order to be approved, all nonresidential building projects in the town of Jackson have to go before a Design Review Committee, and can be rejected if they aren't up to snuff. The town's Design Guidelines require that new buildings maintain the historic "'sawtooth' profile of building heights," and that materials remain cohesive within their "regional context" and "natural environment."
The Municipal Code also contains detailed regulations regarding signs, including a highly specific list of permissible materials and colors, and requiring that signs "protect and enhance the community character and visual environment," and "preserve the right of citizens to enjoy our Town's scenic beauty."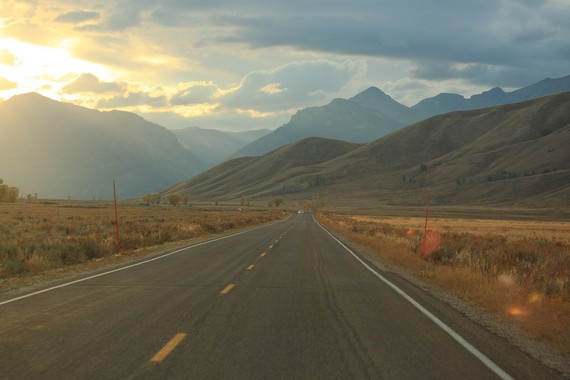 That is not to say that the "rural, Western" aesthetic of Jackson Hole is inauthentic. Once upon a time there were mountaineers, outlaws, and covered wagons. There was also the dark side of westward expansion, namely the displacement of Native Americans and the mass slaughter of people and wildlife, a history often glossed over by tourists and locals alike.
Most locals will agree, however, that the Jackson Hole seen by tourists is not the Jackson Hole they know as home. This is true to an extent of any popular tourist destination—these peculiar places must have selling points, and they must live up to or exceed the expectations of the people who visit. They must distill themselves down into an alluring idea that can be expressed on websites and in pamphlets. In the case of Jackson Hole, the breathtaking scenery is a brand in and of itself, helped along by that blend of homelike Americana and rugged survivalism.
The developers of Jackson Hole, China, at least, feel they've done the original justice. Smith took them on a trip to Jackson Hole, Wyoming, a few years after their resort opened. She said they were impressed by how "pristine" the original was, and by its mountains and wild animals, but were ultimately confident in their own version. "It was a lot of fun to show them, and I think it made them proud because they did a pretty good job of complementing what Jackson Hole is," Smith said.
Jackson Hole has long proclaimed itself to be "the last and the best of the Old West." The person who first carved that motto onto a "Welcome to Jackson Hole" sign may have imagined competition from Colorado or Montana, but certainly never China. While having an imitator arguably puts Jackson Hole out of the running as "the last," "the best" is still up for grabs, and the proud residents of Jackson Hole, Wyoming aren't about to let that one go. You have to see it for yourself, they say, and once you do you may never want to leave.