The First Plastic Football Helmet Often Broke on Impact
Early headgear was meant to prevent death. Today's versions attempt to prevent concussions, but protecting players who take repeated hits is hard.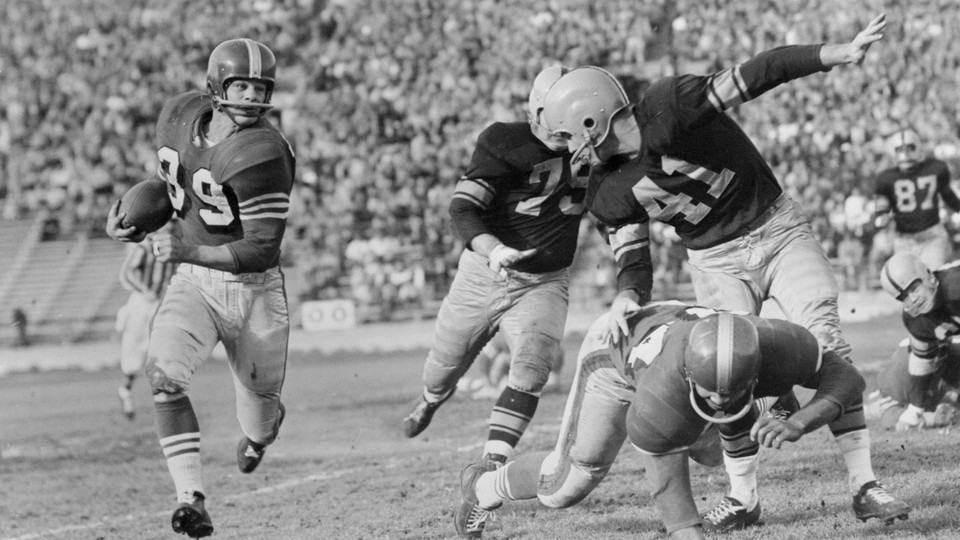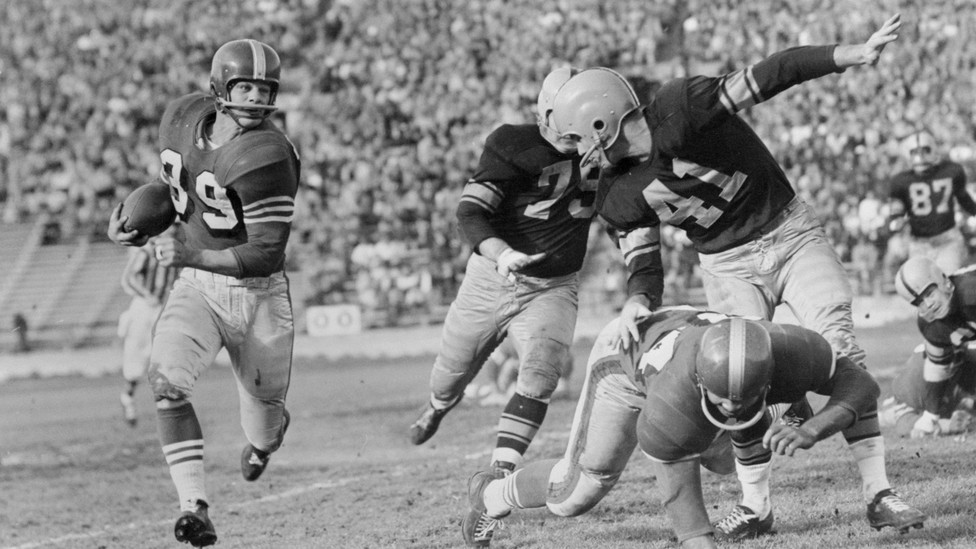 It didn't take long for people to figure out that football was dangerous. From close to the beginning of American football, innovations in helmets were associated with the risk of devastating head injuries. Here, in an early demonstration of a leather football helmet, the presenter introduces the invention as "an attempt to prevent fatal injuries in football." He then puts the helmet on, lays down, and lets players kick him in the head:
According to Smithsonian
, one of the clearest origin stories of the football helmet features an admiral who wanted to play in an Army-Navy game, but "had apparently been kicked and hit in the head so many times, his doctor told him that another hard impact could lead to 'instant insanity.'" To extend his football career, he wore a leather helmet.
The first plastic helmet—the precursor to every modern football helmet—was made by John T. Riddell in 1939; the company he founded still dominates the industry today.
Early versions of the helmet, made of brittle plastic, would crack on impact. It was an improvement over a cracked skull, for sure, but, as early as the 1950s, medical professionals worried that helmets did not do enough to protect players' heads, especially as the game became more aggressive. In 1962,
Sports Illustrated
reported:
Neurosurgeon Richard Schneider of Michigan analyzed the 18 football fatalities that occurred in 1959 and discovered that 14 of them were the result of head and spinal injuries….Blame for the increasing incidence of injuries has often been placed on modern equipment, such as the face guard and the rock-hard plastic helmet that have come into universal use in the last decade. But medical research indicates that the face guard and the helmet actually have helped to prevent an even greater number of injuries. Knocked-out teeth, jaw fractures, broken noses and other facial injuries have been substantially reduced, primarily because of the face guards, and the American Medical Association has approved the plastic helmet.
In the late 1980s, Mark Kelso, another player who had hit his head one too many times, started wearing a new type of head protection onto the field: an invention called the ProCap, a sort of helmet for the helmet. It sat on top of a player's normal helmet and provided another layer of protection made of a half an inch of urethane. According to early studies on test dummies, heads inside a ProCap jolted 30 percent less than those without. As awkward as it looked, the device started gaining popularity among players, until,
as Bloomberg reported in 2013
, the NFL's concussion committee started squashing its use in the 1990s.
According to the Bloomberg report, in 1996 the concussion committee sent a memo to players saying that "standard helmet manufacturer's warranty may be negated or modified by the use of the ProCap," and that the cap put them at risk for "catastrophic neck injuries, including possible death." The makers of the ProCap, of course, say that's not true.
Soon after, Riddell introduced a helmet that it said could reduce the rate of concussions. But, as was revealed during recent litigation over players's concussions, the company was warned that,
as ESPN put it
, "no football helmet, no matter how revolutionary, could prevent concussions." The NFL has settled with players for
$765 million, or more, if needed
, that is meant to compensate players for head injury-related health problems.