The Seismologists Accused of Manslaughter
Blamed for the deaths of 300 people following a devastating 2009 earthquake, six of seven accused Italian experts now walk free.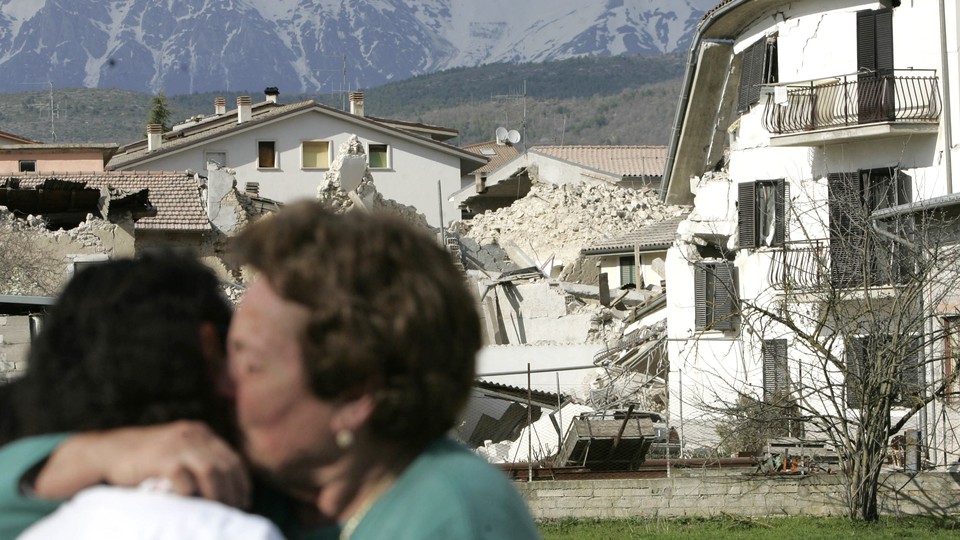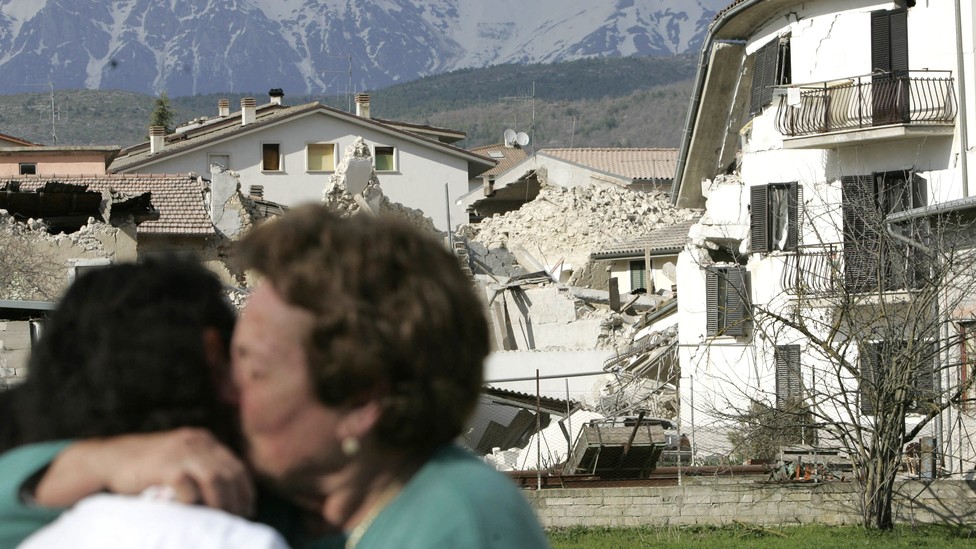 On March 31, 2009, after experiencing a swarm of tiny seismic tremors, the town of L'Aquila, Italy, turned to seven earthquake experts for insight on "the big one."
The group, which included scientists, engineers, and a government official from the National Commission for the Forecast and Prevention of Major Risks, told the community that the chance of a major earthquake striking in the near future was unlikely—but that it could not be completely ruled out. Bernardo De Bernardinis, then vice director of the government's Civil Protection Department, said "there was no danger" posed by strong quakes in the area, The Wall Street Journal reported.
Less than a week later, a 6.3-magnitude quake devastated the town. It left 309 people dead, another 1,500 injured, and hundreds of buildings demolished.
Seething, the courts accused the scientists of falsely reassuring the community, which left many unprepared for the earthquake, Reuters reported. In 2011 the court charged the "L'Aquila seven" with providing incomplete information on the likelihood of a destructive quake, and claimed that the group was at fault for the more than 300 deaths.
The court case concluded in 2012, when Judge Marco Billi found the group guilty of manslaughter and sentenced each of the seven to six-year prison sentences, Nature News blog reported.
The conviction triggered outcry from the scientific community, many of whom said that the deaths were the result of scientific miscommunication and that the government used the men as scapegoats. Both the American Geophysical Union and the American Association for the Advancement of Science issued statements against the case, the latter of which called the ruling "unfair and naïve." Others warned that the case could prevent scientists from offering potentially life-saving advice on natural disasters in the future.
But Monday after seeking an appeal, six of the seven Italian earthquake experts have been acquitted of all charges, the Associated Press reported. Stefano Gresta, the head of Italy's geologic institute, told the AP the decision restored "credibility to the entire Italian scientific community."
ScienceInsider reported that all but Bernardo De Bernardinis have had their sentences overturned. De Bernardinis was found guilty of manslaughter and was sentenced to two years in prison, instead of six. The court said that of the seven experts, it could only prove a link between De Bernardinis's words and the actions of the victims—to which De Bernardinis reportedly retorted that he believes he could face "God and man" with a clear conscience.