Finally a Better Way to Text GIFs
The app Blippy, released today, makes sending GIFs as easy as sending emoji.
GIFs, it must be said, are no fad anymore.
A few years ago, it seemed as though the entire Internet was rediscovering the decades-old format all at once. No longer did the Graphical Image Format just look like a rotating siren or an "Under Construction!" bulldozer-banner. Suddenly they could hold clips from movies, TV shows, even art.
Now they're everywhere, a ubiquitous part of the desktop Internet experience. On phones, though, they're far harder to manipulate. With an iPhone, texting a GIF is laborious, requiring a complicated dance between browser, photos app, and iMessage.
A new app seeks to change that. It's called Blippy, and it was released today. In the past couple of days of testing it, I've found it straightforward, useful, and delightful.
Blippy has two big features.
The first is, for lack of a better term, Tinder for GIFs. Blippy shows a pile of GIFs, with only the top one animating. Users then swipe right to mark the top GIF as a favorite, or swipe left to pass on it. (They can also swipe it up to text it to someone.)
It works and it's fun. The Tinder sort mechanism adapts well to sorting GIFs: Short looping clips, as it turns out, can be adjudicated even more quickly than other human beings can. Blippy also gives users a search bar, arranging the results into the same kind of sortable pile. The swipe pattern is the same there, too: Swipe right to favorite; left to move on.
Once you've found your favorite GIFs, you head over to the second part of the app: the custom keyboard. GIFs you've swiped right live there, and this custom keyboard exists just like any other you might add to your device, like the Korean keyboard or the emoji keyboard. Tap over to the Blippy keyboard and instead of letters or emoji you have a panel of GIFs to chose from.
Blippy's custom keyboard really shines in iMessage, the iPhone's texting app. When I talked to David King, one of Blippy's co-founders, he spoke of the difference between using GIFs for communication and using them for expression or entertainment.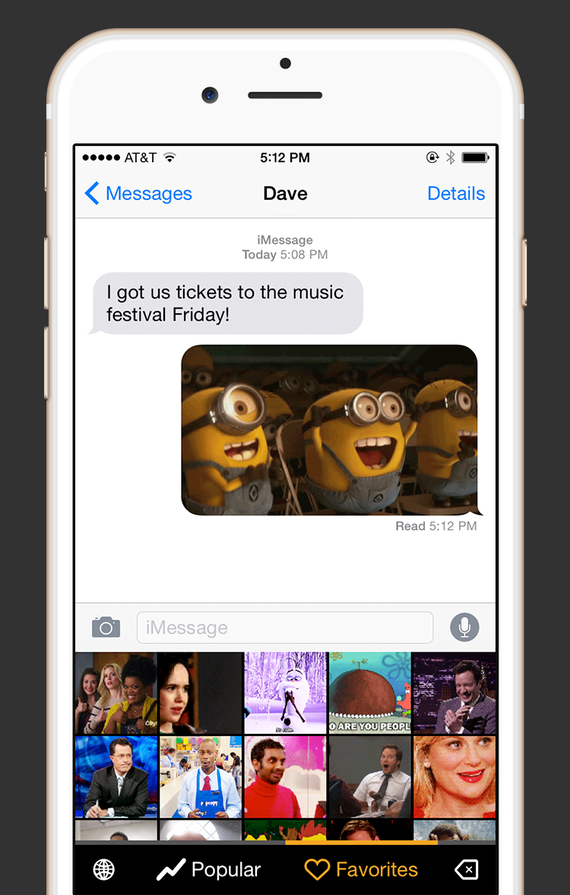 Thumbs-up GIFs, King said, work really well: They accent the thumbs-up emoji which many people send to each other to communicate "cool, got it!" In one of them, "Jim Carrey does an obnoxious, weird thumbs-up," he said, and that's a good one to send to friends.
But not all GIFs can be as phatic: King likes "fail" GIFs, for instance, but admitted that they're "not really approachable for communication." Instead, good GIFs for communication might express a state: "Hey, I'm sad, I'm tired, I'm bored," etc.
King spoke of Blippy making its users "better, more entertaining communicators," about being able to text GIFs as a kind of "superpower." I'm not sure I want to think of all my communications as entertainment, but it definitely feels like a little bravura, a little fantastic.
We often think of chatting online—especially in the live, back-and-forth mode of chat rooms and instant-messaging—as something mostly textual. I write something; you write something back. But as it's expanded to include GIFs, emoji, and other forms of filigree, it becomes a more alive medium. It becomes visual, maybe even cinematic.
And perhaps, as our digital chats everywhere expand to include animations and symbols far beyond the alphabetic, we'll realize that those live chats, with their rhythms and suspense and ASCII art, were a visual medium the whole time. Animated GIFs add picture to a field of already-dancing text.