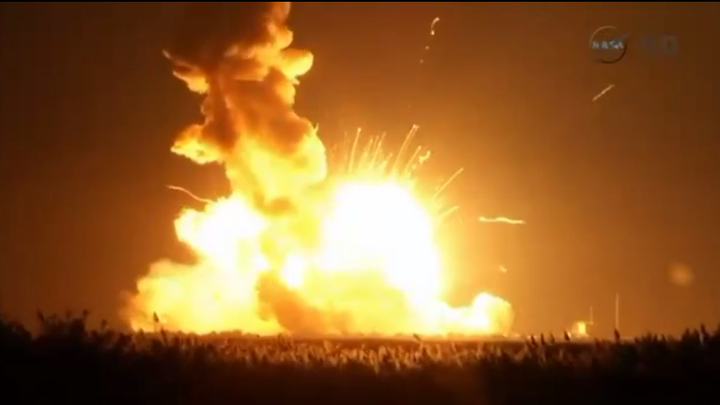 Updated 10/29/14, 12:55 a.m.
Just seconds after liftoff today, at 6:22 p.m. Eastern, an unmanned Orbital Sciences Antares rocket contracted by NASA failed and exploded feet above the launch pad. The incident happened at the space agency's Wallops Island Flight Facility on the eastern shore of Virginia.
No one was injured, NASA has confirmed. Early reports estimate significant damage to equipment and facilities.
The rocket was set to bring 4,883 pounds of supplies and experiments to the International Space Station, a payload that included both public and private property: satellites, spacewalk gear, and student experiments.
"No cargo that was absolutely critical to us was lost on this flight. The [ISS] crew is in no danger," said William Gerstenmaier, the NASA administrator in charge of human exploration.
Orbital Sciences Corporation will lead an investigation into the accident, with assistance from the Federal Aviation Administration.
A space enthusiast captured video of the explosion from the press viewing area, about five miles away from the launch pad:
A private pilot also took video of the incident "from 3,000 feet":
And the best video we've found is a view of the launch even farther away than the press area, captured by a professional photographer. The Antares lifts off about a minute into the clip:
Two previous Antares missions have successfully resupplied the station. The Antares system has only ever launched five times, including Tuesday's attempt, and this mission carried the heaviest payload ever. NASA's existing $1.9 billion contract with Orbital Sciences, the developer of Antares, entails eight total resupplying missions to the ISS.
An unmanned Russian resupply mission to the ISS, using a Soyuz craft, had already been scheduled to launch on Wednesday, October 28. The next unmanned U.S. resupply mission to the station—using a launch vehicle supplied by SpaceX, another American private contractor—is scheduled for December.
A NASA spokesman estimated that even if no more vehicles reached the station this year, the crew's consumable supplies—that is, water, food, and oxygen—could last to March.
At a press conference after the accident, NASA and Orbital Science officials said they were very disappointed.
"We will come back and fly here at Wallops again," said Frank Culbertson, Jr., the vice president for human spaceflight at Orbital Sciences and a former ISS commander. (Culbertson was the only American not on Earth on September 11, 2001.)
At sunrise, Culberton said, a team of investigators will begin tagging, locating, and investigating as much debris as they can recover at the crash site. He said video data and "reams of telemetry data" will also be analyzed. Log files and data were secured shortly after the accident to ensure full information is available for the investigation.
Culbertson said that it was his understanding that Wallops Island's range safety officer—a NASA employee—also sent the rocket a destruct command after it suffered a catastrophic accident. The self-destruct command was given after both telemetry and the video feed confirmed a large explosion had occurred, but before the rocket's body hit the ground.
Beyond that, he said, "what we know so far is pretty much what everyone saw on the video."
NASA secured the accident site soon after the incident to attempt to recover "classified crypto equipment" that was onboard the Antares, according to Mission Control. At the press conference, officials indicated that fires were still burning at the impact site and that, in the nighttime dark, firefighters had only been able to establish a perimeter around the remains and wait.
They asked locals not to touch any debris that washes ashore or lands on a local farm and instead to report it to NASA.
Among the private cargo aboard the Antares were 26 "doves"—microsatellites that capture images of Earth's surface—owned by the company Planet Labs. Planet Labs is a major competitor of Skybox, another Earth-observing, satellite-deploying startup that Google acquired this summer. On its Twitter account, Planet Labs remained upbeat:
Even with today's launch anomaly, we have 12 more satellites onboard the ISS waiting their turn to go out the airlock (likely January).

— Planet Labs (@planetlabs) October 28, 2014
Experiments from students in Houston and New Jersey were also aboard, as were spacewalk equipment and a NASA experiment to test the composition of meteors. Officials declined to comment on the value of the rocket's total payload.
While the Antares launch system is relatively new, each rocket's underlying equipment is more than four decades old. Antares are modified from Soviet NK-33 engines, which were originally manufactured in the 1960s for use in the U.S.S.R's failed manned moon mission. Orbital Sciences purchased the engines, retrofitted them, and successfully tested them for use with the ISS this decade.
Each Antares launch system costs about $200 million.
The Antares was originally scheduled to launch in the early evening of Monday, October 27. That launch was delayed a day when a civilian sailboat entered the offshore "exclusion zone" beneath the rocket's planned flightpath—an exclusion zone created to protect people from accidents exactly like this one.
We want to hear what you think about this article. Submit a letter to the editor or write to letters@theatlantic.com.