How to Tweet Like a Robot on Mars
Three NASA employees give voice to a whole ecosystem of spacecraft.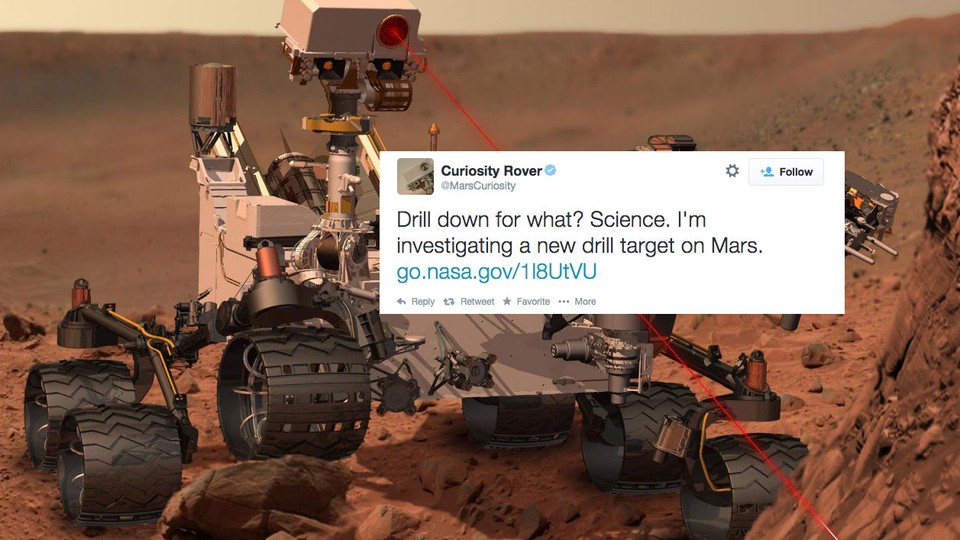 When a worried 5-year-old named Timur asked Chris Hadfield in September whether the Voyager 1 satellite—now careening through Deep Space 11 billion miles from Earth—would be okay flying solo, the former Space Station commander was more than happy to quell the boy's fears. "Voyager is so happy, because it's the bravest satellite of all," he said on a CBC radio program. "And it's not lonely, because it's talking to us. It phones home."
Hadfield was right, but not just because the spacecraft continues to deliver data back to NASA. The official @NASAVoyager account is also active, tweeting updates, posting images, and, after Hadfield tweeted his exchange with Timur, optimistically reassuring its followers it was doing fine far away from the home it left 37 years ago:
The @NASAVoyager account isn't the only spacecraft with a social-media presence—the agency had been launching account after account for almost every mission. There's the far more popular @MarsCuriosity, for the friendly rover scouring the surface of the Red Planet, the stoic @CassiniSaturn, representing the spacecraft photographing the planet and its rings, and @MarsRovers, tweeting as both the Spirit and Opportunity rovers.
But first-person—or rather, first-spacecraft—tweeting as a lonely, wandering machine isn't easy. What personality does a rover have, anyway? It turns out, when it comes to space-bound robotic personas, people want some combination of personality and information. Followers need a balanced diet of tweets offering both regular, detailed updates and a relatable character.
From their offices in Pasadena, California, the three members of NASA's Jet Propulsion Laboratory's social media team—news and social media manager Veronica McGregor and social media specialists Courtney O'Connor and Stephanie L. Smith—have spent years calibrating that balance.
McGregor began tweeting in May 2008 after creating an account for the Phoenix Lander using the handle @MarsPhoenix. Constrained to 140 characters per tweet, she discovered using first person not only saved space, but also attracted more replies from the account's followers.
"People started talking," she said. "The first person robot is what breaks the ice and gets people feeling like there's a conversation going on."
She and her team quickly developed a strategy and tone for the spacecraft. Given its short lifespan—the mission ended November 2008, roughly five months after it reached the Martian surface—McGregor emphasized an upbeat voice (complete with emoticons!), even when it came time to say goodbye.
The five-month "experiment" catalyzed the creation of the team's next accounts, including @MarsCuriosity, and developed a clear model: a mix of interaction, current event humor, and intelligent updates that could please everyone from amateurs to experts.
As long as all three team members agree on a tweet, it passes. "It all gets filtered through our relationship in the hive mind," Smith said. "We can yell to each other from our desks, and as news is coming out from the mission and we see something trend on Facebook or Twitter, and one of us has an idea of how we could communicate that, we're going to bounce it off from each other."
That voice is crucial to each account's identity. Curiosity, for example, is confident and unabashed, thanks to its physical qualities. (The rover is the size of a Humvee, weighs nearly 2000 pounds, and sports 17 cameras.) The Voyager account, on the other hand, represents two relics of the 1970s, so the tweets often reference history while inserting a dash of wanderlust. Voyager 1, after all, is carrying the golden record explaining human existence into deep space.
These days, it's not just the team in Pasadena carrying out conversations as spacecrafts with their followers. What started as a singular NASA-driven goal has turned global: The European Space Agency launched an account in 2011 for its Rosetta space probe, @ESA_Rosetta, with a similar first-person approach. The Indian Space Research Organization did the same when it took the handle @MarsOrbiter for its first mission to the planet, dubbed the Mars Orbiter Mission, or MOM, earlier this year.
And these accounts have all gotten quite chatty in the past few months. @ESA_Rosetta's Twitter welcome to @MarsOrbiter used the hashtag #SpaceBuddies, and prompted a reply from ISRO's social media team. The Philae Lander (@Philae2014), traveling with Rosetta, meanwhile almost exclusively tweets at the probe.
But why leave all the fun to the foreign space agencies? McGregor's team has also entered the Twitter space race by sending their first diplomatic tweets through Curiosity: One welcomed ISRO's Mars Orbiter to Mars the same week the Voyager 1 became the bravest satellite, and another, sent last week, celebrated NASA and ISRO's announcement to collaborate on Mars exploration. The former reached the Twittersphere only after Smith consulted an online diplomacy guide, a friend, and the rest of the team. "I was very excited for that moment, when MOM was safely ensconced in Mars, and I knew that we would want to do a welcome," Smith said. "I wanted to make sure we got the wording right."
The outreach worked: Less than half an hour after receiving Curiosity's tweet, MOM tweeted back.
A "namaste" and a "howdy"—two casual greetings that proved "talking spacecraft" from different space agencies can build a social media ecosystem by, well, "talking." (And it's a wide ecosystem, one that's spawned even popular offshoot accounts like @SarcasticRover.) The teams behind spacecraft personas have carefully crafted their voices and tweets, and followers can interpret them however they like: Some may read them and feel the same comfort Timur felt after hearing Hadfield's response, while others will see them as a nifty perk of having space agencies engage online. Either way, the accounts target that innate human curiosity—if we can't answer "what's out there?" we'll try to answer "what's it like out there?" If that means pretending the spacecraft we send trillions of miles into the void can chat with us 140 characters at a time, so be it.