Endangered Tree Snails Keep Hawaii Public Radio Off the Air
More than an inconvenience, these mollusks are a decent metaphor for broadcast's evolution in the Internet age.
Just four years ago Hawaii's NPR affiliate could finally say it beamed its twin signals to listeners across the populated island of Oahu and over a glittering stretch of the Pacific Ocean to the eastern shores of Kauai—an enormous feat given the topographical challenges of broadcasting across a volcano-dotted archipelago.
But after a spate of storms knocked out power lines to Hawaii Public Radio's key relay facility on Oahu late last month, utility workers weren't able to restore service to the facility before its generators petered out. Just like that, listeners along a broad swath of Oahu and the entire island of Kauai lost their NPR.
The problem: endangered tree snails mating in the way of repairs.
Here's how Hawaii Public Radio (HPR) explained:
Normally, [Hawaiian Electric (HECO)] would have been able to repair the electrical line with little delay, but in this instance the location where the repair is required has been identified as the habitat of one of the species of the endangered tree snails – and it's mating season. To enter the area, HECO crews will need to be accompanied by representatives from Hawai'i's Department of Land and Natural Resources (DLNR) and Division of Forestry and Wildlife (DOFAW). Coordination between these various entities is underway.
[An update: Oahu tree snails don't actually have a "mating season," snail experts tell me. "There's no such thing," Brenden Holland of the Hawaiian Tree Snail Conservation Lab told me. "I work with a circle of very few tree snail experts and we were all kind of chuckling." "Yes as far as we know they mate all year round," said David Sischo, coordinator of the state's Snail Extinction Prevention Program.]
"We're a little annoyed about this," HPR general manager Michael Titterton told the Garden Island, a newspaper on Kauai. Terrestrial broadcast has been an obsession for Titterton during his 15-year tenure at the station. (I know this firsthand because I used to work at HPR.) Under his watch, the station completely rebuilt its transmitters and expanded its reach statewide. Old-school though it may be, it's a remarkable accomplishment that required more than a decade of political and physical engineering. The resulting infrastructure could be essential in an emergency. Hawaii residents face possible earthquakes, tsunamis, and hurricanes. Oh, and endangered mating tree snails, of course.
Which is, on one hand, the NPRiest thing ever. On the other, it's a tidy metaphor for what's happening—and not happening—to public radio all over the country as listeners' habits evolve away from the airwaves and toward on-demand streaming. That is to say, despite bright spots of exception, radio has been slow to adapt. If print media has its dinosaurs, perhaps broadcast has its snails.
I should note here that HPR has been streamable online throughout the snail debacle. It's reasonable to guess that a good chunk of the station's regular listeners never even noticed the outage in their area. Online audio streaming in the United States continues to climb, with roughly 40 percent of people reporting having listened to online audio monthly, according to the Pew Research Center's 2013 State of the Media report. Pew found that most Americans still listened to some AM/FM radio weekly, but news audiences had already mostly migrated online by then. The Internet surpassed radio as a source of news around 2010, Pew found. (Survey respondents were asked which source of news they accessed "yesterday.")
---
Digital News Surpasses Radio, Newspaper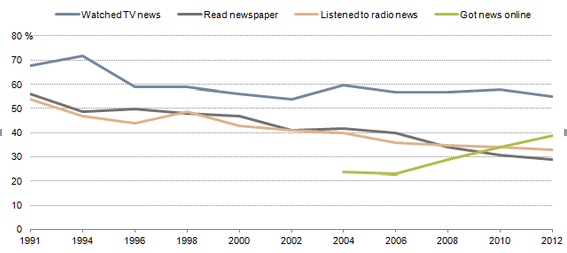 ---
Before iPhones and laptops replaced the radio as a standalone machine, it was the automobile that changed the way people listened. By the 1960s, cars had taken one-third of the country's radio listening out of the home and onto the road. Today, a listener's car is the cathedral of radio programming. Radio producers are trained to make "driveway moments"—the kinds of stories that keep listeners captivated by what they're hearing even once they've reached their destination. Which means the future of radio arguably has as much to do with listeners' behavior as it does with automobile design. Where satellite radio delivered a major blow to AM/FM's dominance, Internet-connected cars could be the death knell. Even as fewer Americans drive or own cars, there will surely come a day when AM/FM dials aren't standard features—though automakers say that day remains distant. Still, despite more than a decade of clear warnings from the decimation in print media, public radio has only just started to acknowledge the threat it faces.
Think of it this way: The industry consensus is that NPR has fared much better in the digital transition than some of its news radio colleagues—yet NPR faces a more than $6 million deficit and opted to make crushing staff cuts last year.
Beyond financial woes, public radio still hasn't fully figured out what it is in the Internet age. At local affiliates, radio producers are still tethered to "the clock"—the down-to-the-second programming schedule that determines what goes on the air and when—even as listeners drift away from it and opt to listen on-demand instead. Journalism has become "unstuck in time," as the writer C.W. Anderson put it in a wonderful Nieman Journalism Lab essay, yet many of the people producing stories haven't entirely realized it yet.
Well, okay, some of them have: "Pandora is a personalized internet radio service that helps users find new music based on the individual's favorites – does this sound too algorithmic for public radio?" the Corporation for Public Broadcasting asked in a 2010 report about the future of radio.
It didn't sound too algorithmic to a small team at NPR, which launched an experimental "infinite player" the next year in 2011 that was designed to endlessly stream programming fine-tuned to a listener's preferences based on how she rated what she was hearing. There are other experiments underway. Boston's WBUR recently used $250,000 in Knight Foundation grant money to launch BizLab, an incubator for fresh revenue models. Preventing NPR from being "doomed to repeat" the mistakes that newspapers have made in the digital age is one of Knight's goals, the foundation's CEO, Alberto Ibargüen, told me in an interview last year.
Print's ultimate downfall is in the collapse of its business model, but its failure to adapt—to realize you can't just package and distribute an old product on a new platform the way you did on the old one—is what made its decline so swift and certain.
One of public radio's greatest looming challenges, then, is to navigate its reach beyond a listening audience. After all, radio isn't just something you hear anymore. Just like a smartphone isn't just a phone and an Apple Watch is more of a data collector than a timekeeper.
Here's how NPR's creative director, Liz Danzico, explained it to Fast Company early this year:
Everyone knows what public radio sounds like. If you switched the dial they would be able to identify what NPR sounds like and they would also have a number of words that they say when they hit NPR. But if you ask someone what NPR looks like, what it feels like when it's in the room with us here, people don't know. This job is thinking about those aspects. What does it look like? What does it feel like?
And so, as engineers in Hawaii look for ways around the endangered tree snails that are keeping listeners from hearing NPR, NPR is looking for ways to be seen and felt, too.