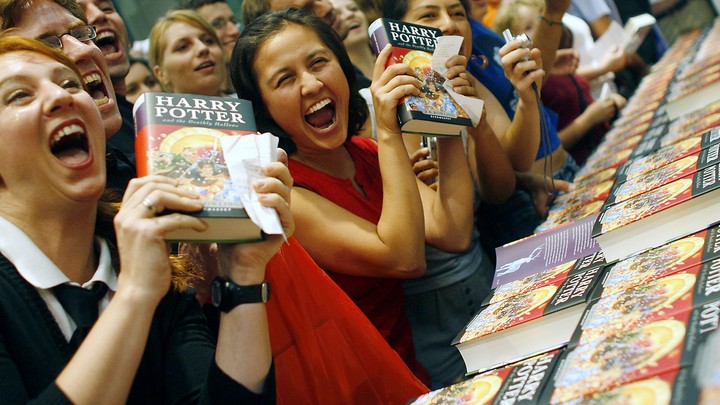 A few weeks ago, I started to see a viral status being passed around my Facebook friends. 
"List 10 books that have stayed with you in some way," it begins. "Don't take more than a few minutes, and don't think too hard. They do not have to be the 'right' books or great works of literature, just ones that have affected you in some way."
I'm usually a skeptic of such meme-y Facebook statuses, but people gathering around books that meant something to them melted even my cold heart. So I asked the Facebook Data Science team if this status had gotten "big" enough to attract their attention, and what they had seen in it.
They replied with something I wasn't expecting: a list of the 20 books most cited by Facebook users who participated in the game.
In a new blog post, they've released that list (it's also below) and some of their methodology. The data science team analyzed more than 130,000 statuses, stripped them of their identifying information and looked for common strings—that is, shared snippets of text and title—and ranked them by popularity. 
The final list is an interesting, somewhat intuitive list of of titles. There's some fantasy on it, some contemporary fiction, some classics. It's also also steeped in books that Americans typically encounter during adolescence, whether as a traditional school assignment (The Great Gatsby) or on their own, as a "young adult" novel (Harry Potter, etc.). Even before "young adult" literature was a thing, books were shaping young adults.
Without further ado, here is that list, along with the percentage of statuses that each title appeared in:
The Harry Potter series, J.K. Rowling (appeared in 21.08 percent of all statuses)
To Kill a Mockingbird, Harper Lee (14.48 percent)
The Lord of the Rings series, J.R.R. Tolkien (13.86 percent) 
The Hobbit, J.R.R. Tolkien (7.48 percent) 
Pride and Prejudice, Jane Austen (7.28 percent)
The Holy Bible (7.21 percent)
The Hitchhiker's Guide to the Galaxy, Douglas Adams (5.97 percent)
The Hunger Games Trilogy, Suzanne Collins (5.82 percent)
Catcher in the Rye, J.D. Salinger (5.70 percent)
The Great Gatsby, F. Scott Fitzgerald  (5.61 percent)
1984, George Orwell (5.37 percent)
Little Women, Louisa May Alcott (5.26 percent)
Jane Eyre, Charlotte Bronte (5.23 percent)
The Stand, Stephen King (5.11 percent) 
Gone with the Wind, Margaret Mitchell (4.95 percent)
A Wrinkle in Time, Madeleine L'Engle (4.38 percent)
The Handmaid's Tale, Margaret Atwood (4.27 percent)
The Lion, the Witch, and the Wardrobe, C.S. Lewis (4.05 percent)
The Alchemist, Paulo Coelho (4.01 percent) 
Anne of Green Gables, L.M. Montgomery (3.95 percent)
​Whose taste are we seeing here? Of the hundred-thousand English-speaking users sampled, women outnumbered men more than three to one. Sixty-three percent of the participants live in the United States, 9.3 percent live in India, and 6.3 percent live in the United Kingdom. And the average age of participants was 37.
(This final fact surprised me: Thirty-seven seemed a little old for such Potter reverence. This means that Harry Potter and the Sorcerer's Stone would have come out in the U.S. when the average answerer was 21. So my completely unscientific analysis of the data is that, while it may not be on many Gen-X lists, Harry Potter sits pretty on 21 percent of all lists with lock-step Millennial support and a Boomer parental assist. Perhaps those two groups even dominate the status-writers: We only know 37 is the mean, not the median.)
Facebook's team also graphed the data as a network. They write:
One can also look at connections between the books, e.g. 'people who listed X also listed Y', using pointwise mutual information. In the network visualization, each node represents a book, sized by the frequency with which it was mentioned, as an edge represents an usual number of co-occurrences of the two books in the lists. 
Here is that graph:
---
---
You can click on the map for a higher level of detail. One thing that strikes me about it is how genres appear to clump: Up at the top, you have a high fantasy cluster; to the left, European classics like Shakespeare; at the right, American classics like East of Eden. 
Another fun feature of that map: People who loved Persuasion, Emma, and Jane Eyre also love Princess Bride. Mawwiage!
* * *
These are the books people confess to loving. But are they also the books people put their buck behind? 
I turned to another online data source: Amazon's list of its top-selling books of the two-thousand-aughts—the Books of the Decade—can give us a clue. While imperfect, it gives us a different window into literary taste from the same period.
On Amazon's list, as on Facebook's, Harry Potter reigns supreme, filling four of the top 10 slots. But Amazon accounts for an entire genre which Facebook users seemingly neglected to mention. Readers may want to know Who Moved My Cheese, or make the leap from Good to Great, but all that cheddar transportation doesn't stick with them.
Break out just the fiction from Amazon's list, then, and you get:
The Harry Potter series, J.K. Rowling
The Shack, WM. Paul Young.
The Twilight series, Stephenie Meyer
The Da Vinci Code, Dan Brown
The Lost Symbol, Dan Brown
The Kite Runner, Khaled Hosseini
A Thousand Splendid Suns, Khaled Hosseini
Oh, the Places You'll Go!, Dr. Seuss
Where the Wild Things Are, Maurice Sendak
Goodnight, Moon, Margaret Wise Brown
Some familiar titles follow: The Help, Water for Elephants, and the complete boxed set of The Chronicles of Narnia. That said, this is a fairly different list from Facebook's, with absent-on-Facebook Twilight making a strong showing. You can chalk this up to the older age of the average respondent—or to the fact that Twilight, while popular, failed to "stick with" its readers.
As a devout Millennial, I choose of course to believe the latter option.
Here are the next 80 books on Facebook's list: 
21. The Chronicles of Narnia, C.S. Lewis
22. The Giver, Lois Lowry
23. The Kite Runner, Khaled Hosseini
24. Ender's Game, Orson Scott Card
25. The Poisonwood Bible, Barbara Kingsolver
26. Lord of the Flies, William Golding
27. The Eye of the World, Robert Jordan
28. The Book Thief, Markus Zusak
29. Wuthering Heights, Emily Bronte
30. Hamlet, William Shakespeare
31.  The Little Prince, Antoine de Saint-Exupery
32. Sherlock Holmes, Sir Arthur Conan Doyle
33.  Fahrenheit 451, Ray Bradbury
34.  Animal Farm, George Orwell
35. The Book of Mormon
36.  The Diary of Anne Frank, Anne Frank
37. Dune, Frank Herbert
38. One Hundred Years of Solitude, Gabriel Garcia Marquez
39. The Autobiography of Malcolm X
40. Of Mice and Men, John Steinbeck
41. The Giving Tree, Shel Silverstein
42. The Fault in Our Stars, John Green
43.  On the Road, Jack Kerouac
44. Lamb, Christopher Moore
45. Slaughterhouse Five, Kurt Vonnegut
46.  A Prayer for Owen Meany, John Irving
47. Good Omens, Neil Gaiman and Terry Pratchett
48. The Help, Kathryn Stockett
49. The Outsiders, S.E. Hinton
50. American Gods, Neil Gaiman
51. Where the Red Fern Grows, Wilson Rawls
52. Stranger in a Strange Land, Robert Heinlein
53. The Secret Garden, Frances Hodgson Burnett
54. Little House on the Prairie, Laura Ingalls Wilder
55. The Count of Monte Cristo, Alexandre Dumas
56.  Pillars of the Earth, Ken Follett
57.  The Da Vinci Code, Dan Brown
58.  Brave New World, Aldous Huxley
59.  A Tale of Two Cities, Charles Dickens
60. Les Miserables, Victor Hugo
61.  Great Expectations, Charles Dickens
62.  Chronicles of Narnia, C.S. Lewis (sic)
63. Night, Elie Wiesel
64. The Dark Tower Series, Stephen King
65.  Outlander, Diana Gabaldon
66. The Color Purple, Alice Walker
67. A Thousand Splendid Suns, Khaled Hosseini
68.  The Art of War, Sun Tzu
69. Catch 22, Joseph Heller
70. The Bell Jar, Sylvia Plath
71.  The Perks of Being a Wallflower, Stephen Chbosky
72.  The Old Man and the Sea, Ernest Hemingway
73.  Memoirs of a Geisha, Arthur Golden
74.  Tuesdays with Morrie, Mitch Albom
75.  The Road, Cormac McCarthy
76.  Watership Down, Richard Adams
77. A Tree Grows in Brooklyn, Betty Smith
78. Where the Sidewalk Ends, Shel Silverstein
79. The Girl with the Dragon Tattoo, Stieg Larsson
80.  A Song of Ice and Fire, George R. R. Martin
81 . Are You There God? It's Me, Margaret, Judy Blume
82 . Charlotte's Web, E.B. White
83. The Time Traveler's Wife, Audrey Niffenegger
84.  Anna Karenina, Leo Tolstoy
85.  Crime and Punishment, Fyodor Dostoyevsky
86.  The Shack, William P. Young
87.  Watchmen, Alan Moore
88.   Interview with the Vampire, Anne Rice
89. The Odyssey, Homer
90.  The House of the Spirits, Isabel Allende
91. The Stranger, Albert Camus
92. Call of the Wild, Jack London
93.  The Five People You Meet in Heaven, Mitch Albom
94. Siddhartha, Herman Hesse
95. East of Eden, John Steinbeck
96. 
Matilda,
 Roald Dahl
97. The Picture of Dorian Gray, Oscar Wilde
98. Zen and the Art of Motorcycle Maintenance, Robert Pirsig
99. Love in the Time of Cholera, Gabriel Garcia Marquez
100. Where the Wild Things Are, Maurice Sendak
We want to hear what you think about this article. Submit a letter to the editor or write to letters@theatlantic.com.
Robinson Meyer
is a staff writer at
The Atlantic
, where he covers climate change and technology.